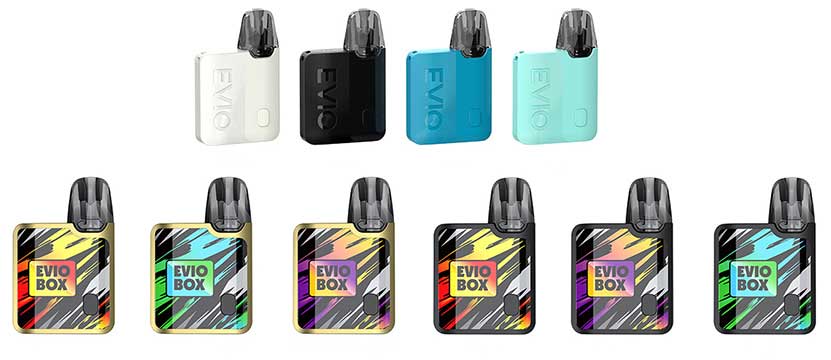 Here are cheap deals to purchase the Joyetech Evio Box Kit at a low price.  It features an integrated 1000mAh battery, Type-C charging, portability, three mode settings, an LED battery indicator, 2mL refillable pods, EN mesh coils, vibrational notifications, adjustable airflow, and 0.001-second firing using either a button or the draw-activated system.
Overview
The Joyetech Evio Box Kit utilizes AST steel coils which guarantee incredible flavor production with an amazing throat hit.  This means you will get stable flavor production of up to 2000 puffs, thus giving you an excellent vape experience while saving your wallet.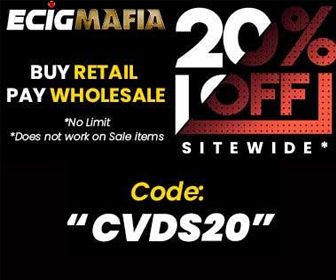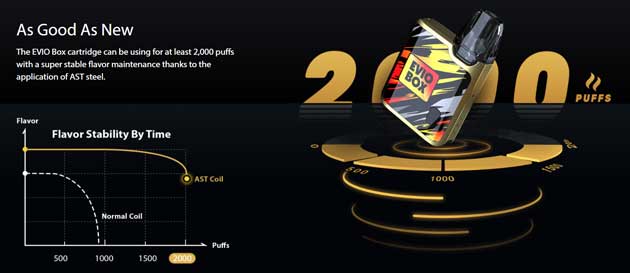 Moreover, the setup features a Turbo Flash heating system that works perfectly with the AST coils.  This results in a firing response time of just 0.001s for huge vapor rightaway.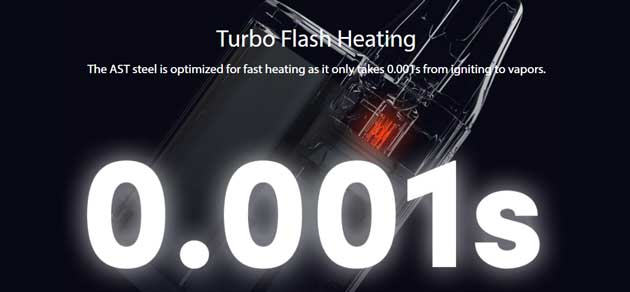 Geekvape's AST platform also combines the chipset and the coils to produce stable performance.  This includes smart coil protection, surgical-grade SS, a tough design, and resistance to both corrosion and oxidation.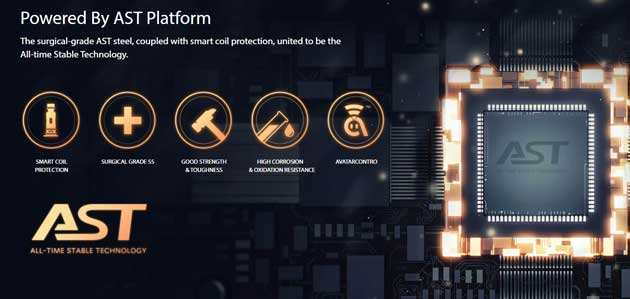 To ensure you are notified of any issues with the Evio Box Kit, the is also a smart vibration reminder system.  This implies that the device will vibrate when the battery is low when the coil protection system activates, or after you install a pod.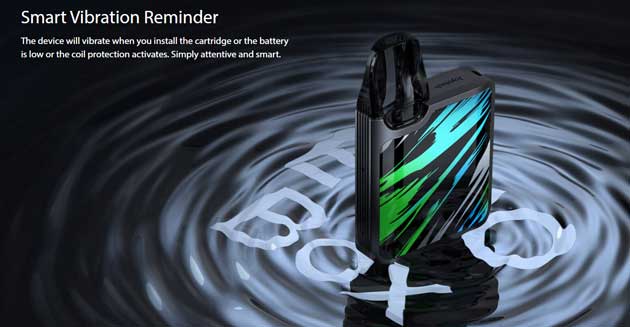 The pod kit has two finish versions: a PC version (black, blue, white, cyan) and one with zinc alloy (golden flame, golden jungle, golden afterglow, flame, afterglow, jungle).  Each colorway features an identical compact and sleek design that easily fits into your pocket, wallet, or clothes.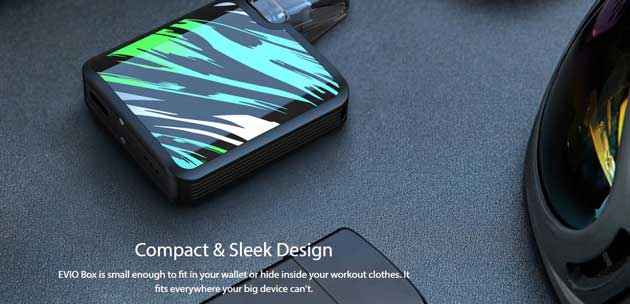 Airflow is also adjustable by way of simply rotating the cartridge 180 degrees.  As a result, you can have a mouth-to-lung style puff or a restricted DTL experience.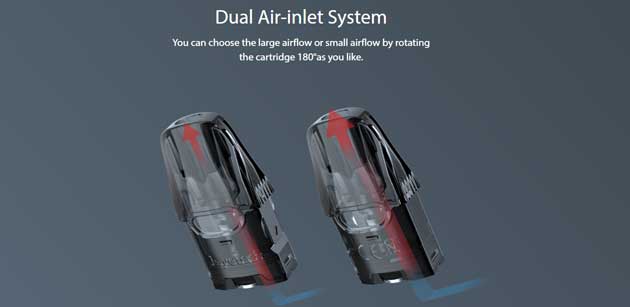 The pod kit can fire either by pressing a side button or simply taking a puff.  Moreover, you can adjust power by clicking the fire button three times to interchange between high, medium, or low output.  Three LEDs on the side will permit tracking of the current output setting.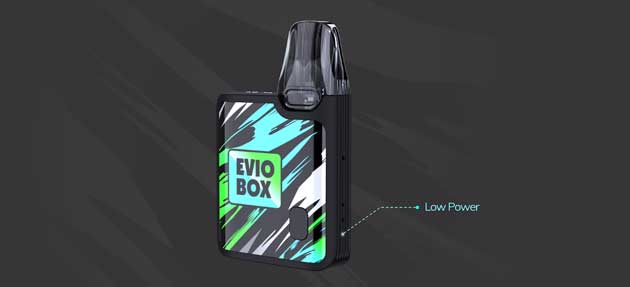 As previously stated, the setup uses AST steel coils with two versions.  The first is the EN 0.8 coil which has a power range of 13 to 18 watts. Or, use the 1.2ohm EN 1 head that operates from 9 to 12 watts.  With such a low power range, the battery will last a long time before it is time for a recharge.

The pod can store 2mL of vape liquid and has a side-fill method.  To add juice to the reservoir, remove the cartridge from the kit and open a stopper on the side that hides a juice port.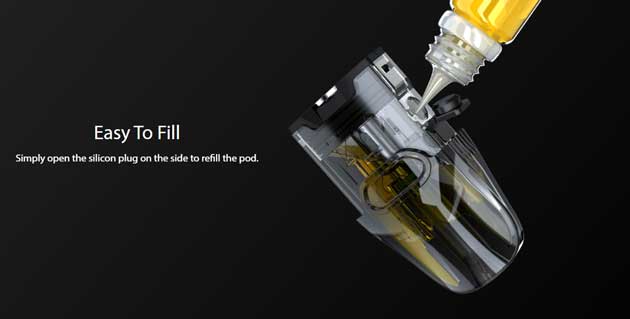 To ensure the longest possible vape times, a 1000mAh battery inside the setup can be fully charged within 30 minutes.  This is thanks to the latest Type-C charging port that works with an incredible 2 amps of current.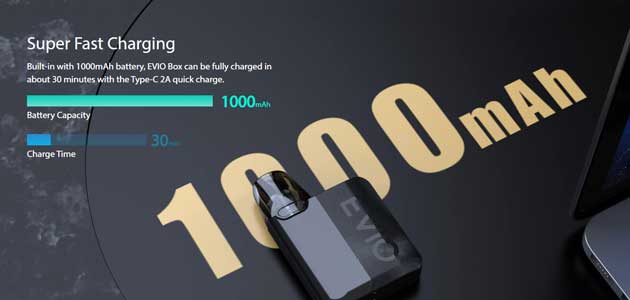 The three previously mentioned indicator lights on the side are also used to track the charge level of the integrated cell. These LEDs will extinguish as the battery drains.  If all three are lit, you have 60 to 100 percent battery charge level remaining, two lights mean voltage has dropped between 20 and 59 percent, while one light indicates its time for a recharge.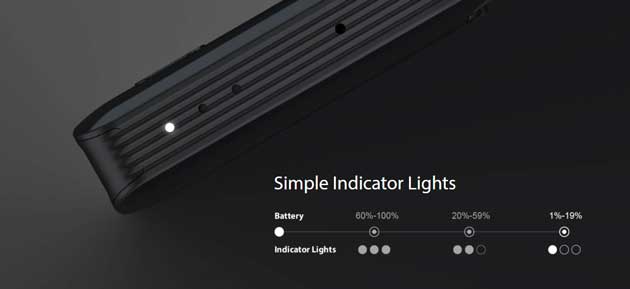 Finally, safety is also a priority and includes smart coil protection, battery protection, over-current protection, and over-discharging protection.  Moreover, the device will time out after 10 seconds in case of accidental firing.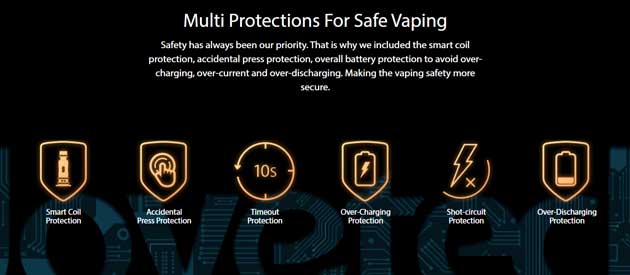 Features & Specifications
Dimensions: 75mm x 49mm x 14mm
Colors: Flame, Jungle, Afterglow, Golden Flame, Golden Jungle, Golden Afterglow(Zinc Alloy Version); White, Black, Blue, Cyan (PC Version)
Portable & compact
1000mAh battery
2A Type-C charging
Battery LEDs
Multiple protections
15 watts of max output
High/medium/low output modes
Turbo flash heating
Durable AST steel coils
Coils last up to 2000 puffs
2mL refillable pods
Side-fill system
Almost instant firing
Adjustable airflow control
Button or draw-activated firing
Vibrational feedback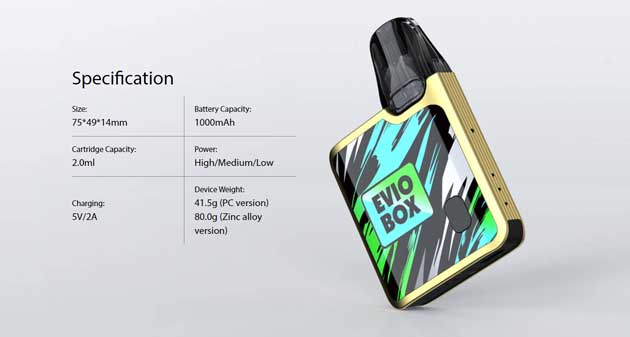 In The Box
Evio Box Battery
Cartridge
EN 0.8ohm coil
EN 1.2ohm coil
Type-C Cable
Manual
Warranty info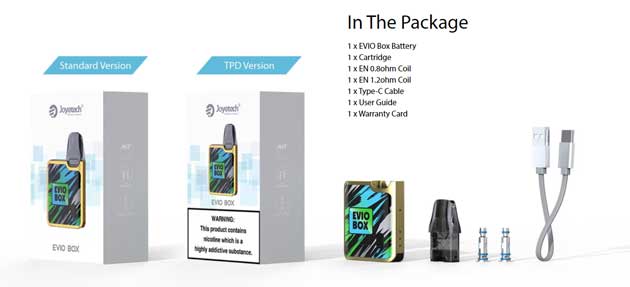 Related Deals
Total Views Today: 1 Total Views: 419