The Timesvape Heavy Hitter Mechanical Mod features a lock function, a 28mm diameter, single 21700 or 20700 compatibility, Delrin battery protection, a 1/4 turn quick-release button, a 1/4 turn button lock, a floating battery setting, and goldplated/copper contacts.  It is for sale in brass, copper, and black copper.

The portable box mod features 40 watts of variable power, a 2600mAh internal cell, a charging system, a variable voltage mode, a variable wattage mode, and a screen to make settings changes.

This mech mod features dual 18650 batteries (not included), 280 watts of maximum power, 1 to 8 volts range, a more colorful appearance that can be customized, a USB type-C charging port for effortless recharges, a battery LED, a potentiometer for easy voltage adjustments and a multitude of safety protections.
Heavy Hitter Mod Overview
The Timesvape Heavy Hitter is a one-of-a-kind mech mod that works with a 20700 or 21700 battery.  It results from a partnership between Heavy Metal Vaper, Tenacious TXVapes, and Timesvape. That is perhaps why it is technically incredible and has an amazing design.  This one will surely be a winner with mech heads and competition fanatics.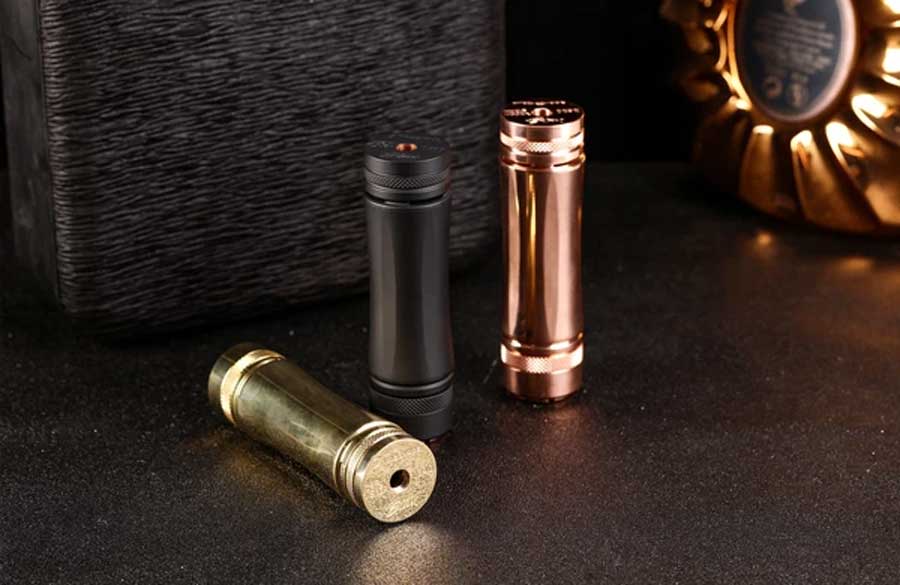 In the design department, this mech mod features a 28mm tube body which a 510 connection tapered to 26mm.  The bezel at the top is compatible with atomizers with a 28mm diameter, but you also get a 26mm compatible hat that is easily replaced by removing a few screws.  Compared to similar mech mods, this new one has a unique button assembly with a notched locking system to ensure the threading is never damaged.  Internally, the tube has a Delrin sleeve to prevent overheating, and high-quality copper/gold-plated contacts ensure maximum conductivity.  Moreover, there's a unique floating pin with a ball head to make this a very hard-hitting mech mod, and smooth button springs always ensure a solid connection.
Features & Specifications
28mm body tapered to 26mm
Color options: copper, black copper, brass
Works with a single 21700 or 20700 battery
The first hybrid 510 mech mod with a lock function
Internal Delrin battery sleeve
Easy 1/4 turn release button
Fast 1/4 turn button lock
Floating battery & 510 hybrid connection
Cup and ball contact setup
Copper/gold-plated contacts
Total Views Today: 1 Total Views: 2,324