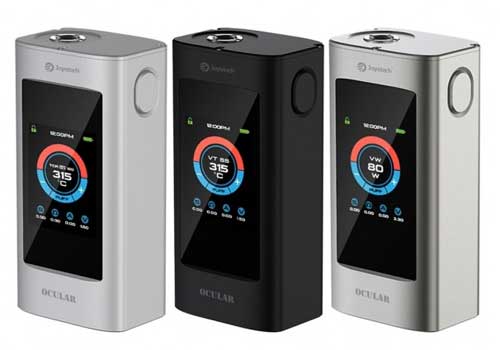 Check out these fantastic deals for the Ocular 80W Touchscreen Box Mod. 
Update: This Item Is Out Of Stock Everywhere – Check  Similar Touchscreen Mod or Kit Deals Below
 Overview
With many features in addition to amazing vape technology, the Ocular mod is without doubt a next generation of touchscreen box mods.  It is available in either 80W Ocular or 150W Ocular C versions. There are slight differences between the two mods, but both devices feature precise temperature control, a giant TFT touch screen, a photo gallery, a pedometer, a music player, firmware upgrades, screen savers and a mobile app.
There are many aspects to the Ocular that make it the most innovative mod in the marketplace today,  First, there's the 1.68 inch CTP/TFT screen that has a resolution of 320 x 240 dpi.  These types of displays are known to be very responsive to the touch and provide amazing image resolutions.  The screen's menu is convenient to use.  To change between modes, simply slide the screen to left  or right and tap the -/+ icons to change temperature or power output.  Holding the fire button will lock the device to prevent accidental firing.
The Ocular and Ocular C are built with a music function which allows it to play music through the head phone jack on the side or on the bottom.  The device also includes a pedometer, so it will keep track of your steps and distance traveled.  And, you can upload pictures and view them via the photo gallery menu.  The mod has a 2 gigabyte storage capacity which should be plenty to store lots of pictures and music.
The Ocular touch mod  features Bluetooth connection and can be synced with its own app on your smart phone.  Or, if you prefer, you can customize its settings from your personal computer with VT software that is used for upgrading firmware or upload music/photos.  In this way, you can change wallpaper background/screensaver, change the logo, add music, add pictures, customize vape settings or access statistics.  The screen saver can be set to either a digital clock, an anolog clock or your favorite photo.
With both mod can also take control of your vaping habits.  It easy to check puff counts by simply tapping the icon on the bottom to access puff history stats or set a daily puff limit.
From a vaping perspective, this mod is state-of-the-art.  The unit can be fired in power mode, temperature control mode, bypass mode or TCR mode.  You can also enter your favorite preheat settings which allows for a higher wattage that ramps down as you vape.  The Ocular C mod is capable of a massive 150 watts of power while the Ocular tops out at 80 watts.  Either device features variable temperature operation from 200 to 600 degrees Fahrenheit and has  low resistance capability down to just 0.05ohm in temperature modes and 0.10ohm in bypass/power modes.
The Ocular utilizes a powerful internal 5000mAh high-capacity battery for long vaping times that will last all day.  The internal cell is chargeable via the USB port which also doubles as the firmware upgrade port.  On the other hand, the Ocular-C is powered by dual external 18650  cells that are hidden behind a convenient hinge-style battery cap at the bottom.  Both units have low power consumption and also feature USB  firmware upgrades in case an operating system with new features is released.
The dimensions of the Ocular-C mod come in at 32mm x 45mm x 91.5 mm, while the 80W Ocular measures 30.5mm x 43mm x 86mm.  Both devices have a form factor that is reminiscent of Joyetech's Cuboid devices and are available black, grey or silver.
Overall, it remains to be seen how well the Ocular will function as it features groundbreaking technology and features.  But, I'm certainly going to get the higher power Ocular C just to find out for myself.
Video
Ocular dimensions: 30.5mm x 43mm x 86mm
Ocular C dimensions: 32mm x 45mm x 91.5 mm
Colors: gray, silver, black
Innovative CTP/TFT touch screen display
Upload photos and view in photo gallery
Change wallpaper
Change screensaver
Change logo
Pedometer to keep track of distance/steps
Music player
Headphone jack
Detailed puff statistics
Set puff limits
Output modes: VW/VT/Bypass/TCR/Logo/Preheat
Power mode range Ocular mod: 1W to 80W
Power mode range Ocular C mod: 1W to 150W
Temperature control/TCR resistance range: 0.05Ω – 1.5Ω
Power mode resistance range: 0.1Ω – 3.5Ω
Temperature Range:  200℉ to 600℉ or  100℃ to 315℃
Ocular-C mod utilizes dual 18650 batteries
Ocular uses powerful internal 5000mAh battery
USB charging
USB firmware upgrades
Customize via Bluetooth smart phone app
Customize via computer
Pictures
Total Views Today: 1 Total Views: 298