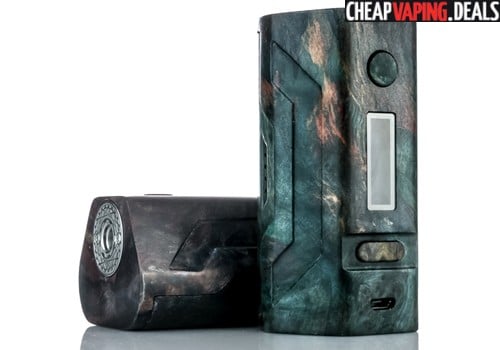 Update: The
Smoant Battlestar MU 200W Box Mod
Has Been Discontinued – Check  Newer 200W Box Mod  Deals Below
Or
All Mod/Kit Deals
Overview
The popular Battlestar box mod is now available with a stabilized wood version!  The Battlestar MU features a premium stabilized wood body and buttons, 200 watts of power, temperature control, low resistance and utilizes dual 18650 batteries.
Except for the stabilized wood chassis, there's is absolutely no difference from the original box mod.   However, as a result of the device finish, the mod looks much better, is much more comfortable in the hand and the buttons are also made of wood resulting in easier operation.  The MU is easily transported with dimensions of 45mm x 39mm x 88mm. At the top, you will see an engraved stainless steel 510 connection bezel.  The control face is made with a micro USB port, two ergonomic adjustment buttons, a fire button and an OLED display.  The screen's menu features three columns that contain vape data such as temperature, wattage, battery level, voltage and resistance.
A micro USB port allows for convenient charging of the two 18650 batteries that power the Battlestar MU.  The cells are conveniently accessed via a magnetized battery door on the back.  The best aspect of the on board charging system is perhaps the fact that you can continue to vape with the MU plugged in.
This mod can reach a maximum output of 200 watts and is very responsive when the fire button is activated.  Available modes include power, temperature control (TC) with nickel, TC with titanium, TC with stainless steel and TCR mode that can be store in three memory slots.   The device also has a low atomizer resistance capability of just 0.05ohm in TC modes and 0.10ohm in variable wattage mode. For safety, a wide range of protections prevent reverse battery insertion, low resistance, low input voltage, short circuits and mod overheating.
Features
Dimensions: 45mm x 39mm x 88mm
Stabilized wood chassis
Stabilized wood buttons
Colors: red, green
Easily transported
Ergonomic buttons and body
25mm engraved/spring loaded 510 connection
Big OLED screen
Ventilation holes
Micro USB charging & upgrades
Vape with device pluggged in
Magnetic battery cover
Utilizes two 18650 battery cells
Power range: 1W to 200W
Operating modes: Power, TC Ni, TC Ti, TC SS, TCR x 3
Power mode lowest atomizer resistance: 0.10Ω
TC modes lowest atomizer resistance: 0.05Ω
Reverse polarity protection
Low resistance protection
Low voltage protection
Short circuit protection
Overheat protection
Pictures
Total Views Today: 1 Total Views: 198