Smok Priv N19: Tiny 30W Variable Wattage Mesh Kit w/ 1200mAh Battery
Here are cheap deals for the Smok Priv N19. This mod kit continues the portability and exquisite design of the Smok Priv V8, Smok Priv One, Smok Priv M17, and Smok G-Priv 4. The new N19 features pocket-sized portability, a 1200mAh integrated battery, Nord Mesh coils for massive vapor with flavor, four variable wattage modes up to 30 watts, an accurate battery LED, an ergonomically designed fire button, adjustable airflow control, and effortless refills.
USA Deal:

$16.79

  Use coupon code 30CVD at checkout (exclusive 30% off sitewide – blowout prices & fast USA shipping – one use per account – $250 limit)
The Smok Stick Prince Kit is a brand new all-in-one vape setup. It features a powerful 3000mAh battery, a hexagon-shaped fire button with LED and a cloud pumping TFV12 Prince tank with top fill system and 8ml juice capacity.

The G-Priv 4 Kit features 230 watts of power, dual 18650 batteries, a USB-C charging system, variable wattage mode, temperature modes, 4 memory slots, a full-color touchscreen, a large fire key, multiple protections, a 6.5mL juice capacity, a top-fill method, triple adjustable airflow slots, and meshed coils.
Overview
The kit includes the Nord N19 Mod and Vape Pen Nord 19 Tank. Six colors are available: 7-color, black, black/red, prism blue/black, prism chrome/black, gold/black, and green/black.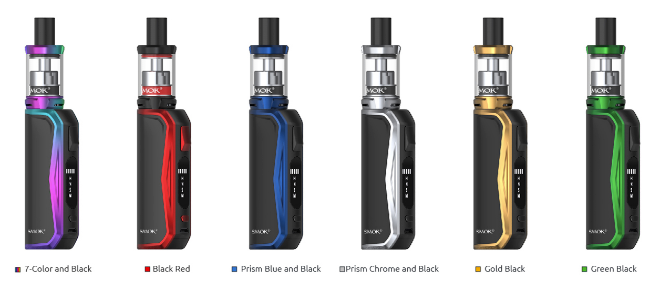 With a curved design and black finish, the Priv N19 looks elegant and sleek. Compared to other Priv devices, this setup looks completely different thanks to its delicate fire button and beautiful streamlines.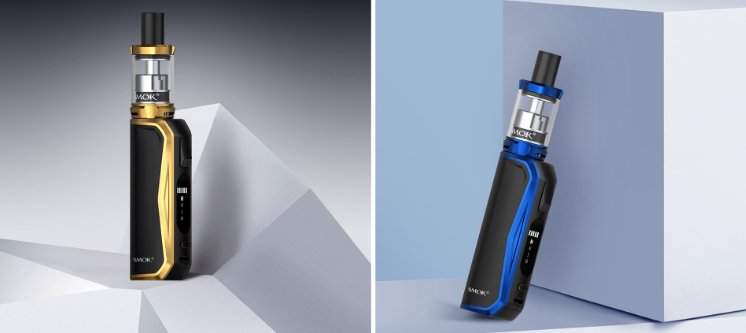 The control face of the Priv N19 mod has an ergonomic fire button at the top, battery status and wattage control LED bar in the middle, two adjustment buttons near the bottom, and a micro USB charging port underneath. The tank's components include a drip tip on the top cap, a glass tube with a 2mL chamber that contains the mesh coil, and a base with two adjustable air inlets.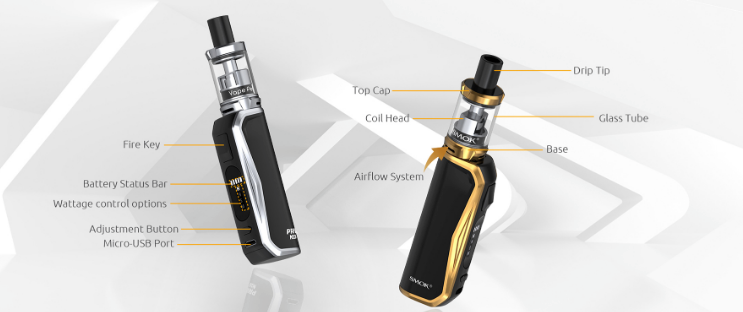 This setup can operate in four different wattage settings for a diverse vaping experience. The output range is between 5 and 30 watts and the settings options are minimum, soft, normal, and hard (M/S/N/H). To set the wattage, press the adjustment button.

Powered by a 1200mAh integrated cell, the Priv N19 Box Mod can provide extended vape times without recharges, even at its maximum setting.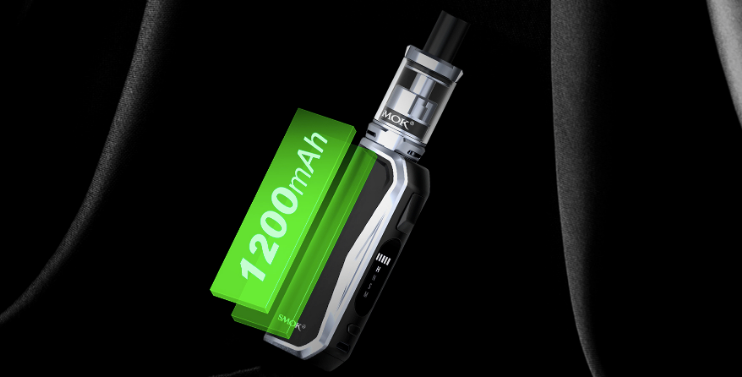 A detailed LED bar indicates if a recharge is required. When one light is lit, charge levels have dropped below 20 percent, and you should plug the N19 into any micro USB outlet. Two bars mean 20% to 40% charge remaining, three bars mean 40% to 60%, four bars mean 60% to 80%, and five bars indicate the battery has more than 80% remaining power.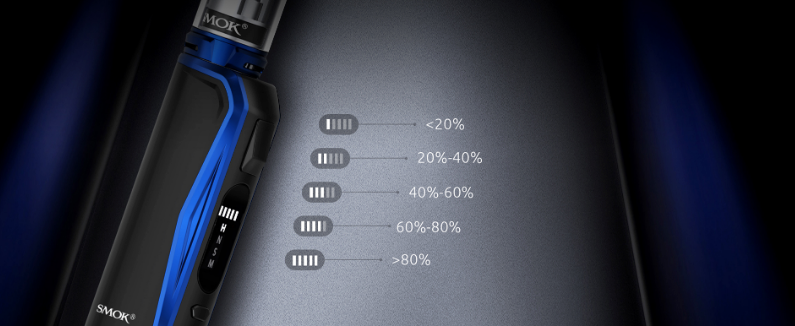 The power adjustment button is above the charging port at the bottom of the control face. Simply press it to choose your desired output level.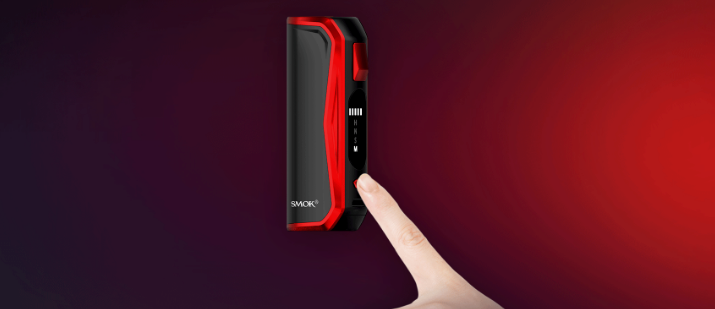 The control face's fire key features a new ergonomic design for easy operation. The finish of the button is smooth for maximum comfort whenever it is pressed.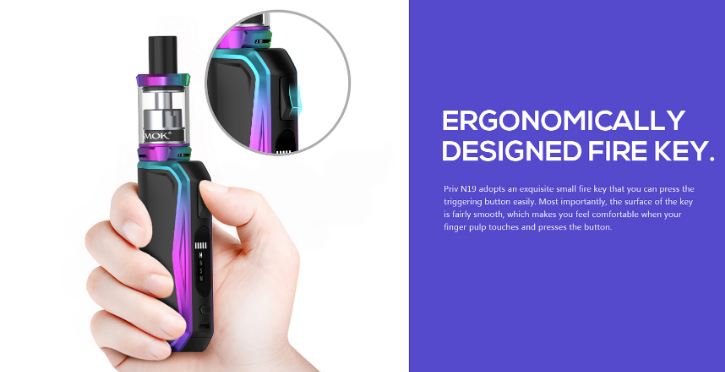 To prevent hazardous operation, the Priv N19 features a multitude of safety protections such as intelligent atomizer recognition, 8 seconds cutoff, low voltage protection, short circuit protection, and lithium battery protection.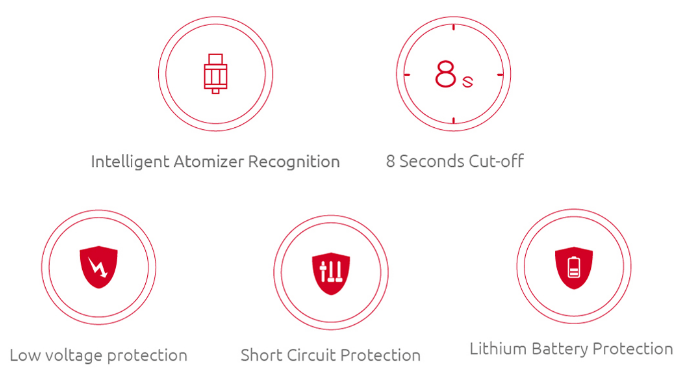 Charging the setup is effortless. Simply connect it to any micro USB wall charger or a computer's USB port with the included cable. When the charging process completes, the LED lights on the control face will turn off.

The tank in the kit operates with mesh coils for max vapor with good flavor. Included in the package is a 0.6ohm Nord Mesh coil designed for massive vapor at 25 watts of power. Or, if you prefer mouth-to-lung style vaping, install the 0.8ohm Nord Mesh coil that works at 16 watts of power. There is also an optional 1.4ohm Nord regular coil that should be used with nicotine salt e-liquids and is also a perfect mouth-to-lung vape at 12 watts of power.

Three airflow slots are at the tank's base to increase vapor production. You may freely adjust the size of these inlets by rotating the ring at the bottom.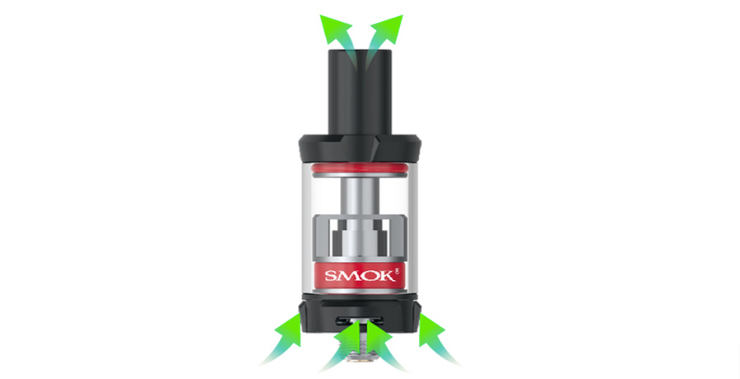 Adding e-liquid to the 2ml juice reservoir occurs by rotating the top cap until it is removed and adding e-liquid thru the fill slot. Be sure to let the device stand for several minutes so the coil's cotton becomes saturated.

Smok Priv N19 Kit Features & Specifications
Nord N19 Mod
Measurements: 71mm x 27.5mm x 20.2mm
Weight: 103g
Pocket-friendly design
Ergonomic fire key
Colors: 7color/black, black/red, prism blue/black, prism chrome/black, gold/black, green/black
Built with a 1200mAh internal battery
Micro USB charging system: DC 5V/1A
Battery LED bar above the USB port
Four output levels: M/S/N/H
Power output range: 5W to 30W
Output voltage: 2.4V to 6.0V
Input voltage: 3.3V to 4.2V
Standby current: <50uA
Resistance range: 0.5ohm to 3.0ohm
Safety protections

Lithium battery protection
Short circuit protection
Low voltage protection
8 seconds cutoff
Intelligent atomizer recognition

Vape Pen Nord N19 Tank
Measurements: 51mm x 19mm
Weight: 29g
Juice capacity: 2mL
Made from stainless steel
Easy refill system
Adjustable airflow control (3 slots)
Mesh coils

Pre-installed: Nord Mesh 0.6ohm | 25W
Included: Nord Mesh-MTL 0.8ohm | 16W
Optional: Nord regular 1.4ohm | 12W

In The Box (Priv N19 Kit Standard Edition)
Priv N19 Mod
Vape Pen Nord 19 Tank
Nord Mesh 0.6ohm Coil
Nord Mesh-MTL 0.8ohm Coil
USB Charging Cable
User Manual
Extra Parts
Total Views Today: 2 Total Views: 3,208