Here are cheap deals to purchase the Smok IGEE A1 Kit at a low price.  This pod system kit features a 650mAh battery, a top fill method, a childproof design, a leakproof design, a battery LED, a 2mL capacity, a mesh MTL coil, dual-side airflow, and a Type-C charging system.  Buy extra pods for the IGEE A1.
** Blowout **

USA Deal:

$8.99

  Coupons do not work on this product because it is on sale (use coupon CVDS20 to get 20% off other items)
IGEE A1 Pod System Overview
At first sight, the Smok IGEE A1 Pod Kit features incredibly bright colors and is portable.  Moreover, the main material used is aircraft-grade aluminum, known throughout the industry for being both tough and durable.  The matte color finishes are also bright and are available in blue/purple, blue/green, blue/grey, silver/blue, grey, or black.
Upon a closer look at the technical specs of the Smok IGEE A1, we see that it features a 650mAh battery, rechargeable via a Type-C port at the bottom.  To monitor the voltage level of the cell, a green battery LED on the front turns to blue when the charge level drops below 70 percent and to red when it is time to plug the device in with the included cable.  Output tops out at 14 watts, and there are many safety features to ensure a secure vape experience.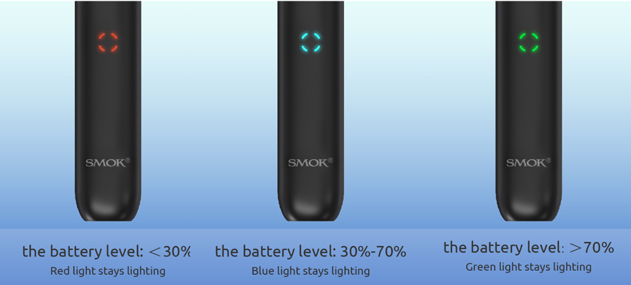 The pod that inserts into the battery section has a 2mL capability and is easily refilled via a top-fill method that involves removing the mouthpiece and exposing a juice port.  An integrated 0.9ohm coil inside the cartridge results in balanced vape juice atomization that produces smooth flavor and is sure to be leak-resistant.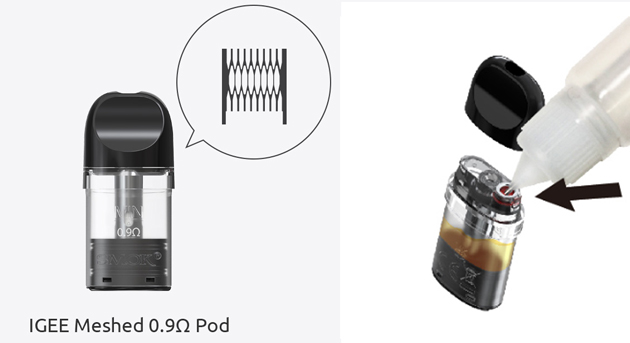 While airflow is not adjustable on this Smok pod kit, the IGEE A1 does have dual inlets to distribute air intake better and produce additional flavor.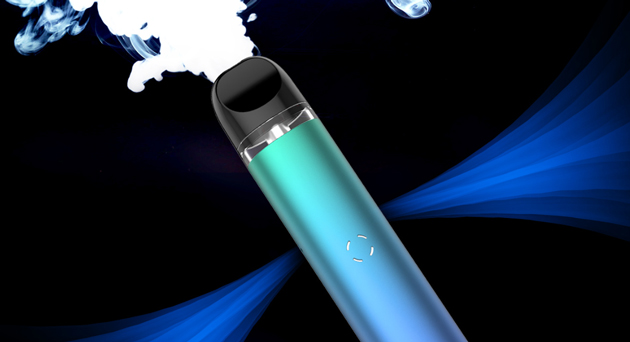 Features & Specifications
Design

Dimensions: 111mm x 21mm x 12mm
Weight: 31g
Chassis material: aircraft-grade aluminum
Portable & tough
Ergonomic
Matte bright finishes: blue/green, blue/purple, silver, blue, blue/grey, grey, black

Battery

650mAh integrated
Highly efficient bottom type-C charging port

Charging voltage: 5V±0.2V
Max charging current: 0.7A
Overcharge Voltage: 4.3V±0.05V

Battery LED

Green: >70% charge remaining
Blue: 30%-70% charge remaining
Red: <30% charge remaining

Chipset

Output power: 14W
Standby Current: <20uA
Input Voltage: 3.3V-4.2V±0.2V
Output Voltage: 3.6V
Resistance Range: 0.8Ω-2.5Ω
Overcharge Current: 1.0A±0.6A
Over-discharge Voltage: 2.4V±0.1V
Safety features

8-second cutoff
Pod detection
Short circuit protection
Low voltage protection
Low-resistance protection
High-resistance protection

Pod

2mL juice capacity
Top-filling method (remove mouthpiece)
Integrated 0.9Ω mesh coil

Wide contact area for fast heating
Ultimate flavor
Fully-atomized vape juice

Dual channel airflow for a balanced vape experience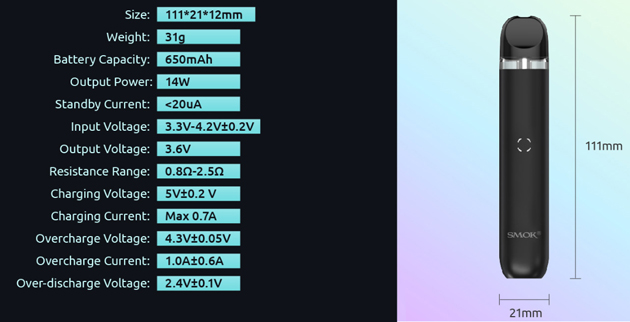 Package
Smok IGEE A1 Battery Mod
2 x IGEE A1 Meshed 0.9Ω Pods
Type-C Charging Cable
User manual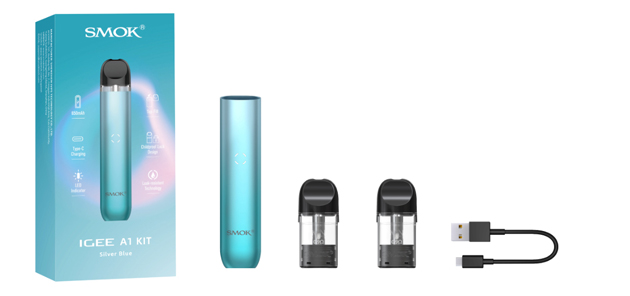 Total Views Today: 1 Total Views: 875