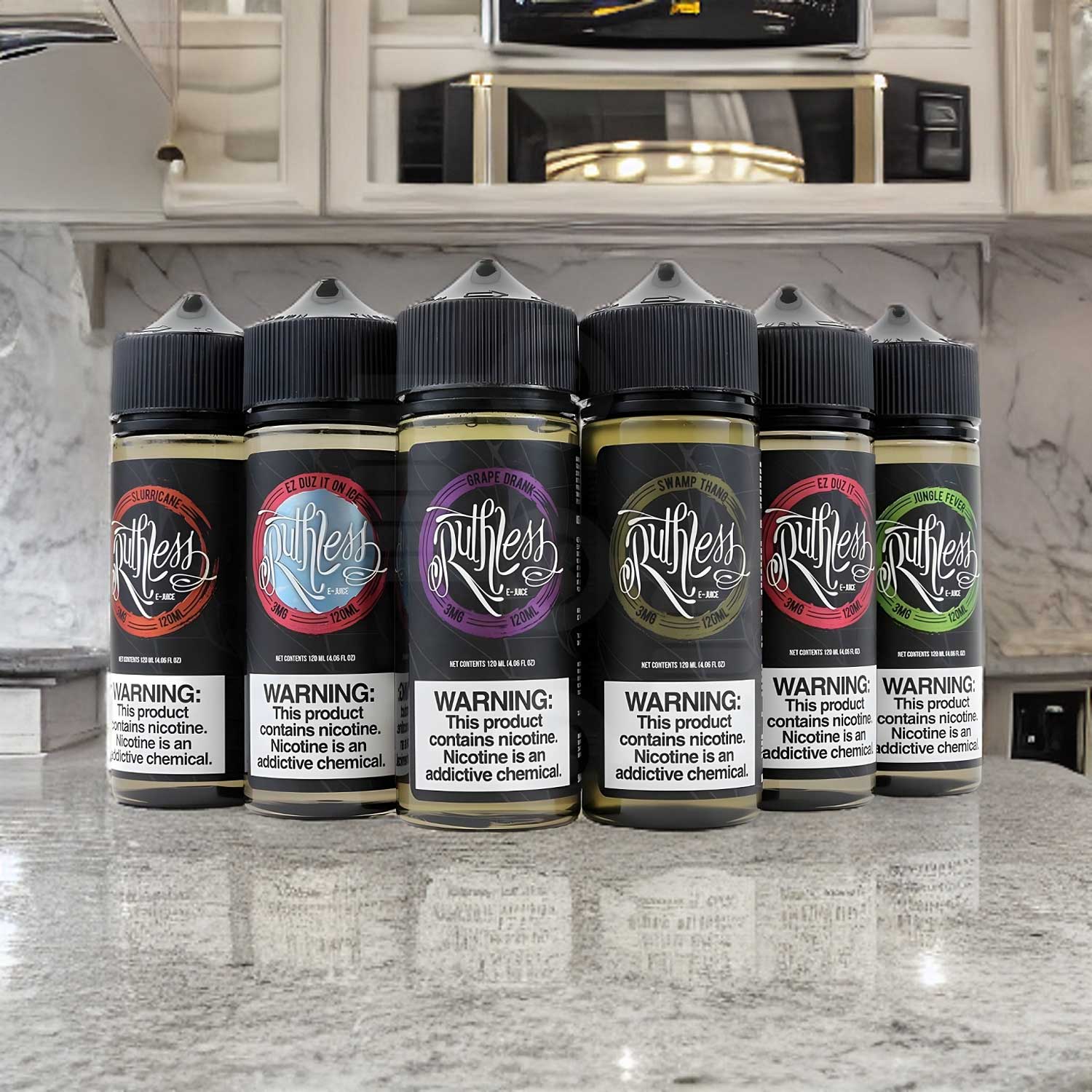 Check out these cheap deals on Ruthless  Vape Juice. These prices are rock bottom, almost below wholesale levels. Ruthless e-liquids come in either 30ml, 60ml, or 120ml bottles.
Similar Products
Flavors
Skir Skirr On Ice: fresh cold apple with sweet honeydew
Slurricane: a mixture of peach and papaya
Strizzy: kiwi, raspberry & strawberries
Swamp Thang: green apple vape juice with tons of throat hit
Swamp Thang On Ice: sharp apple flavor with cool menthol
Overview
Ruthless Vapor is in Southern California and has manufactured sweet candy e-juice since 2011. The company was started by vape enthusiasts and aimed to make the best e-juices in the marketplace.
By making delicious candy flavors, Ruthless' juices are so popular that more than a million have been purchased. Each e-juice is manufactured by utilizing the highest standards and rigorous quality control. Simply stated, if the product fails in the testing phase, it will never be released to the public.
Each Ruthless e-liquid comes in glass dropper bottles in either 15ml, 30ml, 60ml, or 120ml sizes with 0mg, 3mg, 6mg, and 18mg nicotine options. Their juice line includes these products: EZ Duz It, EZ Duz It on Ice, Grape Drank, Grape Drank on Ice, Jungle Fever, La Dolce Vita, Mandingo, Menage A Trois, Peach Fuzz, Rise, Rise on Ice, and SherBAE.
Total Views Today: 1 Total Views: 2,208