Smok Novo 3: 2mL Capacity Pod System Kit w/ 800mAh Battery
Here are cheap deals to buy the Smok Novo 3 Pod Kit, the company's latest release in the popular Novo series.  The Novo 3 features portability, an 800mAh integrated battery, 2mL pods, 25 watts of power, a 1 amp micro USB charging port, mesh coils for flavorful vapor, 2mL capacity pods, and a myriad of safety features.
Deals
USA Deal: Kit

$12.74 

Use coupon code 25C at checkout (exclusive 35% off sitewide – rock bottom prices on everything – one use per account – $300 limit)
Similar Products
Review
Design
The Novo 3 continues its incredible design we've previously seen in the Novo, Novo X and Novo 2 thanks to a beautifully curved body that permits easy gripping and ergonomic hand feeling.  Many colors are available including a plethora of carbon fiber and IML finishes.  Unique stickers are also optionally available to further customize the general appearance of your setup, but these are not found in the package.   Moreover, the Smok Novo 3 is light and portable thanks to dimensions of only 88.3mm by 24.5mm by 14.5mm and a weight of only 43 grams.  Unfortunately, we do not yet know which versions of the Novo 3 are available in the United States, so we will add this information at a later time.  Best of all, because Smok believes the Novo 3 to be extremely durable, so they've added a 12 month warranty  to enjoy your device for a minimum of a year.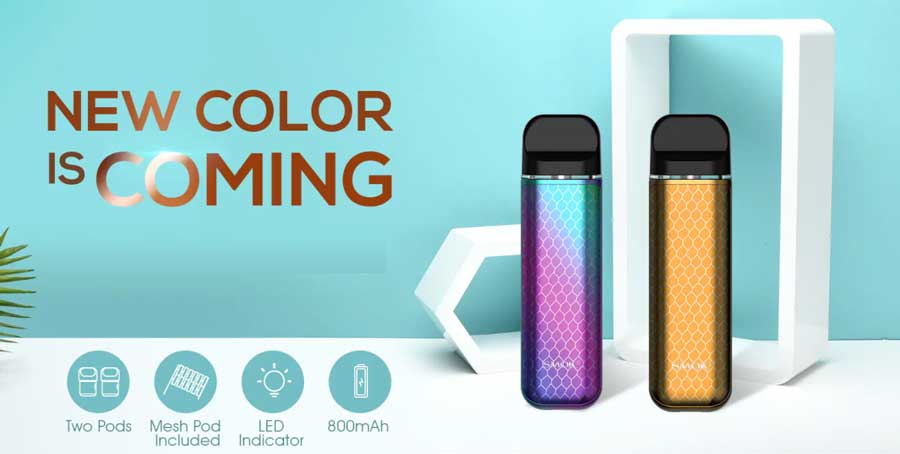 Powerful Battery & LED
Built with a high-performing 800mAh battery, the Novo 3 can operate without a recharge for 3 days or 600 puffs.  This is because the Smok engineers optimized the charging port and the motherboard's structure to improve performance.  To find the battery's current charge level, there's an integrated LED on the front of the device that will indicate green (more than 70% charge left), orange (30 to 70%), or red which means you should probably plug the device in.   To recharge, all you do is plug the included cable into the bottom USB port and a wall outlet.  While the charging time for the Novo 3 is not listed, it shouldn't take more than an hour to achieve a full charge.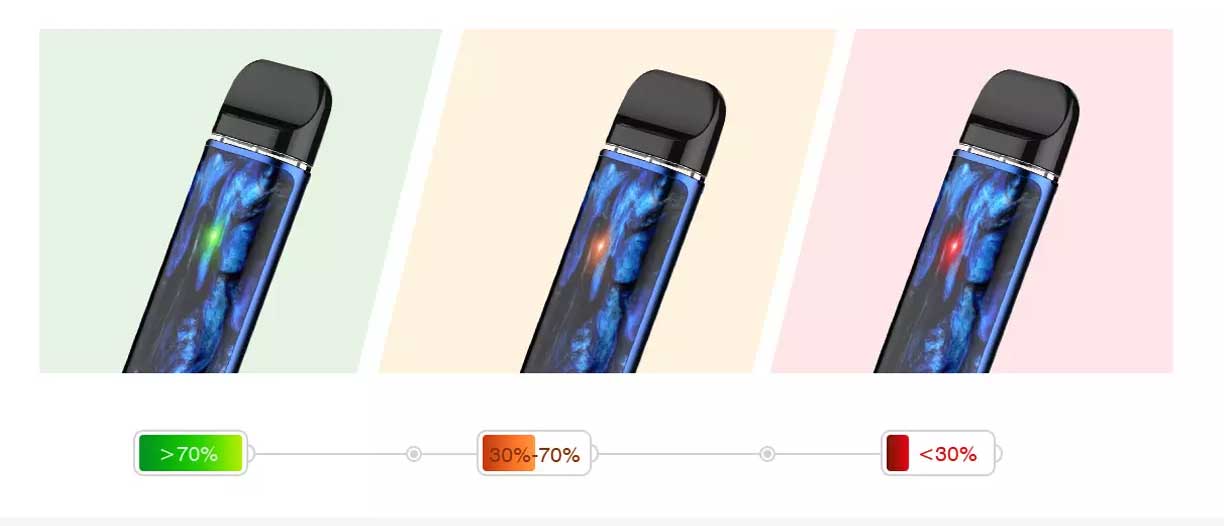 2mL Pods & Lots Of Coil Options
The Novo 3 utilizes refillable pods that are easily refilled via a side  port with a silicone plug. Each cartridge can hold 2mL of vape juice for extended vape times with either nicotine salt e-liquids or regular sub-ohm vape juice.  At the time of this writing, we are unsure which coils will be available for the Novo 3 pod kit, but we see the company has PMTA applications for pods with either a 0.8ohm  mesh coil, a 1.0ohm single mesh coil, a 1.2ohm single coil, a 1.4ohm dual coil, a 1.5ohm single coil, and a quartz coil pod.  All of these produce a mouth-to-lung style vape and, unfortunately, there is no airflow control.  With new integrated grooves around the contacts between the pod and mod, the Smok Novo 3 also solves the issue of messy e-liquid condensation around the electrodes.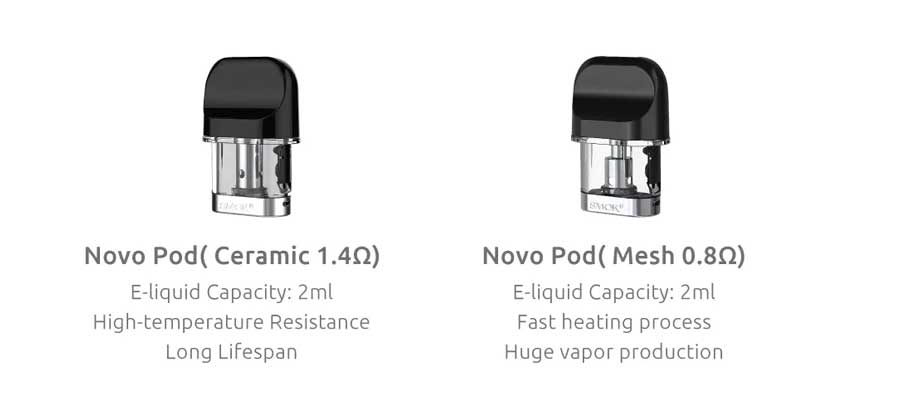 Puff Activated Firing
There is no fire button on the Novo 3. Instead, Smok has integrated a re-designed air-sensing system which means that the device will fire whenever you draw on the ergonomic whistle-shaped mouthpiece. Air follows a dual U-shaped airflow path which greatly increase vapor production and maintains the flavor of the pod's e-liquid.  As a bonus, the Novo 3 provides multiple protections to prevent risky vaping such as short circuit prevention and, low voltage prevention. Plus, the device will stop working if your puff lasts longer than 8 seconds in case of accidental firing.
Features & Specifications
Size: 88.3mm × 24.3mm ×14.3mm
Color options: IML Blue Cobra, IML Silver Cobra, IML White Cobra, IML Gold Cobra, IML 7 Color Cobra, IML Red Cobra, IML Black Cobra, Purple Red Carbon Fiber, Red Carbon Fiber, 7 Color Carbon Fiber, Blue Carbon Fiber, Gold Carbon Fiber, Tiffany Blue Carbon Fiber
Pocket-sized
Colors: TBA
Whistle shaped, ergonomic  mouthpiece
800mAh  internal battery
Bottom micro USB charging  port
 1A charging current
Battery light: green (>70%), orange (30% to 70%) or red (below 30%)
2ml cartridges
Side-fill system
Condensation prevention system
Dual U-shaped internal airflow for flavor and vapor
Included coils: TBA
Voltage input: 3.3V to 4.2V
Power capability: 6W to 25W
Over-discharge Voltage: 2.4V
Overcharge Voltage: 4.3V
Output Voltage: 3.0V-4.0V
Safety features: over-puff, short-circuit, low voltage protection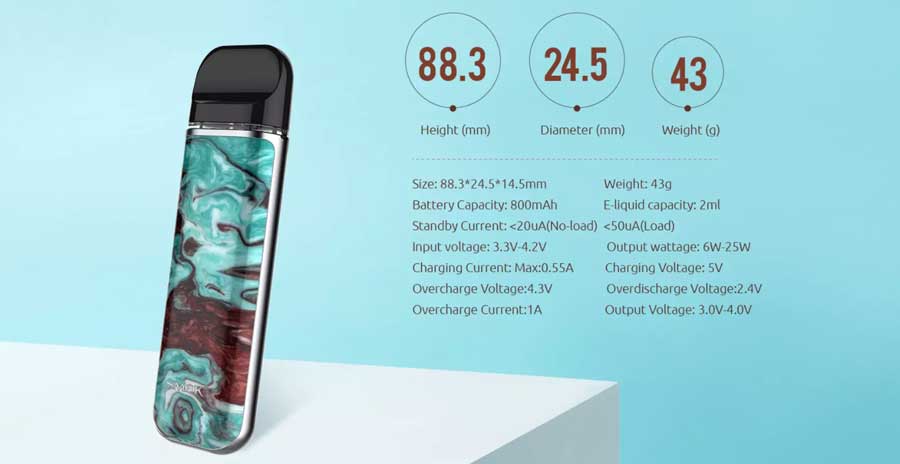 In The Package
Novo 3 Mod
2 x Novo 3 Pods
Micro USB charging cable
Manual
Total Views Today: 23 Total Views: 10,628