Here are cheap deals to buy the Smok Rigel Box Mod or Rigel Kit at a low price.  It features dual 18650 batteries, fast firing, 230 watts of power, Type-C USB charging, a full-color display screen, 6.5mL juice capacity, a sliding top-fill system, mesh sub-ohm coils, and dual slotted adjustable airflow. This setup is available in black/red, silver, black/blue, black, or black/green.
Deals 
Ergonomic Design
Thanks to the refreshing back design, this new setup is constructed with a flexible rubber coating with carbon fiber on the side to make it tough yet have a smooth hand feeling.  Moreover, the Smok Rigel is durable, and many honeycomb holes give it an appearance that can only be called unique.  Available in 5 different colors, the mod measures 44mm by 28.8m by 88mm and weighs just 103.4 grams. These proportions are quite small for a potent 230-watt box mod.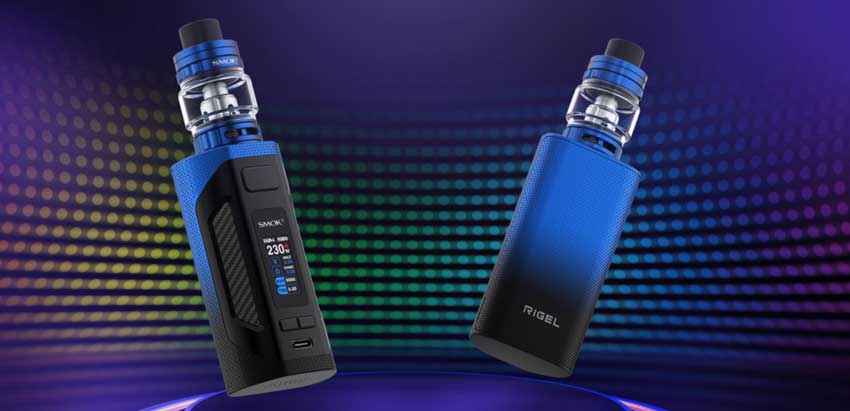 Powerful Chipset
The Smok Rigel Kit also does not disappoint in the technical department.  With 230 watts of maximum power, the device responds to firing within just 0.001s. As a result, the mod is the perfect combination of speed and power, producing intense vapor with flavor from the first hit.  Power is gained from dual 18650 batteries, which should last quite some time, even at maximum output.  And the charging system consists of a USB Type-C interface that delivers reliable power and fast transfer speed.  This reduces the charging frequency and makes the process safe and less time-consuming. Best of all, multiple protections avoid vaping risks while using this device. In addition to ensuring constant power output, the Rigel integrates intelligent atomizer recognition, puff monitoring, over-puff protection, short circuit protection, overheat protection, and low battery warning.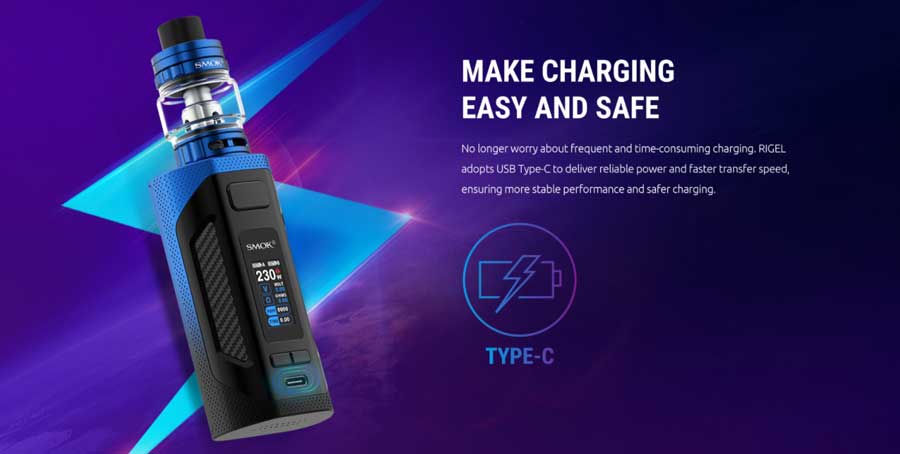 Full-Color Screen w/ Customizable Theme
Find a massive 0.96″ full-color screen on the control face with vape data such as current mode, current atomizer resistance, puff data, battery bars, and much more.  While this already permits crystal clear viewing of vape data, you may also personalize the user interface to your preference by pressing the fire key and up button simultaneously.  Choose from these colors: red, purple, yellow, green, grey, or blue.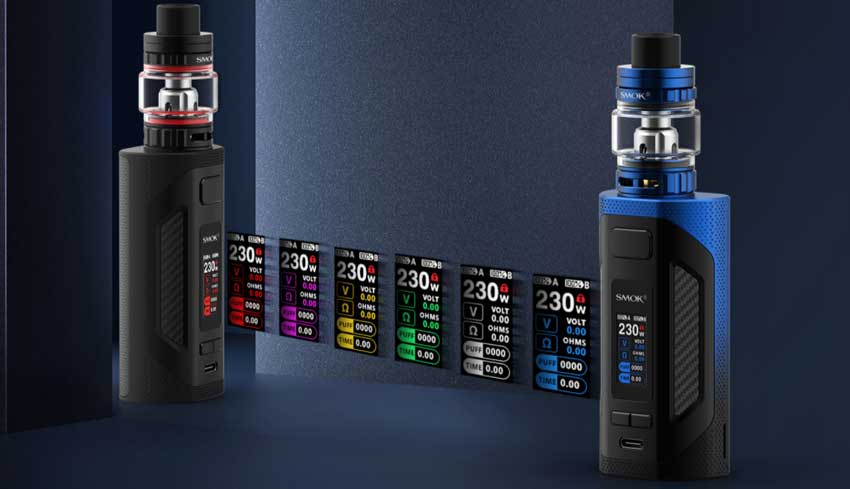 V9 Meshed Coils
The Smok Rigel Kit also included the Smok TFV9 Tank, which operates with V9 coils with mesh heating elements.  These coils have a bigger heating surface and heat faster to enhance flavor and vapor.  With purchase, receive two V9 meshed coils that work in the range of 40 to 90 watts.  You may even install V8 baby coils, making the setup versatile.  And two massive air slots at the bottom are also fully adjustable to further add to the massive vapor production of this tank.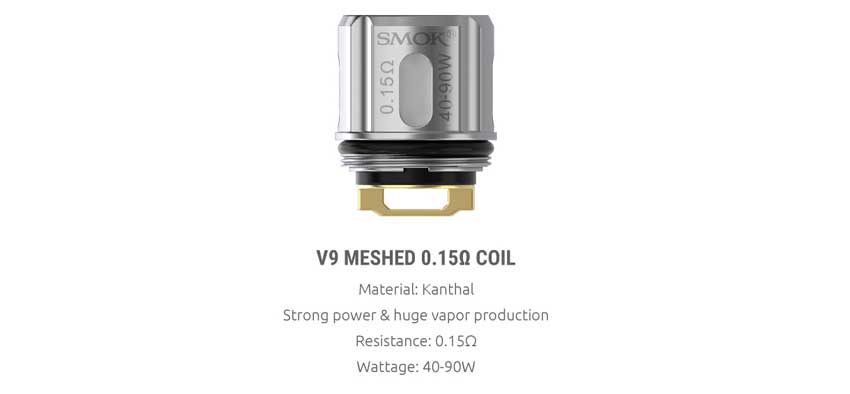 Easy Refills
Additionally, there's a sliding top fill system, so adding juice via a leak-free slot is easier than ever.   To refill, slide the top cap to expose a juice port to inject e-liquid.   Best of all, the juice capacity is 6.5mL unless you are located where the maximum capacity is regulated to 2mL.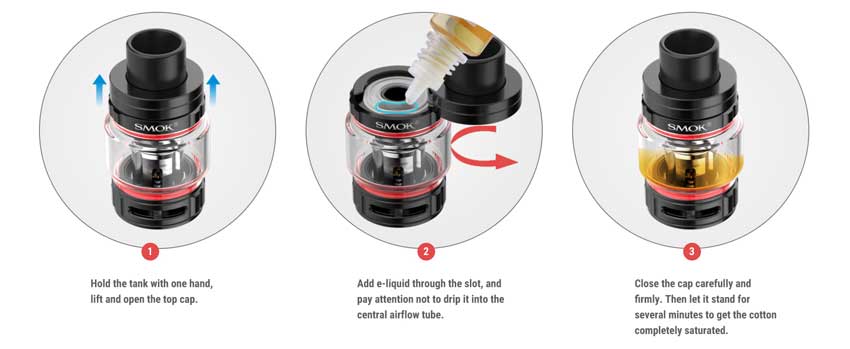 Features & Specifications
The Rigel Mod measures 44mm x 28.8mm x 88mm and weighs 103.4g. The wattage output is in the range of 0.1ohm to 2.5ohm, and the charging current of the two 18650 batteries is a fast 2 amps.  The TFV9 Tank has a size that comes in at 28 x 56mm and weighs only 62 grams. At the bottom, there is a 510 threaded connection, and the juice reservoir can store up to 6mL of vape juice.  If you get the EU version of the kit, you will receive the 2mL version of the atomizer.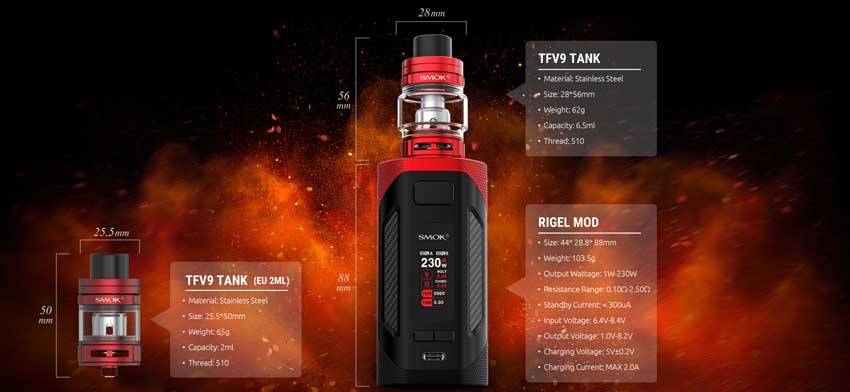 Package
With the purchase, you will receive the Rigel Mod, a TFV9 Tank, 2 V9 Meshed 0.15ohm coils, a Type-C charging cable, and a manual.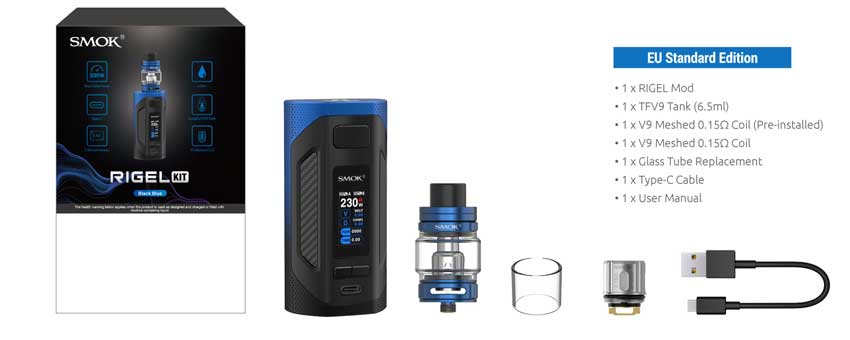 Total Views Today: 1 Total Views: 10,490