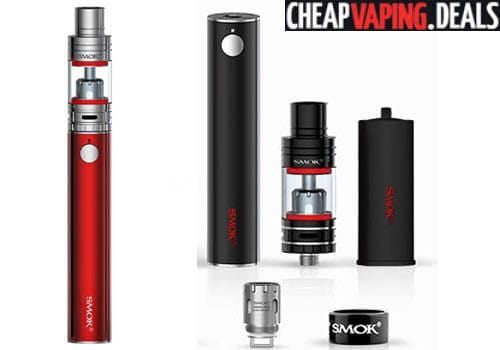 31

Here's a great deal on the brand new Smok Stick One Basic & Plus Kits.
Update: This Item Has Been Discontinued – Check  Similar Smok Mods & Kits Below
Overview
The Smok Stick One has two different version: the Basic Kit and Plus Kit.  Both kits feature a retro design with a more simplistic tube mod with a long battery life to allow for all day vaping.  Each kit  includes an amazing sub ohm tank that will produce huge vapor clouds and excellent flavor.  The basic Stick One kit features the 2ml Nano TFV4 tank and a classic eGo Cloud battery which is rated at 2200mAh.   The Plus Kit is comprised of the 3.5ml Micro TFV4 Plus tank and the eGo Cloud Plus battery which comes in at 2000mAh.  Also included is a USB charging cable, a manual, extra parts, a tank dust cap and a Smoktech vape band.
The  TFV4 Nano tank (basic kit) and TFV4 Micro tank (plus kit) are both new versions of the larger TFV4.  The Nano features a 2ml tank capacity, while the Micro can hold 3.5ml of e-liquid.  Both devices feature top fill functionality with a swivel top cap which.  Refilling has never been easier: simply twist the top to reveal the e-liquid slots and add e-juice.  With a 510 threaded connection pin, both the Nano and Micro can also be used with any box mod that can fire atomizers with low resistance.  Each tank comes with one pre-installed 0.3Ω Clapton Dual Core coil, as well as an extra 0.25Ω Stainless Steel Dual Core coil.
At the top of the tanks, you will find a double layered drip tip to insulate heat and prevent the tip from getting hot.  The inner  tube of the drip tip is made of Pyrex glass while the outside is constructed of stainless steel.   Airflow is also customizable with these devices.  Four huge, adjustable air slots can be rotated 360 degrees for smooth airflow at your favorite setting.
The kits' eGo Cloud batteries are built with amazing capacity to prevent the need for constant recharging.  Both  feature easy and fast USB charging via their ports on the bottom.  An LED indicator near the top of the batteries also allow you to accurately keep track of  battery life.  If voltage drops below 3.5V, the LED will blink much slower, indicating the need to plug the tube mod into a power source. The eGo batteries are also packed with safety features.  Each has built-in low resistance protection, low voltage protection, 8 second overtime protection and short circuit protection.
For maximum portability,  the kits include a dust cap lanyard which matches whatever color your kit was ordered in.  The lanyard makes it easy to carry the Stick One around, while the attached dust cap keeps the drip tip free of dust and grime while you're out and about.
Overall, these Stick One Kits look like amazing bundles that revive the popularity of eGo batteries. The difference from previous eGo setups is that the sub ohm Stick One Kits allow for better vapor production, longer battery life and more flavorful puffs.
Check out the kits on the Smok website
Smok Stick One Basic Kit Features & Specs
Dimensions: 147mm x 19mm
Tank constructed stainless steel and pyrex glass tube
Tank capacity: 2ml
Double layered drip tip to prevent scalding
Adjustable airflow on top and bottom
Includes 0.3Ω micro CLP2 coil
Includes 0.25Ω micro STC2 coil.
eGo Cloud Battery with 2200 mAh capacity
USB charging with included cable
Battery life indicator
510 threaded connection
Wide range of safety features
Smok Stick One Kit Features & Specs
Tank made of stainless steel and pyrex glass tube
Tank capacity: 3.5ml
Double layered drip tip to prevent burnt lips
Adjustable airflow slots on top and bottom
Includes 0.3Ω micro CLP2 coil
Includes 0.25Ω micro STC2 coil.
eGo Cloud Battery with 2000 mAh capacity
USB port for easy charging
Battery life LED
510 threaded connection
Wide range of safety features
Video Review
Not available just yet
Total Views Today: 1 Total Views: 34