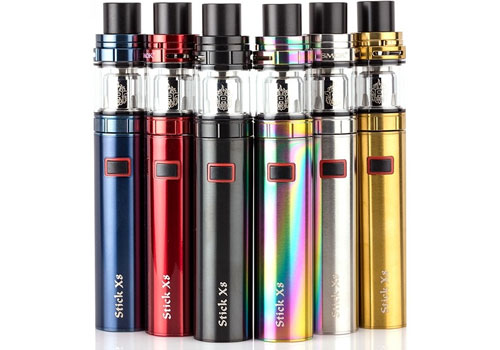 Check out these discounts for the Smok Stick X8 Kit.  It includes a powerful 3000mAh battery mod and the TFV8 X-Baby Tank.
Update: This Item Is Hard To Find So Check Out Similar Deals Below
Review
Overview
The follow-up  to the Smok Stick V8 Baby Kit is the X8 Kit. This new starter bundle consists of an improved 3000mAh battery with the latest TFV8 X-Baby Tank. The kit is available in black, gold, silver, blue, red or rainbow.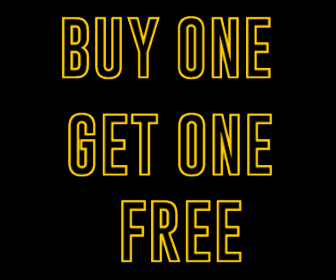 The X8 battery is portable thanks to small dimensions of 24.5mm x 85mm and a weight of only 88.5 grams.  A 3000mAh capacity battery powers this setup and has a capability of 2000 amps of continuous discharge.  With this massive capacity — used in combination with the lower wattage X8 tank — you will get long vaping times without recharging. To keep track of battery levels, an LED light surrounds the easy access power button.  The light will blink faster as the battery voltage continues to drop. Once the voltage level drops below 3.3 volts — indicated by 15 continuous fast flashes —  the Stick X8 battery needs to be plugged into any wall outlet with a USB cable which is included.  Multiple automatic protections ensure safe use. These include low voltage protection, short circuit protection, low resistance protection and overpuff protection (8 seconds).
The TFV8 X-Baby is the newest atomizer by Smoktech. It features amazing vapor production, a 4ml capacity, the latest coils, top adjustable airflow and is easily refilled.
This latest tank is a little bigger than its predecessor —  the TFV8 Big Baby Tank —  because of its 4ml capacity that results in measurements of 24.5mm x 59mm. The device is made from stainless steel with Pyrex glass.  A patented/convenient top fill system utilizes a swivel mechanism on the top cap that reveals a decent fill hole. Airflow can be changed via two large external intakes that have been moved to the top of the device, below the top cap. The included drip tip is made from Delrin material for adequate heat reduction and optional Resin versions are set to be released very soon.
The X-Baby utilizes the latest Smoktech coil system. Included with purchase, you will get a 0.25ohm TFV8 X-Baby M2 coil that is meant to work well with 3.7 volts mechanical mods. This coil is pre-installed and is said to produce plenty of flavor in a smooth/cool vapor.  Or, you may want to use the included 0.13ohm TFV8 X-Baby X4 quadruple core that gives off cool vapor with a silky taste. This particular coil should be fired between 45 and 60 watts for best results, but can be used from 30 watts to 70 watts.
Smok Stick X8 Kit Features & Specs
X8 Battery
Size: 24.5mm x 85mm
Weight: 88.5g
Colors: 7-color, red, blue, silver, gold, black
Capacity: 3000mAh
2000A continuous discharge
Battery LED on power button

Flashes faster as battery drains

Micro USB charging
Output voltage range: 3.4V to 4.2V
Standby current: less than 200uA
Safety protections

Short circuit protection
Low voltage portection
Overtime protection (8s cutoff)
Low resistance protection
TFV8 X-Baby Tank
Size: 24.5mm x 59.0mm
Weight: 58.4g
Made from stainless steel & Pyrex glass
Colors: 7-color, red, blue, silver, gold, black
Tank capacity: 4ml
Patented top fill system

Top cap swivels open
Large fill port

510 threaded connection
Wide bore Delrin drip tip
Optional resin drip tips: blue, purple, yellow, green, red, rainbow
Dual top airflow slots — adjustable
X-Baby coil system

Pre-installed: 0.25Ω TFV8 X-Baby M2 Dual  Coil (works well with 3.7V unregulated mods) / cool & smooth taste
Included: 0.13Ω TFV8 X-Baby X4 Quadruple  Coil / 30W to 70W/ Best at 45W to 60W
Pictures
Total Views Today: 1 Total Views: 1,134