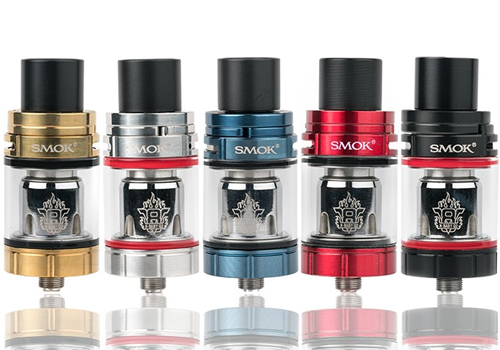 Check out these discounts for the Smok TFV8 X-Baby Tank. 
Overview
The X-Baby is the latest device in the long line of TFV8 tanks. The new atomizer features massive vapor, a new top airflow system, a 4ml tank capacity, a top fill system and brand new coils.
Compared to the TFV8 Big Baby Tank, the X-Baby is slightly taller and has a bigger tank reservoir.  The dimensions of the X-Baby come in at 24.5mm x 59mm while the tank capacity is 4ml. Refilling the tank occurs via a patented top fill system that allows the top cap to swivel to expose a large fill port. Stainless steel has been utilized to make the chassis while the tank section is made of temperature resistant glass.  Available colors include black, green, gold, blue, red, silver, rainbow and purple.
Dual airflow slots on the Smok X-Baby Tank have been moved to the top of the device, feature an extremely open draw and can be freely adjusted to your favorite setting.  In combination with the included black Delrin drip tip, airflow is massive for huge vapor clouds.  There's also optional Resin drip tips in either yellow, purple, blue, green, red or 7-color.
This new tank features a brand new coil system.  Pre-installed is the 0.4ohm TFV8 X-Baby Q2 coil that has a power range of 40 to 80 watts and is said to produce deep and rich clouds.  Or, use the included 0.25ohm TFV8 X-Baby M2 coil that works well with 3.7 volts mechanical mods (such as the Stick V8) and is said to provides cool/smooth vapor with plenty of flavor.  An RBA head is also said to be released very soon.
Features & Specs
Dimensions: 24.5mm x 59mm
Weighs 58.5g
Tank capacity: 4ml
Hinged top fill system
Made from stainless steel and glass
510 threaded connection
Colors: purple, black, green, gold, blue, red, silver, rainbow
Included: wide bore Delrin drip tip
Optional resin drip tips: 7-color, red, green, yellow, purple, blue
Dual adjustable top airflow slots
Pre-installed: 0.4Ω TFV8 X-Baby Q2 Dual Coil / 40W to 80W / Best at 55W to 65W / rich vapor
Included: 0.25Ω TFV8 X-Baby M2 Dual  Coil (works well with 3.7V unregulated mods) / cool & smooth taste
Coming soon: RBA head
Pictures
TFV8 X-Baby Review
Coming Soon…
Total Views Today: 1 Total Views: 537