Here are cheap deals to purchase the Smok Vape Pen V2 Kit.  This portable setup features a 1600mAh battery, a 3mL tank, 60 watts of max power, a 0.15ohm coil, easy refills, and adjustable airflow control.  The Vape Pen V2 is for sale at a low price in many finishes.
Deals
1600mAh Battery For 60 Watts Of Power
The Smok Vape Pen V2 is the follow-up to the Vape Pen 22 and Vape Pen Plus, which have similar technical features.  Not much has changed, so we assume that the popular vape system received an update because of its previous popularity or because Smoktech needed a pen-style kit with a proven track record for FDA approval via the PMTA process.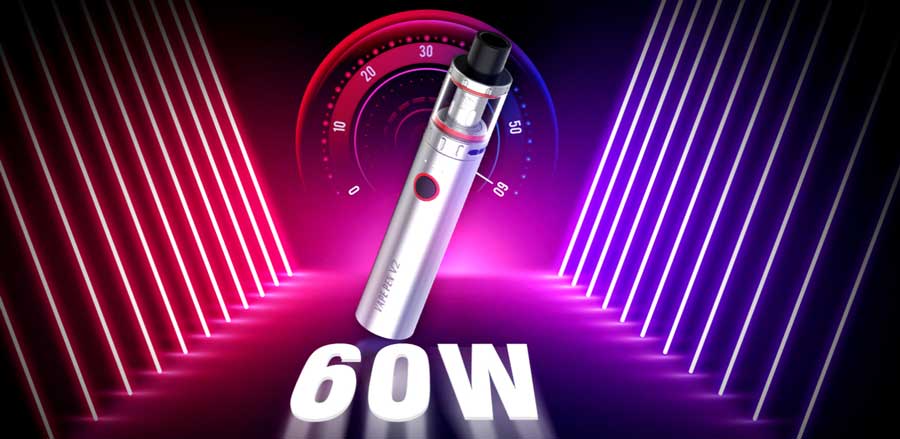 As with its predecessors, the Vape Pen 2 works with a powerful 1600mAh integrated battery for long vape times.  In fact, on the website, Smok claims that you may benefit from a full day of vaping without a recharge.  The cell is replenished via a bottom micro USB port and a cable that smoothly inserts into any USB wall outlet or a computer.  While in operation, the Smok Vape Pen V2 utilizes mechanical output, which permits 60 watts of power when the battery is at full voltage.  Although the chipset is sure to try to maintain stable performance, efficiency may still degrade as the battery drains.  To avoid potential hazards, the chipset has integrated battery protection, atomizer detection, over-puff protection, 8 seconds cutoff, short circuit protection, and low voltage protection.
Three Smart LED Indicators & Power Button
Above the power button, you may note three LED indicators that communicate the battery's current status or the charging state if plugged in.  If you see three lights on, this means that the cell has more than 70% remaining voltage, two lights indicate the charge level is from 30 to 70%, and if you see just one light, you must plug the Vape Pen 2 in as voltage is below 30%.  And the power button underneath the LEDs is also multifunctional.  When pressed five times, you can power on/off the Vape Pen V2 Kit, double-click it to check the battery charge level, or long-press it to vape.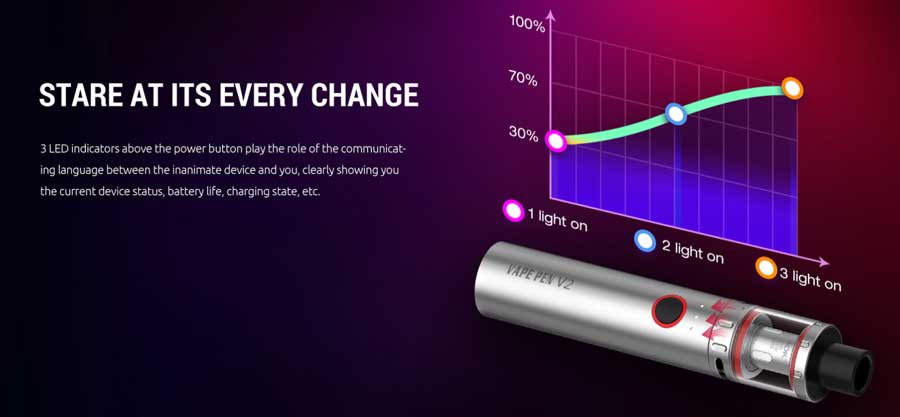 0.15Ω Meshed Coil For Incredible Flavor & Vapor
The tank at the top of the Smok Vape Pen V2 works with meshed coils to ensure balanced heating, expanding the heating area and for smooth vapor output.  The package shows two Vape Pen Meshed 0.15Ω coils working from 30 to 50 watts for massive vapor and heating.  Best of all, there are five other coil options: the Vape Pen DC 0.6Ω coil (fast heating, 12W-25W), the Vape Pen 22 0.3Ω  (massive clouds), the Vapen 0.25Ω  (wide heating area & dense clouds), and the 0.15Ω Vape Pen Strip coil (flavorful output).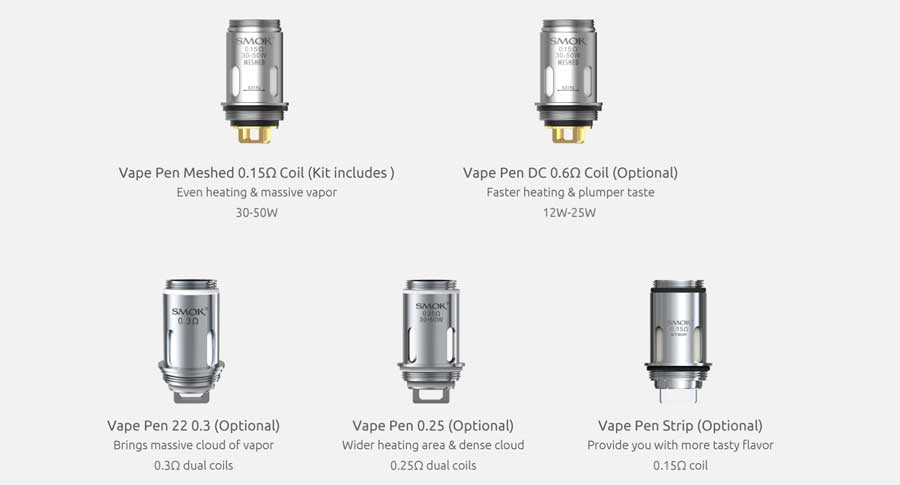 3mL Juice Capacity & Wide Airflow Range
In addition to the high-capacity battery, the juice reservoir on the Vape Pen V2 Kit can store 3mL of vape juice for long vape times.  To refill this tank, turn the top cap counterclockwise to unscrew it and squirt your favorite e-liquid into either of the two fill ports.  Next, keep the top cap on and keep it still for a few minutes to ensure a better taste as the coil completely saturates.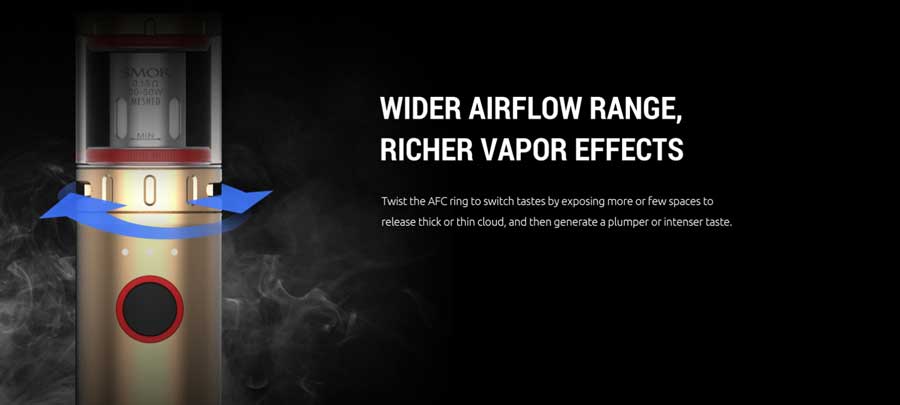 Another good aspect of the Smok Vape Pen V2 Kit is its wide airflow range that permits you to set the device to intense flavor, huge vapor, or a balance in between.  This is quite easy to do by rotating an airflow control ring to change two air slots from wide open to completely closed.
Smok Vape Pen V2 Kit Features & Specifications
Measuring 117.7mm by 22mm and weighing only 94.5 grams, the Vape Pen V2 is pen-shaped for portability and ergonomics.  Made from stainless steel and Pyrex glass, the finish options include red, stainless steel, black, 7-color, gold, blue, and gunmetal.  This setup works with a 1600mAh battery with up to 60 watts or 3 to 4 volts.  To maintain the battery's voltage while not in use, the standby current is a very low 50uA or less.  And a micro USB port at the bottom operates with a 670mA current for a decent recharge time.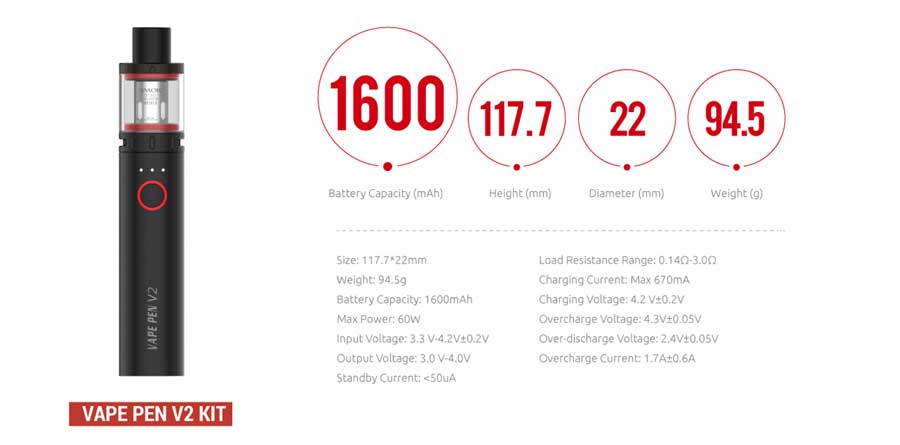 Package
You will find one Vape Pen V2 device, two Vape Pen Meshed 0.15Ω coils, a USB cable, and a manual in the box.  However, those of our loyal site visitors in the European Union will receive a 2mL capacity setup.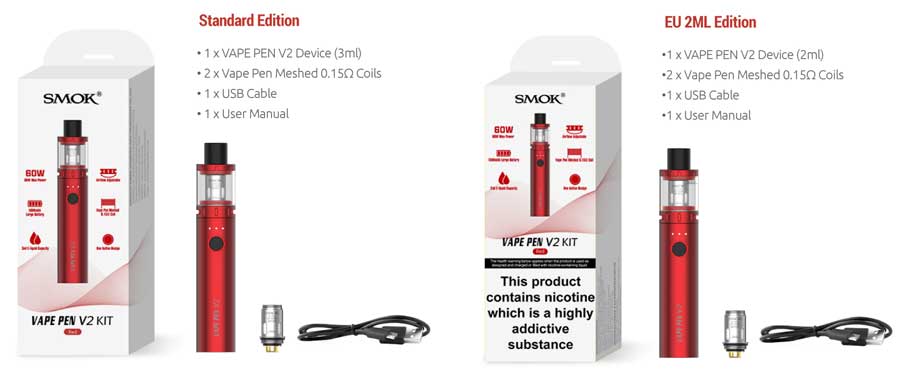 Similar Products
Total Views Today: 4 Total Views: 7,113