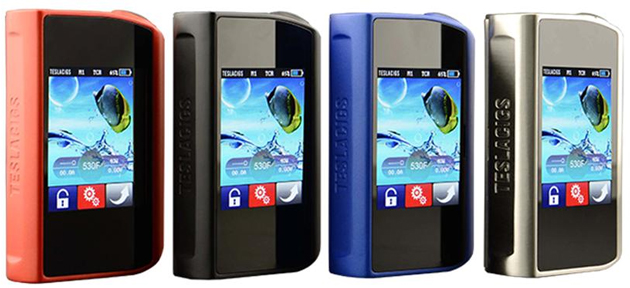 Check out these awesome deals on the Tesla Touch Mod.  It features a large 2.4″ full color IPS with excellent resolution, easy touch menu control, a compact form factor, 150 watts of power, temperature control, dual 18650 battery support and a micro USB charging system.
Overview
The Tesla Touch is a touch screen box mod that features a large 2.4″ IPS screen with amazing resolution, a compact form factor, 150 watts of power, temperature control and streamlined menus with easy customization.  The device is available in silver, blue, red or black.
The Touch is made from zinc alloy and has dimensions of 94mm x 56mm x 25.5 mm, making it lightweight and portable.  It utilizes two high drain 18650 batteries which are stored behind a convenient magnetized battery cover.  Unfortunately, battery cells can only be charged with an external charger. At the top, there's a springloaded 510 connection to support any standard atomizer installation.  Ventilation holes on the bottom prevent the batteries and mod from overheating.
The Tesla Touch features a 2.4″ IPS touch screen, the same technology found in LCD TVs and iPhones.  IPS display produce more natural colors and sharpness than TFT screens which you will find in most competing touch screen mods in the marketplace.
The menu system on the Touch is very similar to any smart phone. Whether you're a new or advance vaper, it's never been easier to customize your vape settings.  The main menu shows icons for locking/unlocking the device, accessing the settings menu and wattage/temperature/resistance adjustments. Clicking the lock icon prevents any of the settings from being changed.  To unlock the device, you simply slide the scroll bar to the right.  If the fire button is pressed, the Touch will automatically lock.  Switching between modes is also easy by simply pressing the wattage/temperature indicator.
Clicking the settings icon allows for more thorough customization.  Here you can lock the device, lock the resistance, set coil wire material, enter speed mode, access memory slots or set TCR mode values.   In the settings, you can also alter sleep mode time or change the wallpaper background. Best of all, the mod is firmware upgradable in case Teslacigs brings out a new operating system.
The technology that powers the Touch mod is also state-of-the-art.  It features up to 150 watts of power, can fire with resistance all the way down to 0.05ohm and works with all coil wire types in temperature control including Ni200, Ti and SS316.  Or, as previously stated, you can enter the resistance value of your coil's wire in TCR mode.  For the purpose of safety, there's also multiple safeties which include: material set alert, low voltage, upgrade , short circuit, reverse connection and overpuff protections.
Pictures
Video
Features & Specs
Measurements: 94mm x 56mm x 25.5 mm or 3.7″ x 2.2″ x 1″
Compact and portable
Sleek design
Constructed from zinc alloy
Springloaded 510
Battery ventilation
Powered by dual 18650
Magnetic battery door
2.4″ IPS touch screen
Easiest menu like smart phone
Set wallpaper
Supported languages: English, Chinese
Power output range: 1W to 150W
Temperature range: 200°F to 600°F
Power mode resistance range: 0.1Ω -to 3.0Ω
TC mode resistance range: 0.05Ω -to 1.0Ω
Variable temperature supports titanium, nickel, stainless steel & TCR
Maximum output voltage: 12V
Maximum output current: 40A
Input current: 30A
Total Views Today: 1 Total Views: 445