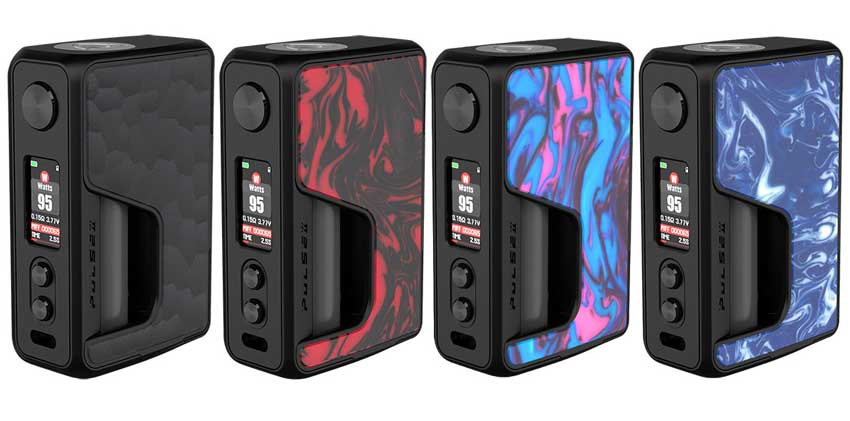 Here are cheap deals to buy the Vandy Vape Pulse V2 Box Mod.  It features a full color display screen, 95 watts of power, a waterproof chipset, durable design &  material, a bottom fill bottle, a refined design, a full suite of operating modes, type C charging and 21700/20700/18650 compatibility.  This squonk box mod is for sale in obsidian black, rainbow resin, sky blue resin and flame red resin.
Deals
CN-SZ Worldwide Shipping Warehouse: 95W Pulse V2

$40.99

| USA Warehouse

$47.99

  Use coupon code PulseV2 at checkout
Similar Products
Review
Pulse V2 Mod Overview
The Pulse V2 Box Mod is the latest upgrade in the long line of Vandy Vape Pulse devices.  With the latest Vandy Vape chipset, this mod is everything you need as it can put out up to 95 watts of power in a myriad of modes including bypass, power, voltage, and 3 temperature control modes.  As seen below, all of these modes are easily accessible via a full-color display screen on the control face. And, the charging system for the 21700, 20700 or 18650 battery is designed with a type-C charging port to recharge the cell in no time at all.  For safety, the Vandy Vape Pulse V2 also has short circuit, overheat, low battery, open circuit, over-puff, and high current protection built into the waterproof chipset.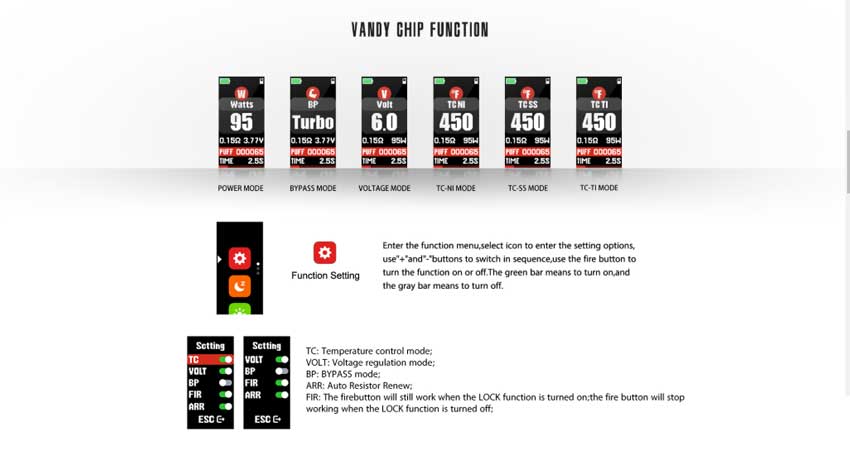 With a waterproof PCBA and squonk bottle, you never need to worry if your Pulse V2 Mod accidentally gets stained, wet, or inundated with grime or dirt.  If this happens, all you do is take out the battery and wash it all off under the faucet.  It's never been easier to clean your box mod.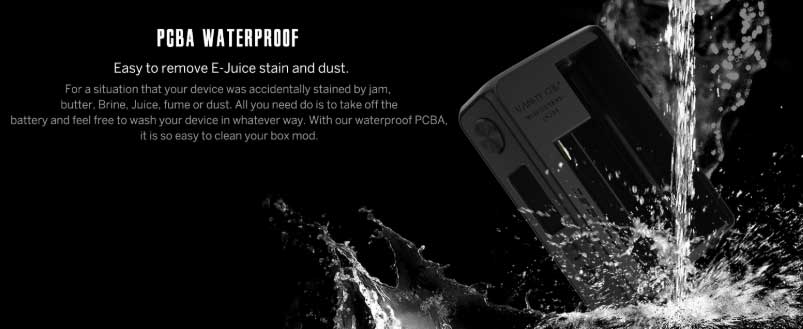 Design-wise, this mod also does not disappoint.  With refined lines and ergonomic shape, the Vandy Vape Pulse V2 Box Mod has 4 available colors including three resin colors which is sure to turn heads while you hold the device in the hand. Moreover, the 7mL squonk bottle features a bottom fill system which permits the bottle to stay directly in line with the 510 bezel at the top.  To access the refill port, all you do is turn a screw cap at the bottom.  Best of all, you'll get two squeeze bottles in the mail.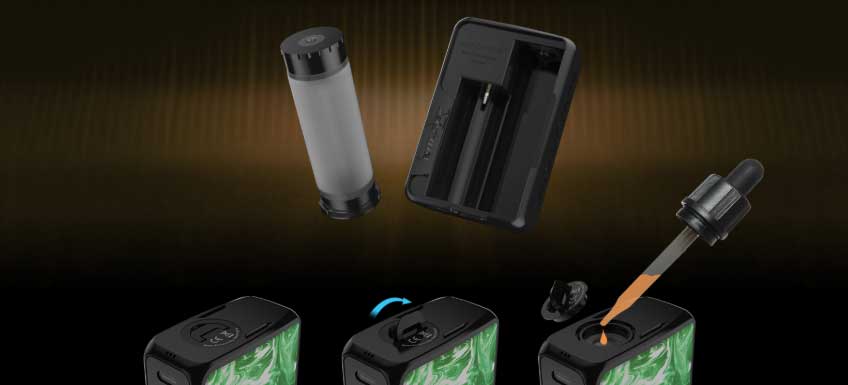 Vandy Vape Pulse V2 Package
With the purchase of the Pulse V2 Mod, you will receive the device, 2 instruction manuals, a warranty card, a type-C USB cable, a 18650 battery adapter and 2 7mL squonk bottles.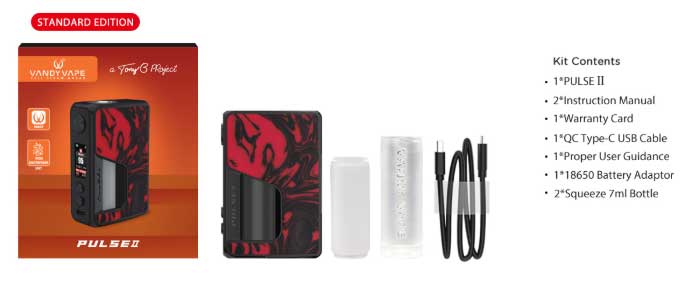 Total Views Today: 3 Total Views: 5,371