Check out the Vandy Vape Pulse AIO Mini M Edition Kit with 80 watts of max power, a beautiful panel illustration, a new square button, honeycomb air intake, 18650 battery compatibility, Type-C charging, and a wide range of modes, including temperature control.  Two tanks are included: the rebuildable 3.5mL  Kylin M Tank and the pre-built Vessel Tank.

Pulse AIO Mini M Edition Kit Overview
The main new features of the Vandy Vape Pulse AIO Mini M Edition Mod Kit are a new square button and a beautiful illustration with 5 options.  In addition, the chassis is made with high-quality Lexan EXL1434T Polycarbonate, which is also durable, and the device easily fits in hand.  Choose from the following colors: black, frosted blue, frosted black, frosted purple, jelly yellow, or mint green.
The Pulse AIO Mini M Edition utilizes a single 18650 battery to generate power in the 5 to 80 watts range.  The operating modes include wattage, temperature, voltage, bypass, and smart modes.  And to achieve a safe vape experience, there are many built-in protections: open circuit, high current, over-puff, short circuit, high temperature, and low battery.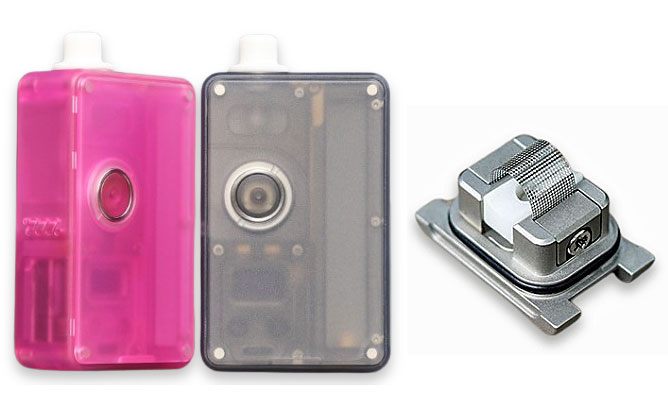 This new mini kit includes the rebuildable Kylin M Tank for DIY building and the Vessel pre-made coil tank.  Find 0.2ohm and 0.15ohm coils in the package and two VVC coils.  Refill the Kylin M via a side-fill plug: remove the panel and squeeze juice into the exposed hole on the atomizer.  And a plethora of honeycomb side intake holes provides massive airflow to the coil to produce lots of vapor with flavor.
Features, Specifications & Package
Size: 52.5 x 92.5 x 26.2mm
Portable & light
Polycarbonate reinforced chassis
Detachable structure
Colors: mint green, jelly yellow, frosted purple, frosted black, frosted blue, black
New square button
Round button with matching panel included
Power range: 5-80W
Modes: Wattage/TC/Voltage/Bypass/Smart
Safety protections: open circuit, over current, over-puff, short circuit, high temperature, low battery
Single 18650 battery support
Input voltage: 5±0.25V
Resistance range: 0.05-3.0Ω
Max output current: 32A
Pre-built Vessel Tank capacity: 5mL
Kylin M Tank capacity: 3mL
Honeycomb airflow
Large vapor
Plenty of flavor
Package

Pulse AIO Mini Device
Replacement Tank
Manual
Round Button
Adjustable Airflow Apparatus A
Adjustable Airflow Apparatus B
Kylin M Tank
Accessories
Type-C USB Cable
2 x Vape Cotton Laces
Pulse Vessel Pre-Built Tank
2 x A1 M Coils 0.2Ω
2 x A1 M Coils 0.15Ω
510 Coil Burning Set
2 x VVC Coils
Drip Tip
Wrench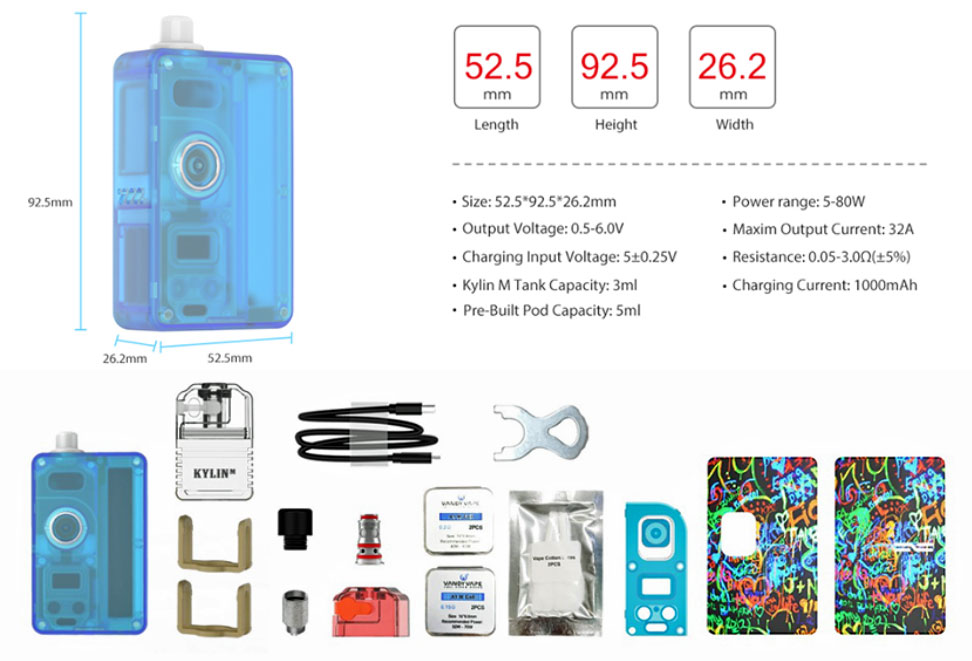 Total Views Today: 1 Total Views: 1,146