Here are cheap deals to buy the Vandy Vape Rhino Kit.  This tiny variable wattage pod system features 50 watts of power from a 1200mAh battery, a lightweight/portable design, an embedded cartridge for incredible appearance, VVC coils for MTL or DTL vaping, a display screen, and a 4mL pod.

Deals
Overview
The Vandy Vape Rhino is the latest in the long line of  Vandy Vape Starter Kits, but this new device is very small compared to any of its predecessors.   The entire setup only weighs 77 grams, and the dimensions come in at only 47.6mm by 75,4mm by 25mm, making it extremely pocket friendly.  The finishes are also exquisite and come in brown/blue leather, all-black leather, white leather, red/green leather, red wine leather, and gray leather.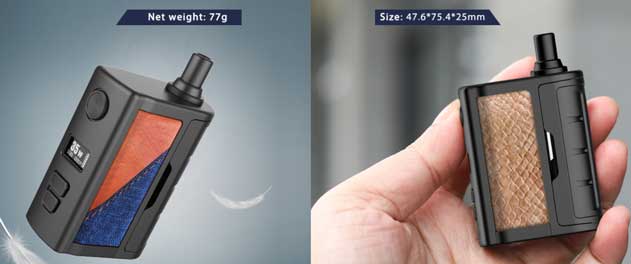 On the technical side, the Rhino has the latest Vandy Vape proprietary chipset to achieve 50 watts of power.  Output is also adjustable through a small display screen and two adjustment buttons that permit a monochrome user interface navigation.  The chipboard has integrated safety features such as open circuit, over-current, 10 seconds cutoff, short circuit, high temperature, and low battery protection.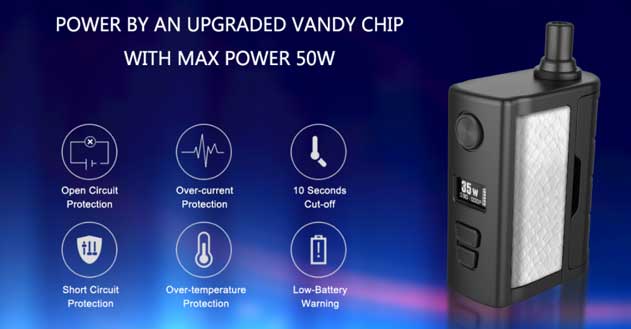 Power is induced by a 1200mAh integrated battery that should last all day, even at maximum output.   Unfortunately, the Type-C recharging port is on the bottom, so the kit can't be placed vertically during recharging.  A charging cable can be found in the package.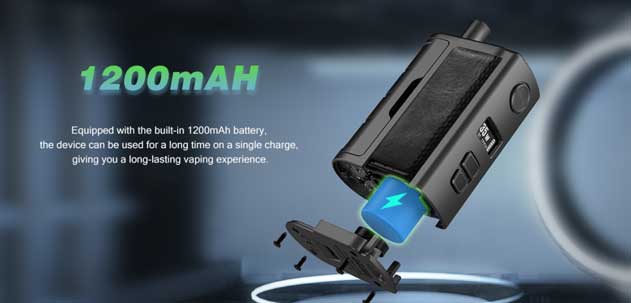 To streamline the Vandy Vape Rhino's appearance, the 5mL cartridge is located inside the mod and is accessible by removing the magnetic panel on the back.  But, this makes refilling not quite as easy as traditional pod kits with a top fill system.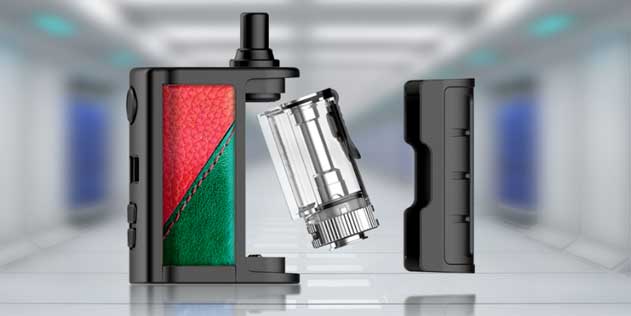 The Rhino Kit supports mouth-to-lung or direct-to-lung puffs, but airflow is not adjustable.  You can change your vape style by choosing from 4 different coil options.  With purchase, you will receive two VVC coils, but which type is unknown. The available coil versions are VVC-30 (0.3Ω | 30 to 45W) |  VVC-60 (0.6Ω | 18 to 26W) | VVC-90 (0.9Ω | 9 to 16W) | VVC-120 (0.3Ω | 7 to 13W).

Features & Specifications
Dimensions: 75.4mm x 47.6mm x 25mm
Weight: 77g
Colors: black leather, white leather, red/green leather, red wine leather, and gray leather
Light & small
Removable panel to access embedded cartridge: streamlined appearance
Upgraded Vandy Vape chipset
Display screen
2 adjustment buttons
Power range: 5W to 50W
1200 mAh internal battery
Bottom USB-C charging port
5mL cartridge
MTL or DTL vaping
Coils

VVC-30 | 0.3Ω | 30 to 45W
VVC-60 | 0.6Ω | 18 to 26W
VVC-90 | 0.9Ω | 9 to 16W
VVC-120 | 0.3Ω | 7 to 13W

Operating mode: VW
Operating voltage: 3.2V to 4.2V
Charging input voltage: 5V
Output Voltage: 0.5V to 5.5V
Max Output Current: 20A
Resistance range: 0.2Ω to 3.0Ω
Safety protections

Over-current
Open circuit
Short circuit
Low battery
Over-temperature
Over-puff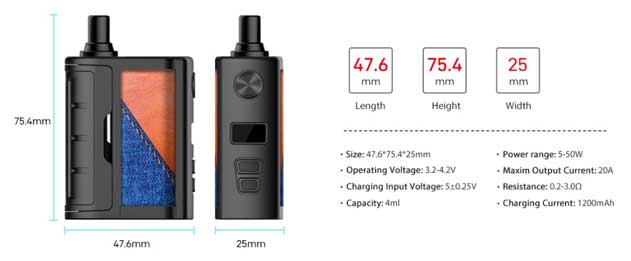 Package
Rhino Pod Kit
2 x VVC Coils
Manual
Type-C Cable
DL Drip Tip
Coil Tool
Package Weight: 168g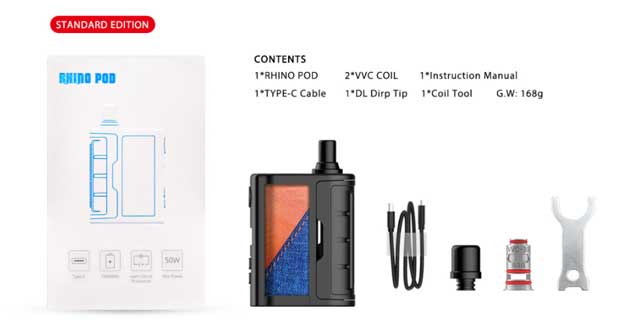 Similar Products
Total Views Today: 1 Total Views: 592