Here are cheap deals for the Voopoo Drag Nano 2 Kit at a low price.  This pod kit features an 800mAh internal battery, extreme portability, a 2mL juice reservoir, a 0.8ohm pod, a 1.2ohm pod, 3 power levels, adjustable airflow, easy charging, a lanyard, and a battery/power LED light.
Deals
Drag Nano 2 Overview
The Voopoo Drag Nano 2 is the follow-up to the very popular Drag Nano, which is quite popular and part of the Drag Series mod and kits.  The new pod system is small yet powerful and is said to have the performance of other Drag devices.  And it is also smaller and has a better appearance than its predecessor or the just-released Drag 4.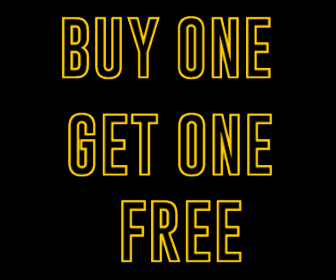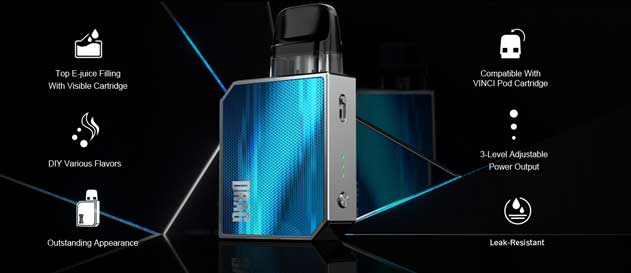 Built with zinc alloy material, the Drag Nano 2 preserves the classic look of the previous device to ensure proper and ergonomic hand feeling.  But the finishes are brand new and include three versions with single-grain metallic plating in either spark champagne, powder blue, or carbon fiber colors. All of these have a bright and translucent look. The other five finishes borrow their appearance from the leather material found on the Drag S Pro to have the ideal leather and metal combo in either tea green, gull grey, orange, classic black, or classic red.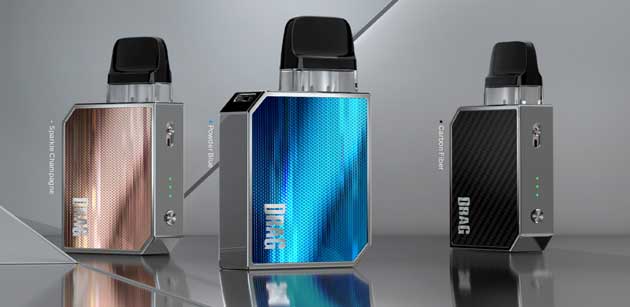 For versatility, you may regulate the airflow and power to your liking.  Changing airflow is done by a physical slider on the side above three LED lights that change color.  These lights will be white at the highest power setting, or green means medium output,  while blue indicates the lowest setting.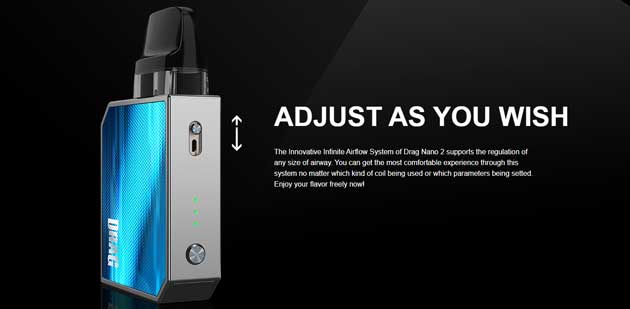 The setup comes with two pods, so you can experience different puff styles.  The first is a 0.8ohm pod that may be more appropriate for lower nicotine vape juice, while the second 1.2ohm pod is perfect for nicotine salt e-liquids or higher nicotine vape juices.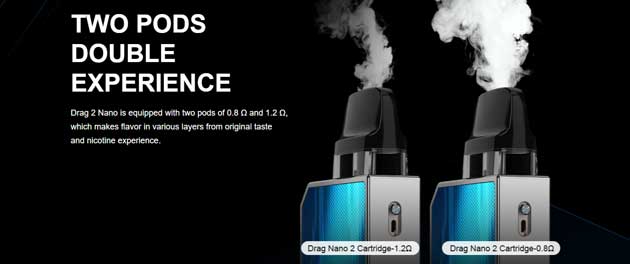 Another aspect that makes the Nano 2 different is that you may utilize any Vinci pods from previous devices.  And refilling the pod kit is effortless as you can remove the mouthpiece to expose an easily accessed juice port.  The cartridges are also transparent so you can continuously monitor the juice level inside the reservoir.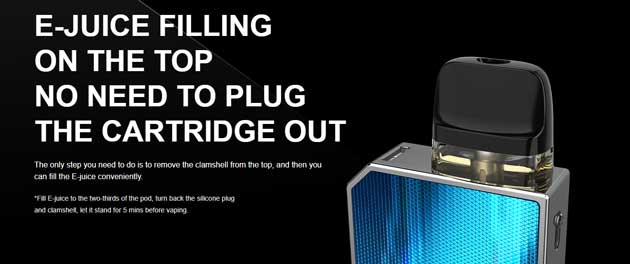 Finally, a GENE chipset ensures stable power output at a maximum of 20 watts and almost instantaneous firing. And there are several safety features such as over-current, over-discharge, max power, short circuit, overtime, over-temperature, and overcharging protection.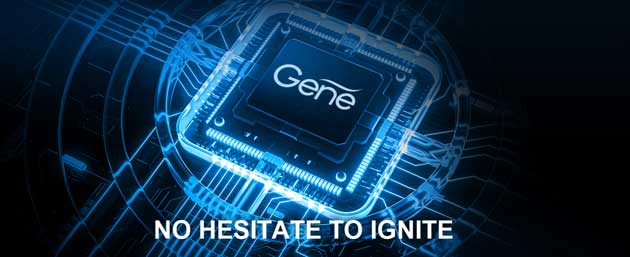 Color Options
Features & Specifications
Size 71.5mm x 44.0mm x 14.2mm
Small
Powerful
Zinc Alloy Material
Lanyard For Transportation
Gene Chipset For Instant Firing
Built-in 800mAh Battery
Type-C Charging
LEDs To Track Battery Voltage & Power Setting
Colors: Color Sparkle Champagne, Powder Blue, Carbon Fiber, Tea Green, Gull Grey, Orange, Classic Black, Classic Red
800mAh battery
Type-C charging
Output Power 8-20W
3 Power Modes: High, Mid, Low
Output Voltage 3.2~4.2V
Resistance 0.1~3.0Ω
Cartridges: 1.2ohm | 0.8ohm
2ml Juice Capacity
Easy Top-Fill Method
Airflow Adjustment
Works With Voopoo Vinci Pods
Protections: Output Over-Current, Over Discharge, Max Power, Short-Circuit, Overtime, High Temperature, Overcharge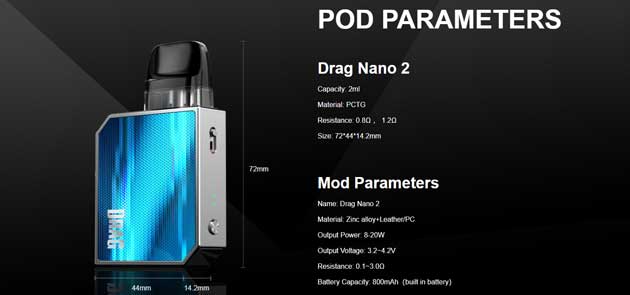 In The Box (Standard Edition)
DRAG Nano 2 Mod
0.8Ω Pod
1.2Ω Pod
Type-C Charging Cable
Manual
Lanyard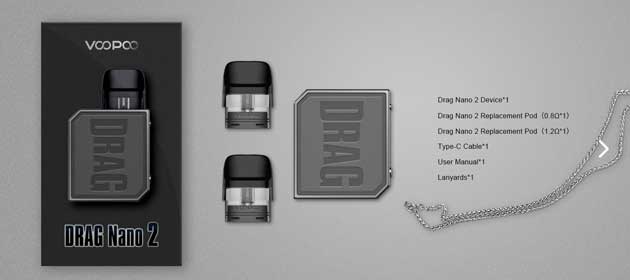 Similar Products
Total Views Today: 1 Total Views: 2,733