Wizman Puff Boy: 200W Gameboy Style Mod w/ Full Color Display & 8-Bit Drawing Board Program

The Puff Boy Mod features a lightweight Nintendo Gameboy-style appearance, 12 different wattage presets, three adjustable power modes, 200 watts of power, a plethora of temperature control modes (Ni200, Ti, SS), a TCR mode, four curve heating options, a full-color 1.3-inch display w/ customizable animated screen saver, an 8-bit drawing board program (draw and set as wallpaper) and dual 18650 batteries (not included).  This mod is no longer available so check out other mod deals.

Puff Boy Mod Overview
The Wizman Puff Boy features a retro-style classic gaming design reminiscent of a Gameboy.  On the control face, you will see a Nintendo-style appearance alongside a full-color user display screen.
This device uses dual 18650 batteries and can achieve 200 watts of power. A side micro USB charging port allows for fast recharging of the two cells. This high-performance device has 12 presets, three alternate wattage modes, temperature modes, TCR mode, and bypass mode.  Color options for the Puff Boy include black, green, silver, and pink/blue.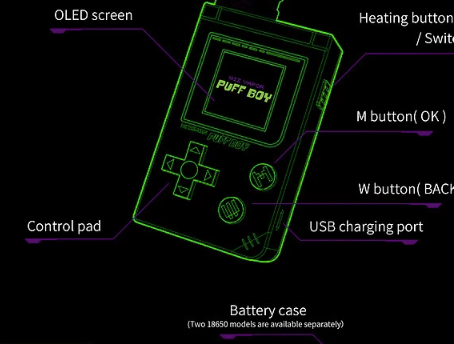 User Interface
On the screen, you will see two battery indicators, a puff counter, current mode, real-time voltage, real-time resistance, current heating curve mode, and the set value of power or temperature.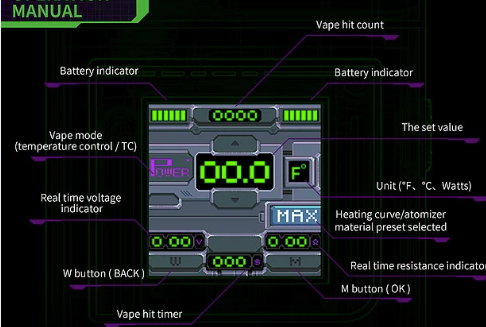 Press the + button on the control pad to change the power or temperature or set the modes. The temperature output unit can be set to Celsius or Fahrenheit and temperature control can work with nickel, titanium, and stainless steel heating elements or use the custom mode (TCR).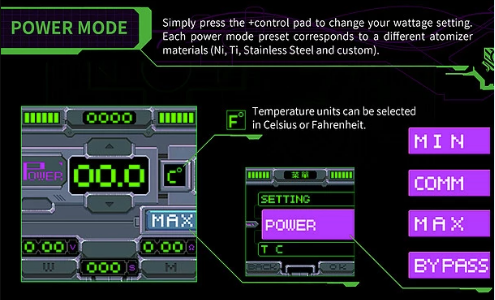 The temperature control modes allow manual control of the atomizer's heating temperature. Additionally, you may set the output to 4 alternate curve heating modes to optimize your vaping experience.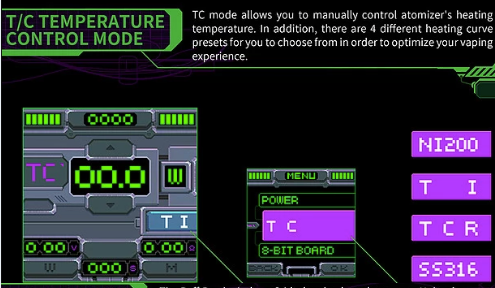 The background has an animated screensaver that can be customized, or you can draw your own wallpaper using an 8-bit drawing board program integrated into the mod. Save your artwork and set it as the background in the settings menu.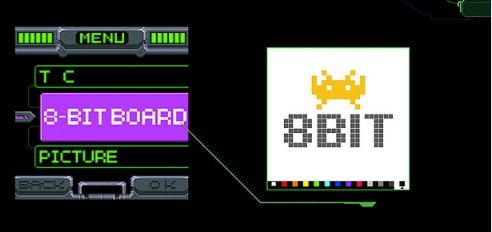 Configure the Puff Boy via the settings menu. You can configure the unit displayed (Fahrenheit/Celsius), the mod's language, and the power saver timer. There are also icons to get information on the Puff Boy or to reset the device to factory settings.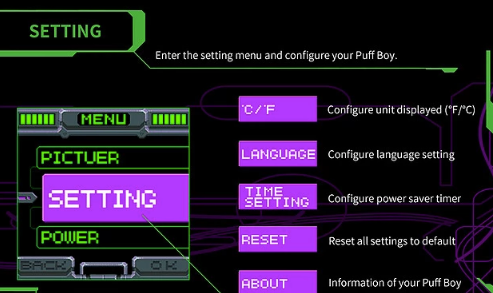 Wizman Puff Boy Features & Specifications
Lightweight Nintendo Gameboy Style Design
Mod size: 53mm x 33mm x 88mm
Color options: black, green, silver, pink/blue
510 threaded connection
Powered by 2 x 18650 batteries (Not Included)
Micro USB charging system
Easy battery back panel
3 Adjustable Power Modes
User Adjustable Wattage (200W Max)
1.3-inch full-color display
8-bit graphics style user interface
Customizable screen saver
Power output range: 10W to 200W
Resistance range: 0.1ohm to 3.0ohm
Temperature range: 100 to 300 Celsius
Voltage range: 1.0V to 8.0V
Stand-by current 450uA
Three power modes
Temperature control with titanium, nickel, stainless steel and TCR
Bypass mode
Curve heating modes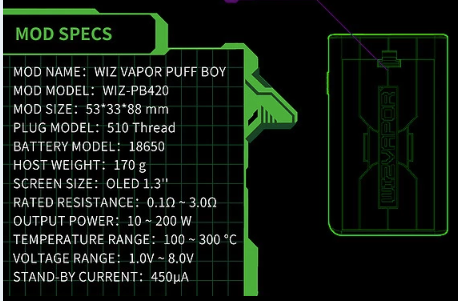 Gallery
Related Deals
Total Views Today: 1 Total Views: 3,033