Here's a cheap deal to buy the Wotofo Recurve V2 RDA at a low price. It features a 2ml deep juice well, restrictive to fully open airflow, a postless deck,  3mm ID coils, 5mm ID coils, two internal airflow adapters for single or dual coil builds, adjustable external honeycomb airflow, compatibility with standard or squonk pin, and a curvy design.

Overview
The result of collaboration between Mike Vapes and Wotofo, the Recurve V2 is the follow-up to the Recurve RDA and features many improvements. We will post a review as soon as it becomes available.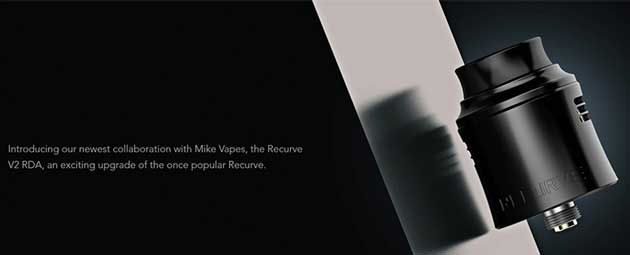 In keeping with the design of the previous device, the Recurve V2 has a curved body and a similar Delrin drip tip.  And the color options are also familiar with black, blue, gold, gunmetal, rainbow, and stainless steel options.

Unlike the V1, the V2 is compatible with single and dual-coil builds. When building with a single coil, you may use the 3mm or 5mm ID coils in the package, but dual builds only work with the 5mm versions. See the infographic below for more information.

Two airflow adapters can also be found in the package to ensure you get the flavor you deserve with either single or dual coils.  Both heads smooth out the airflow, funnel it directly to the coil, and reduce the chamber size to add flavor to each puff.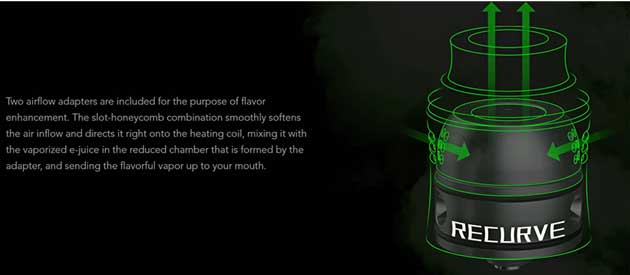 But, the dual-build airflow adapter has a larger airflow and is always recommended for 3mm ID coils.  Meanwhile, the single-build airflow adapter has a smaller top hole, but it works with both the 3mm and 5mm version of the coils.

Finally, external airflow permits fine-tuning the total air entering the Wotofo Recurve V2 RDA.  This is done by just a twist of the chuff cap, which will close or open the honeycomb holes on both sides of the atomizer.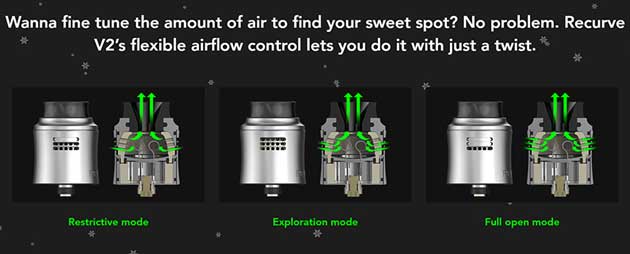 Features & Specifications
Dimensions: 24.6mm x 35.55mm
Made from stainless steel
Color options: rainbow, blue, gold, gunmetal, black, SS
Curved design
810 Delrin drip tip
Postless build deck
Single or dual-coil builds
Dual build: 3mm ID

Material: Ni80
Resistance: 20.172
Inner Core: 28G+38Gx9+28G
Outer Wire: 366
Internal Diameter: 3mm
Power Range: 5-80W
Best At: 70-78W

Single build: 5mm ID

Material: Ni80
Resistance: 20.650 (single build)
Inner Core: 26Gx2
Outer Wire: 38G
Internal Diameter: 5mm
Power Range: 5-80W (single build)
Best At: 65-75W (single build)

Drip or squonk 510 pin compatible
German PEEK insulation
Two internal airflow adapters (single or dual coil)
Adjustable external honeycomb airflow

Fully open
Exploration
Restrictive

2mL juice well

What's Included
 Wotofo Recurve V2 RDA
5 mm ID Dual Core Fused Clapton 0.65Ω
5 mm Thick Cotton Strip
2 x  3 mm ID Framed Staple Clapton 0.33Ω
2 x  3 mm Thick Cotton Strip
2 x  Airflow Adapters
5 mm Coiling Rod
Cross Head Screwdriver
Allen Key
Accessory Bag
Manual

Comparable Products
Total Views Today: 1 Total Views: 2,351