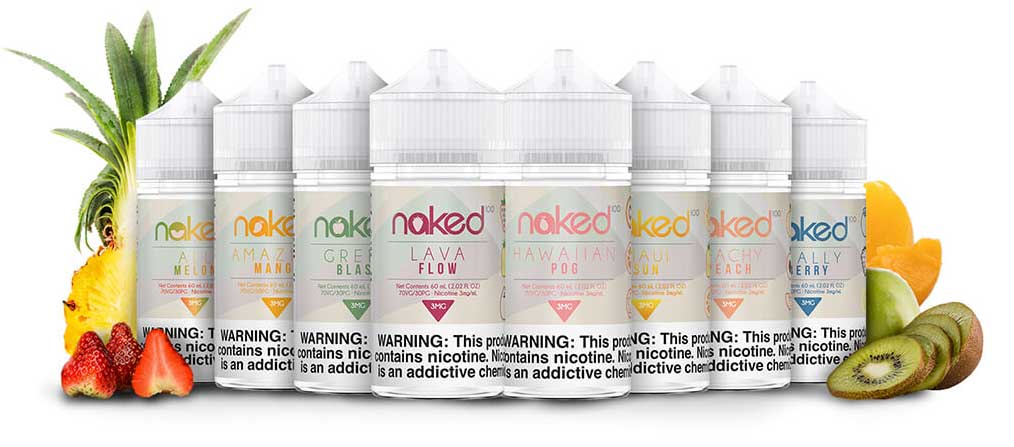 Here are fantastic deals for Naked 100 E-Juice. All deals below ship from the United States.  Also of interest to many is the brand-new NKD100 Max Disposable Pod Kit.
Deals
USA Deal:

$7.69/60mL  Use coupon code 30CVD at checkout (exclusive 30% off sitewide – rock bottom prices on everything – one use per account – $250 limit – fast USA shipping)
Overview
Naked 100 e-juice & e-juice was manufactured to provide smooth, subtle, balanced flavors. It allows you to experience expertly balanced flavors, combining smooth and subtle sweetness in every bottle.
Flavors
Green Blast has a sweet and tart flavor.  It combines sweet honeydew melons with tart Granny Smith apples with a slight flavor of kiwi and cream. The balance of the three flavors makes for a great vape all day long.
Amazing Mango has a ripe mangoes taste with subtle hints of peach and smooth cream.
Lava Flow gives a sweet flavor.  It tastes like strawberries with a hint of pineapple and coconut.
Yummy Gum features bubble gum fused with amazing strawberry flavor for a smooth vape.
Go Nanas fuses sweet bananas with smooth, rich cream. A sweet delight!
Berry Lush combines fresh pineapple with strawberries that may have just been picked. And there's a hint of cream!
Naked Unicorn is a strawberry blend with a sweet and juicy taste and a hint of smooth cream to produce a balanced vape.
Azul Berries combines ripe blueberries and raspberries with an added hint of cream for a smooth and cream berry experience.
Berry Belts has a sweet and tart flavor at the same time. If you like strawberry sour belt candy and a hint of citrus, this juice may be the one.
Very Berry is not an ordinary Berry e-liquid. When you inhale this juice, you will notice fresh blueberry and blackberry flavors that is topped of with lemon sugar drizzle. It's sweet and tart to activate your taste buds like no other!
Sour Sweet may be for you if you like refreshing lime and soft candy. As the name indicates, this Naked 100 E-Juice is both sour and sweet.
Brain Freeze takes refreshing to a whole new level. It combines strawberry, kiwi, and a blast of menthol with a hint of pomegranates.
Polar Breeze/Frost Bite is a tropical combination of sweet pineapples, cantaloupe, and honeydew to produce a fruity frozen experience.
Very  Cool is a concoction of blueberries, raspberries, and blackberries with a hint of sweet honey. It's an icy vape that is sweet and tangy at the same time.
Similar E-Juice
Total Views Today: 1 Total Views: 9,120