The Steam Crave Hadron RDSA or Steam Crave Hadron Mesh RDSA at a low price. The RDSA features a dual mesh deck, a 30mm diameter, top-to-side adjustable airflow, bottom adjustable airflow, an 810 drip tip, a standard 510 pin, a squonk pin, and high wattage capability.   The Mesh RDSA has similar specs but a simple postless deck with dual mesh strips and side adjustable airflow.  Both are said to effectively squonk juice and are compatible with Steam Crave pumper tanks that allow squonking without a squonk mod.

Deals
Worldwide Shipping Deal: Hadron Mesh RDSA

$25.99

  Use coupon code HMRDSA at checkout (code does not work on USA warehouse – use CVD15 instead)
Hadron RDSA
The Hadron RDSA measures 30mm at the base and 32.5mm in height in the design department, including the 810 drip tip.   The appearance is simplistic yet exquisite, and the available color options are stainless steel or black.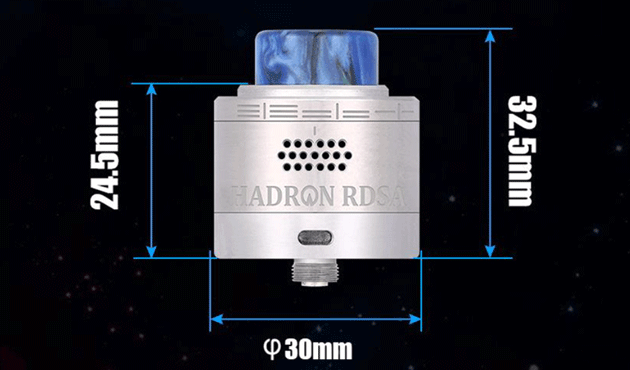 Under the chuff cap, the Steam Crave Hadron RDSA features a postless build deck that is simple to work with and is compatible with series or parallel builds.  For series installation, use the middle and the right or left wire terminal, while a parallel configuration uses the outer terminals only.  Two coils are included in the package.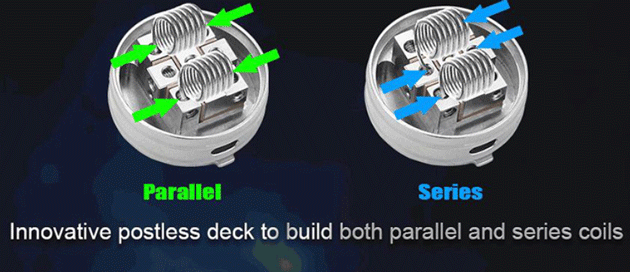 Airflow to the deck is adjustable via honeycomb holes on both sides of the RDA and dual intake slots on the base.  And this RDA supports both medium and high-wattage vaping, although the power input range specs are unavailable.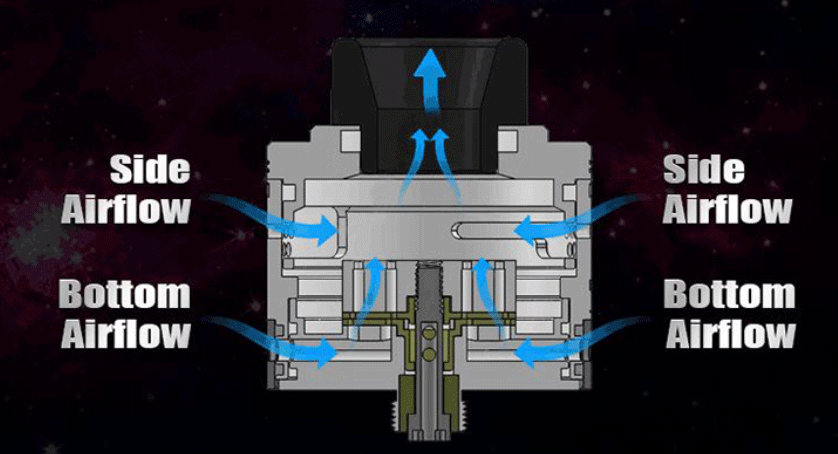 Hadron Mesh RDSA
What separates the Mesh RSDA from the RSDA is the build deck that utilizes dual mesh coils instead that are said to be ideal for higher wattage vaping.  The deck is also postless to make it easy to work with.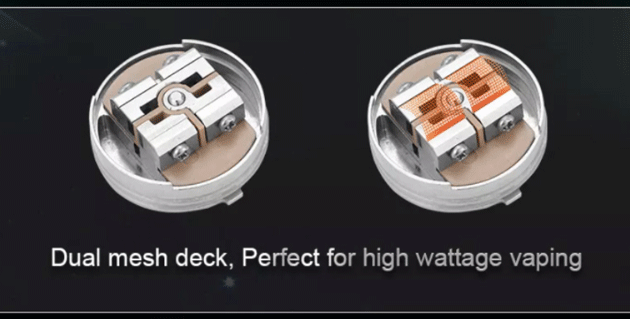 Due to the mesh coil design, the Steam Crave Hadron Mesh RSDA only features honeycomb side airflow that is fully adjustable.  Air travels directly to the deck to ensure massive vapor with huge power.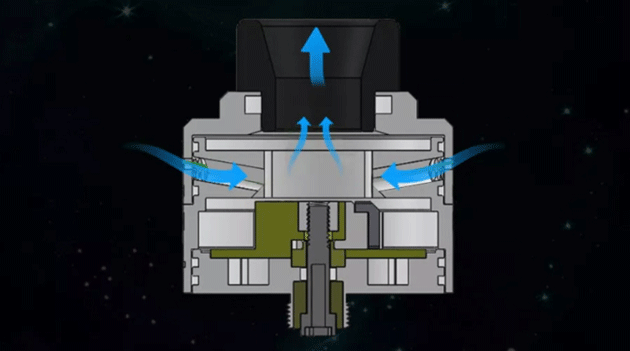 Features & Specifications
Hadron RDSA
Dimensions: 30mm x 32.5mm
Color options: Black | SS
Made from stainless steel
Blue resin 810 drip tip
Standard 510 pin
Squonk pin included
Postless build deck

Series  builds
Parallel builds

PEEK insulation
Medium to high-power vaping
Coil compatibility

3mm ID

Material: Ni80
Internal Diameter: 3mm
Inner Core: 28G+38Gx9+28G
Resistance: 20.172
Outer Wire: 366
Power Range: 5-80W
Best At: 70-78W

5mm ID

Material: Ni80
Internal Diameter: 5mm
Inner Core: 26Gx2
Outer Wire: 38G
Power Range: 5-80W
Best At: 65-75W

Airflow

Side adjustable honeycomb air holes
Dual adjustable bottom air slots

Compatible with Steamcrave Pumper Tank

Squonking without a squonker mod
Works with most mods
12mL juice capacity
Hadron Mesh RDSA
Dimensions: 30mm x 32.5mm
Color options: SS | Black
Stainless steel chassis
Red resin 810 drip tip
Standard 510 pin pre-installed
Squonk 510 pin included
Postless build deck

Dual mesh configuration
Mesh Strip: SS316L | 16x 6.8; 0.15Ω (2pcs included)
Mesh Strip, Kanthal A1 Square | 16 x 6.8; 0.15Ω (2 pcs included)
Vape at high wattage

PEEK insulation
Medium to high-power vaping
Adjustable side honeycomb air holes
Works with Steamcrave Pumper Tank
What's Included
Hadron RDSA
Mesh RDSA
Spare O-Rings
Spare Screws
Squonk Pin
3mm ID Coil
5mm ID Coil
Allen Key
Sticker
Manual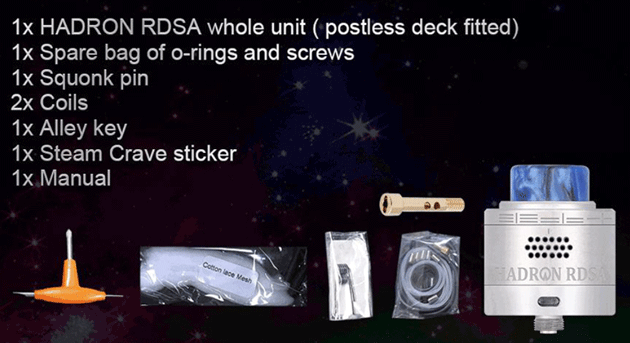 Hadron Mesh RDSA
RDSA
Spare O-Rings
Spare Screws
Squonk Pin
2 x  0.15Ω Mesh Strips SS316L
2 x  0.15Ω Mesh Strips, Kanthal A1
2 x  Mesh Shoelace Cotton
Mesh Tool
Allen Key
Sticker
Manual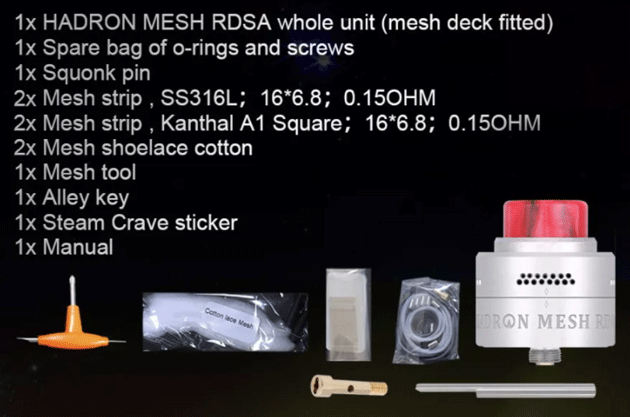 Similar Products
Total Views Today: 1 Total Views: 1,076