Dovpo MVV II: High-Performance Potentiometer-Based Mechanical Mod

The Dovpo MVV 2 is an updated version of the original MVV.  This mech mod features dual 18650 batteries (not included), 280 watts of maximum power, 1 to 8 volts range, a more colorful appearance that can be customized, a USB type-C charging port for effortless recharges, a battery LED, a potentiometer for easy voltage adjustments and a multitude of safety protections.  And also of interest to many is the very similar regulated MVP Box Mod by Dovpo or the latest Themis Box Mod.

Components
At the top of the MVV II, you will find a 510 threaded connection which is spring-loaded to work with a wide range of builds or tanks. The control face features an ergonomic fire button, a battery LED to monitor the charge level of the inserted batteries, and a voltage potentiometer for easily changing the current voltage output from the cells.
What's new with the MVV2 is the newly designed battery cover with new colorful prints that come in skull, white skull, or warrior. This magnetic panel is interchangeable for a personalized appearance. The battery bay stores dual 18650 cells, and each slot has marked polarities and gold-plated contacts for best conductivity.

Potentiometer & Battery LED
The bottom of the control face is built with a potentiometer. Turning this knob may set the mech box mod to one of five voltage levels. An LED right above this dial lights up green for fully charged cells, yellow for half charge remaining, and red when it's time for a recharge. A type-C micro USB port underneath the battery cover makes it easier to plug in the device.

Parameters
With 91mm x 53mm x 27mm dimensions, the MVV II is about the same size as its predecessor. It is made with a zinc alloy chassis and PC materials.
Power output for this mech mod depends entirely on the charge level of the inserted cells.  When they are fully charged, you can get up to 280 watts of power.  But, as previously mentioned, only voltage adjustments are possible from 6.4 to 8.4 volts. At 0.08 ohm, the device has a low atomizer resistance capability for compatibility with all your builds, atomizers, or tanks. And unlike other mech mods, the Dovpo MVV 2 features many safety features such as low voltage protection, overheat protection, overtime protection, and reverse battery protection.

MVV 2 Features & Specifications
Dimensions: 91.0mm x 53.0mm x 27.0 mm
Made from zinc alloy & PC
Lacquer-like finish
3 new battery panel designs

Skull
White Skull
Warrior

Swap out the magnetic panel for a brand-new appearance
510 threaded connection
Ventilation holes
Intuitive firing button
Utilizes dual 18650 cells
Type-C micro USB charging port (easy to plug in)
Battery LED: green | yellow | red
Voltage adjustment knob
Maximum output wattage: 280W
Output voltage: 1V to 8V
Operating voltage: 6.4V to 8.4V
Safety features

Reverse battery protection
Overtime puff protection
Overheat protection
Low voltage protection
Short circuit protection
Open circuit protection
Over-temperature protection
Package Includes
MVV II Device
Micro USB Type-C Charging CAble
Manual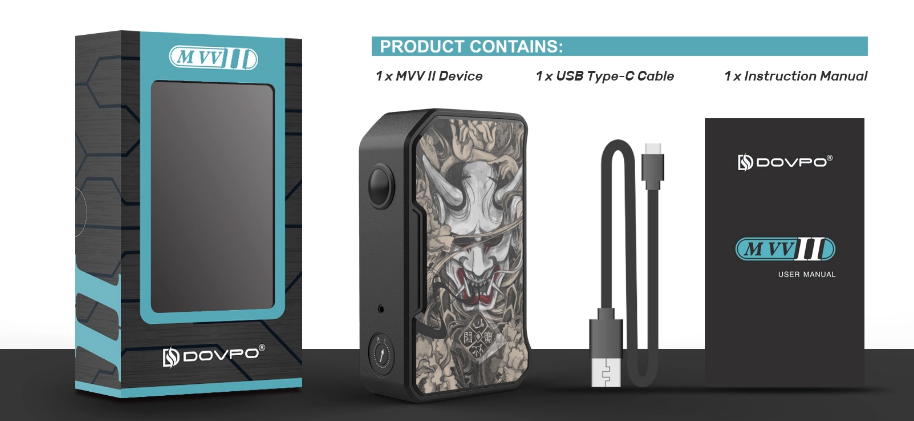 Related
Total Views Today: 2 Total Views: 2,955