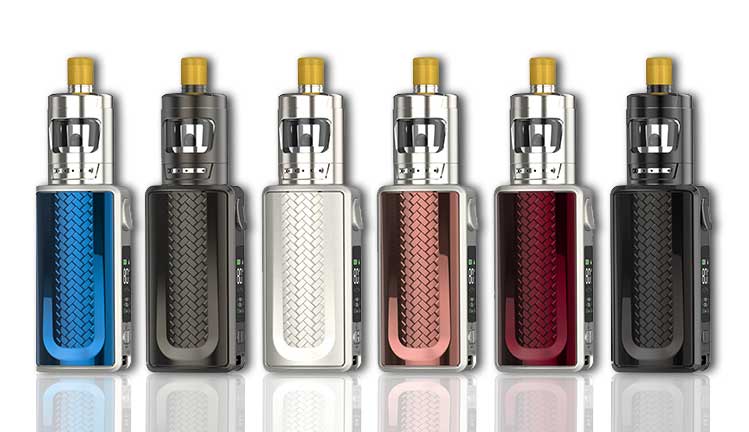 Here are cheap deals to buy the Eleaf Istick S80 Box or S80 Kit for sale as a mod or kit.  The mod features a 1800mAh integrated battery, a metallic chassis, intrecciato finishes, 80 watts of maximum power, a color display, fast Type-C charging, a smart mode, and a power mode.  The kit comes with a GZeno Tank with 3mL vape juice capacity, an easy top fill system, precise airflow adjustments, and two MTL coils recommended for nic salt vaping.
Deals
Review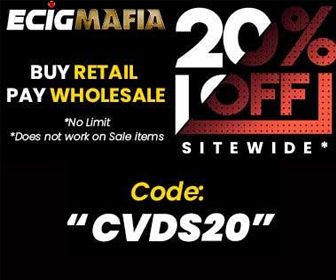 Redefined Design
The  S80 mod features a unique appearance that is quite unlike other iStick Series Box Mods.  At first glance, you immediately see the intrecciato design on the metallic finish for incredible texture and ergonomic luxury.  With a size that comes in at only 113.5mm by 33.5mm by 25.5mm (including the tank), this setup is compact to feel even more comfortable in hand.  And the available colors are rose/gold, red, blue, glossy gunmetal, matte gunmetal, and silver.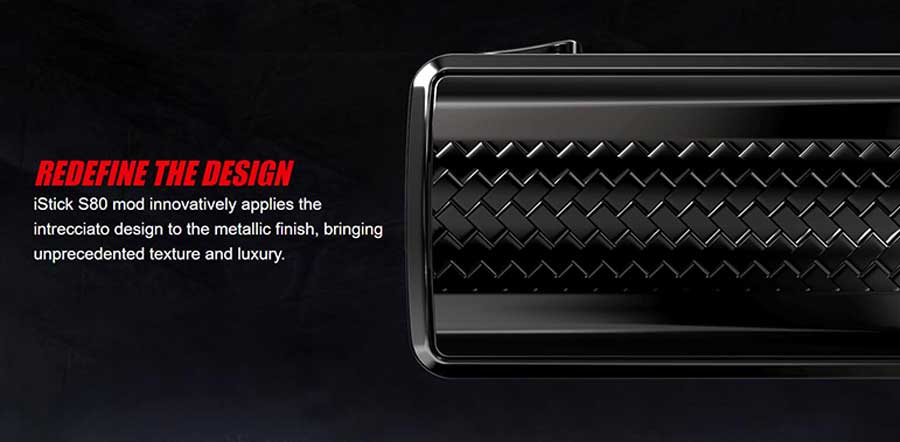 80W Of Power
Although the exact details of the Eleaf Istick S80 chipset are unavailable, the device operates with up to 80 watts of power, adjustable in increments of 0.1W.  In Smart Mode, the device will intelligently detect the resistance in real-time and automatically change the output to the ideal one.  Or, you may choose Power Mode to set the wattage to your liking.  Adjustments are made by way of a 0.69-inch color display screen which is effortlessly navigated with two adjustment buttons. Vape data on the UI includes the charge level of the 1800mAh integrated battery, the current wattage, current mode, coil resistance, number of puffs, and vaping time.  And there is also a myriad of protections to ensure a safe vape experience: overcharge, over-discharge, over-current, over 10s, short circuit, and reverse polarity.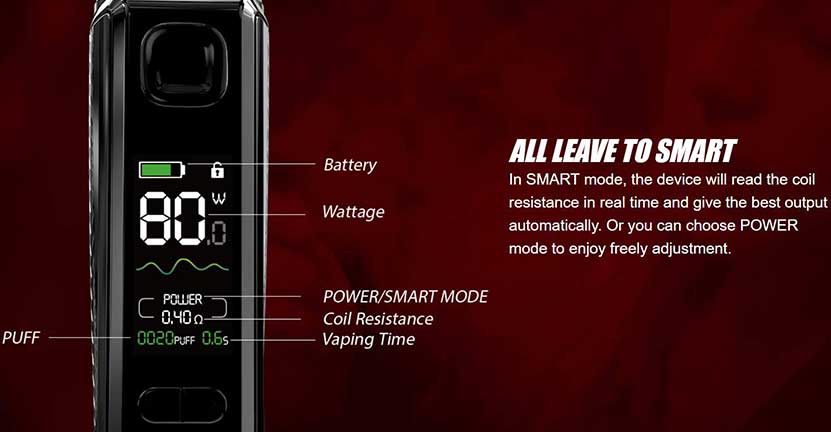 MTL Kit w/ Gzeno Tank 
The Eleaf Istick S80 kit includes the Gzeno Tank with a 3mL juice capacity and a convenient refill system.  Additionally, this tank has precise airflow adjustments thanks to 5 airflow holes that can be opened or closed to your liking.  Eleaf specifically designed the Gzeno for MTL-style vaping and flavor production.  That's where the GZ 1.2ohm coil comes in, producing pure flavor while making coil swaps an effortless process.  This head can operate in the range of only  7 to 13 watts, so the 1800mAh battery should last a long time without recharging.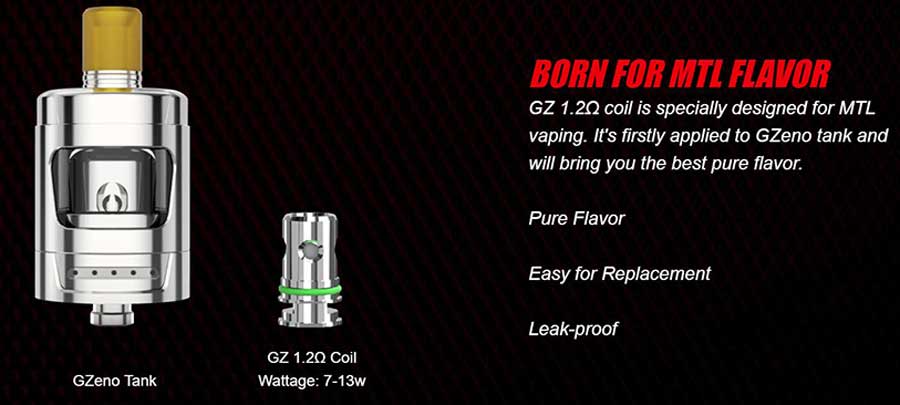 Features & Specifications
The mod is made from zinc alloy with a metal finish available in many colors.  Inside, there's a 1800mAh integrated cell that is recharged via a Type-C charging port with an included cable.  On the control face, you can see a full-color display and two adjustment buttons to navigate the user interface.  The kit with Gzeno Tank measures 113.5mm by 33.5mm by 25.5mm and weighs 190 grams.  The tank is made from Pyrex glass and stainless steel.  The coils work with a 1.2ohm resistance for MTL vaping with nic salts and a power level of 7 to 13 watts.  However, the mod has an output capability of 1 to 80 watts, and its 510 connection permits using it with virtually any atomizer, build or tank in the vape marketplace.  Smart mode automatically detects the coil's resistance and changes the output to the appropriate setting, but you may freely adjust power to your liking in power mode.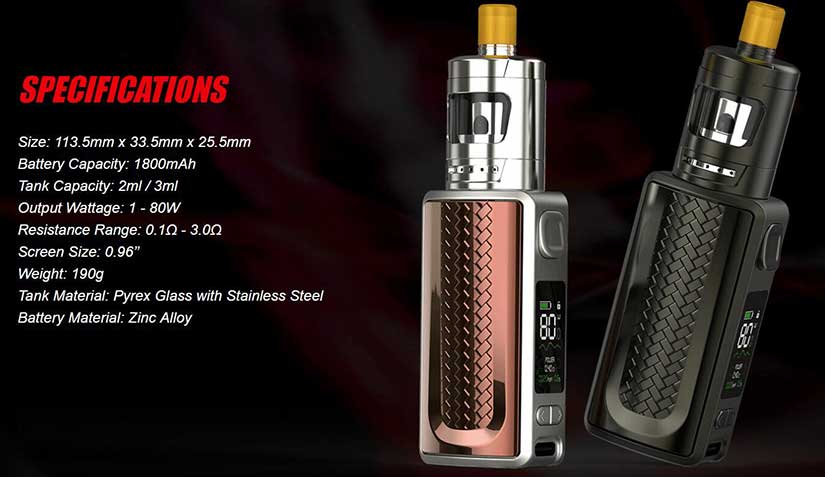 Package
With the Istick S80 Mod, you will get a USB Type-C charging cable, a manual for the mod, and warranty information. The kit adds the 3mL Gzeno Tank, 2 GZ 1.2Ω coils, and a manual for the tank.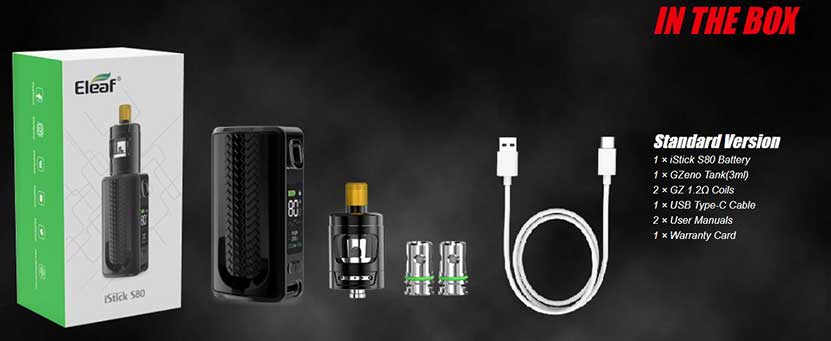 Similar Products
Total Views Today: 1 Total Views: 1,623