Here are cheap deals to purchase the Innokin Endura T22 Pro Mod Or  Kit for sale at a low price.

Summary
Brand: Innokin
Color/Finish: Brushed Silver, Matte Black, Rose Gold, Royal Blue, Ruby Red
Battery: 3000mAh Integrated Battery
Wattage Modes: 9.5W, 11W, 12.5W, 13.5W
Charging System: 2A USB-C Port
Atomizer: 4.5mL Tank With Top-Fill Method
Coils: 1.5Ω T18 Coils
Deals
Endura T22 Pro Mod Kit Overview
The Endura T22 Pro is the latest mod in the long line of Endura devices. It features a portable, simplistic design, but it still looks great thanks to finish colors such as ruby red, royal blue, rose gold, matte black, and brushed silver.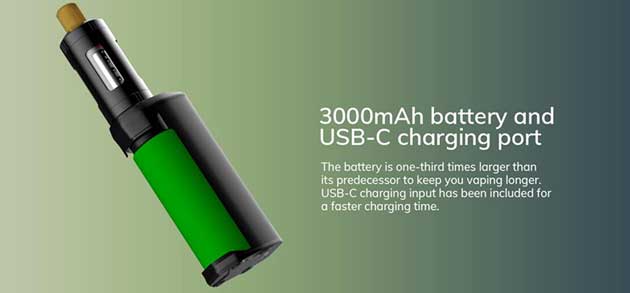 Built with a 3000mAh integrated battery, you won't need to charge the setup too often, but recharging is easy thanks to a 2 amp USB-C charging port. The battery is 33 percent more powerful than any previous Endura devices, and the charging time is decreased.  Output from the cell tops out 13.5 watts, but you may also use three less powerful settings: 12.5 watts, 11 watts, and 9.5 watts.  Four LEDs on the control face will light up or extinguish depending on your current setting.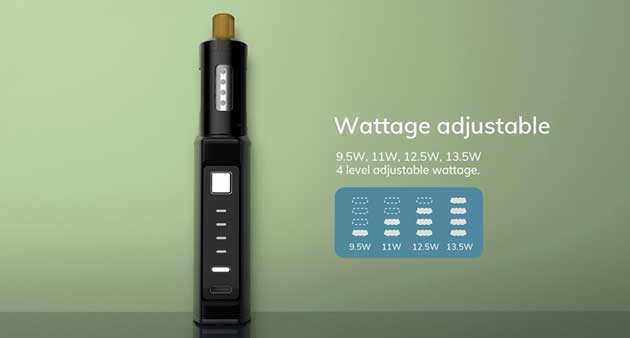 With the Innokin Endura T22 Pro Kit, you will receive a T18E Pro Tank, although few details have been released.  But, the reservoir can hold 4.5mL of vape juice and is easily refillable via a top juice port.  Simply slide the top cap to expose the opening and inject e-liquid with your favorite juice bottle.  This setup also uses T18E coils for a satisfying mouth-to-lung experience with tons of flavor production.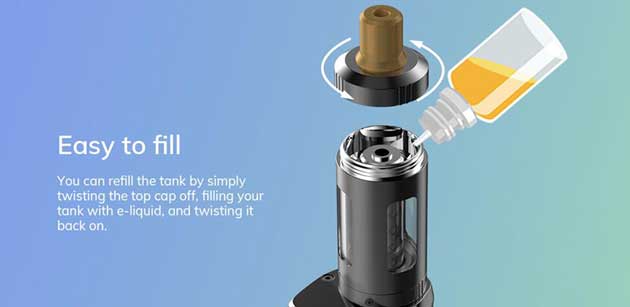 Features & Specifications
Dimensions: 134mm x 34.8mm x 25.8mm
Simplistic appearance
Colors: Brushed Silver, Matte Black, Rose Gold, Royal Blue, Ruby Red
Made from aluminum & zinc alloy
Integrated 3000mAh battery
USB-C 5V 2A charging port
3.5mL juice capacity
Easy refill system w/ top juice port
T18E 1.7Ω Kanthal coils | 11.5-13.5W
Compatible with M18 coils
10s over-puff protection
Mod resistance range: 0.6Ω-3.5Ω
Max output current: 5A
VW modes: 9.5W, 11W, 12.5W, 13.5W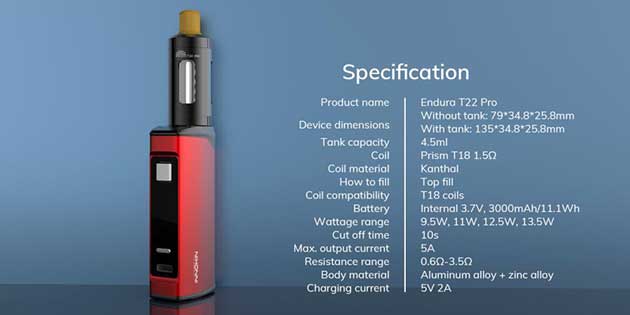 Similar Products
Total Views Today: 1 Total Views: 2,350