Here are cheap deals to buy the Innokin Kroma 217 Box Mod or Kroma 217 Z-Force Kit at a low price. The mod features a single 18650/20700/21700 battery, 100 watts of maximum output, exceptional build quality, coil+ mode for coil durability, refresh mode to enhance flavor, and USB-C charging.  The Z Force Tank in the kit features DTL or restricted DTL vaping, leakproof design, quick top fills, 5ml capacity, and new Duo mesh coils for exceptional wicking.
Kroma 217 Mod
The Kroma 217 box mod features exquisite build quality that you may find in the vape industry.  The body of this new mod features high-grade zinc alloy fused with a mixture of chrome or brushed finishes to give it an incredible, rugged appearance that is also modern.  And this box mod is comfortable to grip thanks to premium materials such as glass fiber, leather, and carbon fiber.  Overall, this makes this device sophisticated, elegant, and practical.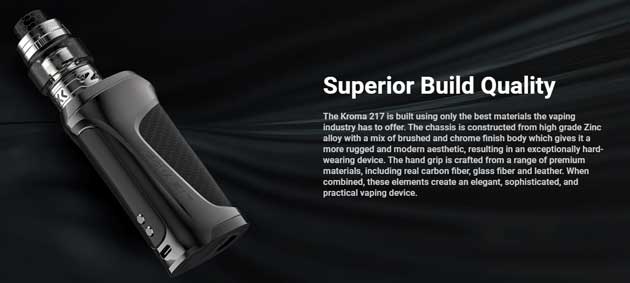 The beautiful finishes are available in five colors: stealth black, carbon fiber, marina blue, river wood, and glass fiber.
Powered by a single 21700 battery, the mod can produce 100 watts and has incredible vape times at lower wattages.  But, if you don't have a 21700 battery, feel free to use less powerful compatible cells such as a 20700 or 18650 with included adapter.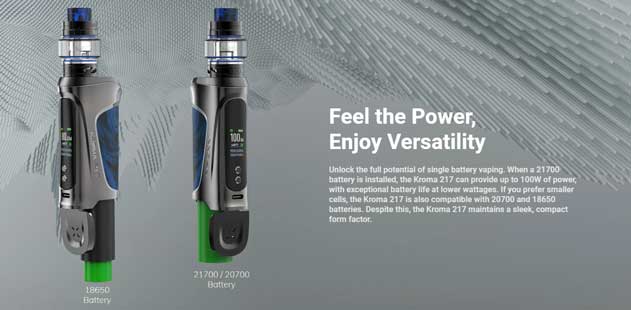 If a recharge is required, the mod has a USB-C port on the control face to easily top off the battery's voltage.  A multitude of safety protections also gives you peace of mind that there will be no safety issues during charging or while vaping.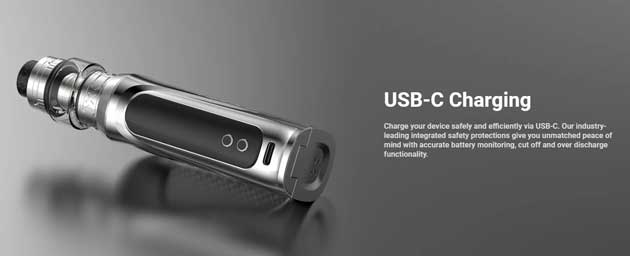 While this mod can operate in variable wattage mode, it also has extra settings to achieve the best flavor and coil longevity.  You see, the coil+ mode produces a pulse to the coil to increase its lifespan.  And, in case the vape flavor is muted, you may set the unit to refresh mode at 40% of your preferred wattage to draw more liquid into the coil and thoroughly saturate its cotton.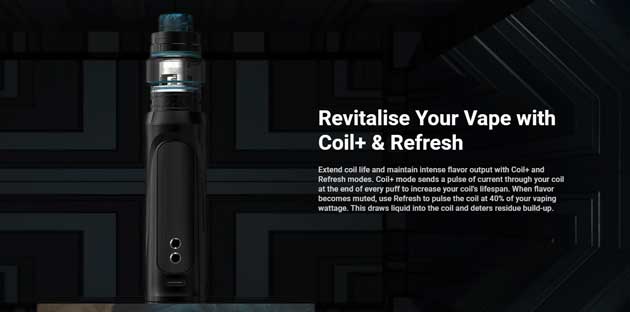 Kroma 217 Kit
The kit includes the Z-Force tank, which features direct-to-lung or restricted direct-to-lung style vaping.  It is said to be leakproof thanks partly to the spring-loaded juice flow control that ensures no e-juice is wasted and that closed juice flow, thus preventing vape juice from leaking out.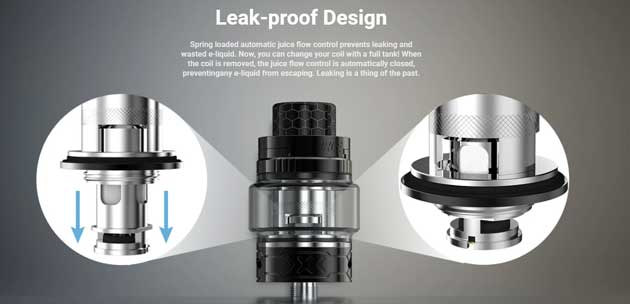 Innokin also refined the tank with a top-fill method to easily add vape juice into the reservoir.  To refill the 5ml tank, slide the top cap, which features a built-in membrane and air release mechanism to fill the tank quickly.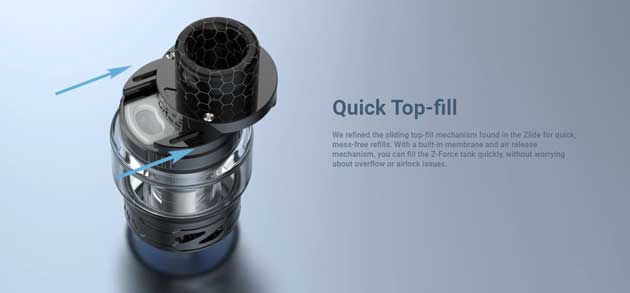 Finally, the kit uses DuoPrime wicking technology, which features an additional outer coil.  It enhances cotton wicking by first pulling vape juice into the outer coil, heating it, and then directing it to the inner coil to vaporize it.  This results in more flavorful vapor production because of the incredible saturation of the coil. With purchase, you'll receive two ZF coils: a 0.2ohm coil that operates between 50 and 80 watts and a 0.3ohm version with a 30 to the 45-watt range.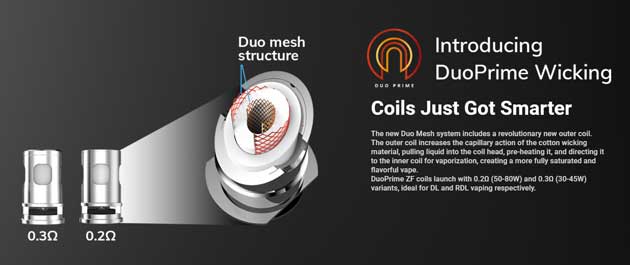 Features & Specifications
Mod Dimensions: 86mm x 45mm x 30mm
Kit Dimensions: 132mm x 45mm x 30mm
Mod material: zinc alloy chassis with brushed, chrome finish
Rugged, modern appearance
Comfortable to hold
Superior build quality
Color options: stealth black, carbon fiber, marina blue, river wood, and glass fiber
Full-color display screen with charging status
Two adjustment buttons
510 connector
Compatible with a single 21700/20700/18650 battery
USB-C charging system
Operating modes: Power | Coil+ | Refresh
Maximum power: 100W
5ml juice capacity
Sliding top fill system
DL vaping
RDL vaping
Leakproof design
Springloaded automatic  juice flow control
DuoPrime wicking: outer & inner coil
Duoprime ZF Coils

Outer & inner coil
Included: 0.2Ω | 50-80W
Included: 0.3Ω  | 30-45W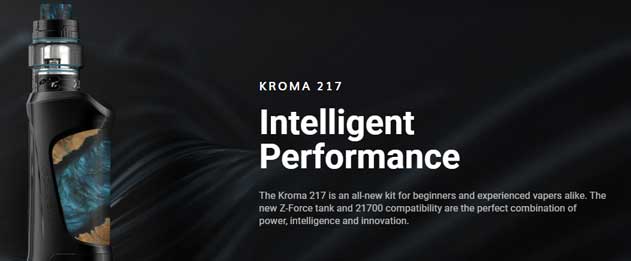 Total Views Today: 2 Total Views: 3,664