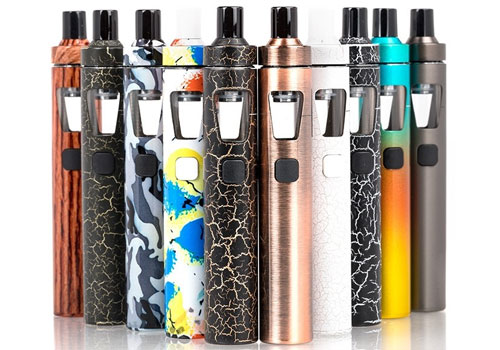 Here's a great deal on the ultra compact Joyetech eGo AIO Quick Starter Kit.
Overview
The Joyetech eGo AIO Kit was designed for simplicity and convenience.  It features a sleek look and is available in a wide range of colors including black & grey, red & white, black & white, black and silver.   There's also a unique e-liquid illumination LED which is changeable to 7 different colors.
This AIO includes both a battery and an atomizer tank  and features a compact form factor for maximum portability.  But don't let its small size fool you: the AIO actually produces big vapor clouds.
The battery has a 1500mAh capacity which allows for extended vaping, without a need to recharge.  The unit is charged by plugging it into a computer or wall outlet with the included USB cable.  When the AIO's charging is complete, the LED light will go out.
At 2ml, the atomizer tank has a sufficient capacity.   The AIO features a top fill setup so adding e-liquid has never been a more simple process.  Simply unscrew atomizer cap and squirt e-juice through the revealed juice port.
The kit's drip tip features a spiral structure to be more beneficial for mouth to lung vaping.  To be sure you can more easily configure the device to your preference, the AIO was designed with an adjustable airflow setup.  By rotating the AFC ring on the top cap, you can easily lessen or increase the amount of air go into the device.
The AIO also has a couple of features to keep young children safe. The top cap has a built-in child lock so that it is twistable only when pressure is applied.  And, the device will power on only after five clicks of the power button!
Overall, the eGo AIO looks like an amazing starter kit for vape beginners.  With plenty of power and excellent vapor production, it may be one of the best devices for those who are looking to switch from smoking to vaping.
Features & Specs
Dimensions: 19mm x 118.05mm
Compact & portable
eGo battery capacity: 1500mAh
Atomizer tank capacity: 2.0ml
Top filling
Adjustable airflow
Utilizes 0.60‎Ω SS316 coils
Spiral structure drip tip for mouth to lung vaping
Child safety features
USB charging with included cable
Changeable e-liquid LED
Video Review
Total Views Today: 1 Total Views: 2,273