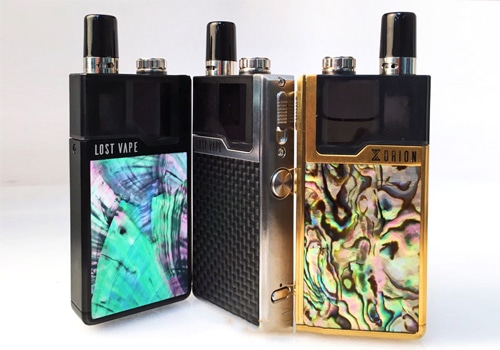 Lost Vape Orion
Here are cheap deals for the Lost Vape Orion DNA GO 40W Kit.  This kit features an advanced Evolv DNA GO chipset, exquisite design, a 950mAh battery, 40 watts of power, three ouput settings, LED lights, 2ml refillable pods, proprietary pod installation process and dual bottom adjustable airflow. The wholesale price for the mod is $49 and it retails for $80.
Update: This product is no longer available, but check out the updated deals for similar products below 
 Evolv DNA Go Chipset
What sets the Orion DNA GO apart from the crowd is the fact that it integrates an Evolv chipset. These chip boards are known throughout the vape industry for accurate and stable performance. The Orion has a maximum output of 40 watts and can be set to three different outputs with an adjustment button. LEDs will light up different colors according to the power setting: a white LED indicator means low power, a Blue LED is medium power while a red indication means the Orion DNA GO is set at its highest output. Power is gained from an integrated 950mAh battery which is recharged via a discreet micro USB port at the bottom of the mod.
Designed With 2ml Refillable Pods 
At the top of the Lost Vape Orion Pod Kit, you will notice a 2ml refillable pod cartridge that is installed onto the battery via a proprietary process. Inside this cartridge, you will have either a 0.25ohm or 0.50ohm stainless steel coil. Since this is not a sub ohm system, it is advised not to use it with high nicotine e-liquids such as nic salt juices. The heat-resistant Delrin drip tip that is positioned on top of each pod results in a mouth-to-lung type vape experience. It works in tandem with the dual bottom adjustable airflow system, so you may really personalize the types of puffs you will get. In the design department, the Lost Vape Orion DNA GO kit looks to be portable, although the exact measurements have not yet been released. And, the appearance looks exquisite thanks to attention to detail, an alloy chassis and abolone or carbon fiber finish options.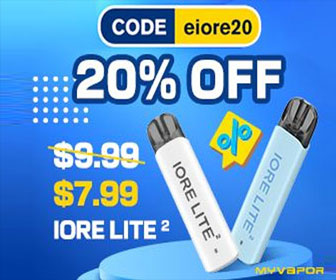 Orion Starter Kit Features & Specifications
Measurements: unknown
Portable
Alloy chassis with exquisite carbon fiber or abolone
950mAh integrated battery

Micro USB charging port at bottom

Delrin drip tip

Dual adjustable airflow on drip tip
Heat resistant
MTL type vape experience

Refillable pods

2ml capacity
Proprietary installation process
Pod coil options

Advanced Evolv DNA Go Board

Maximum  output: 40W
Adjustable output

Low power (white LED)
Medium power (blue LED)
High power (red LED)

Replay functionality (green LED)
Fast firing
Related Evolv DNA Box Mods
Lost Vape
Pod Vape Kits
Total Views Today: 1 Total Views: 4,703