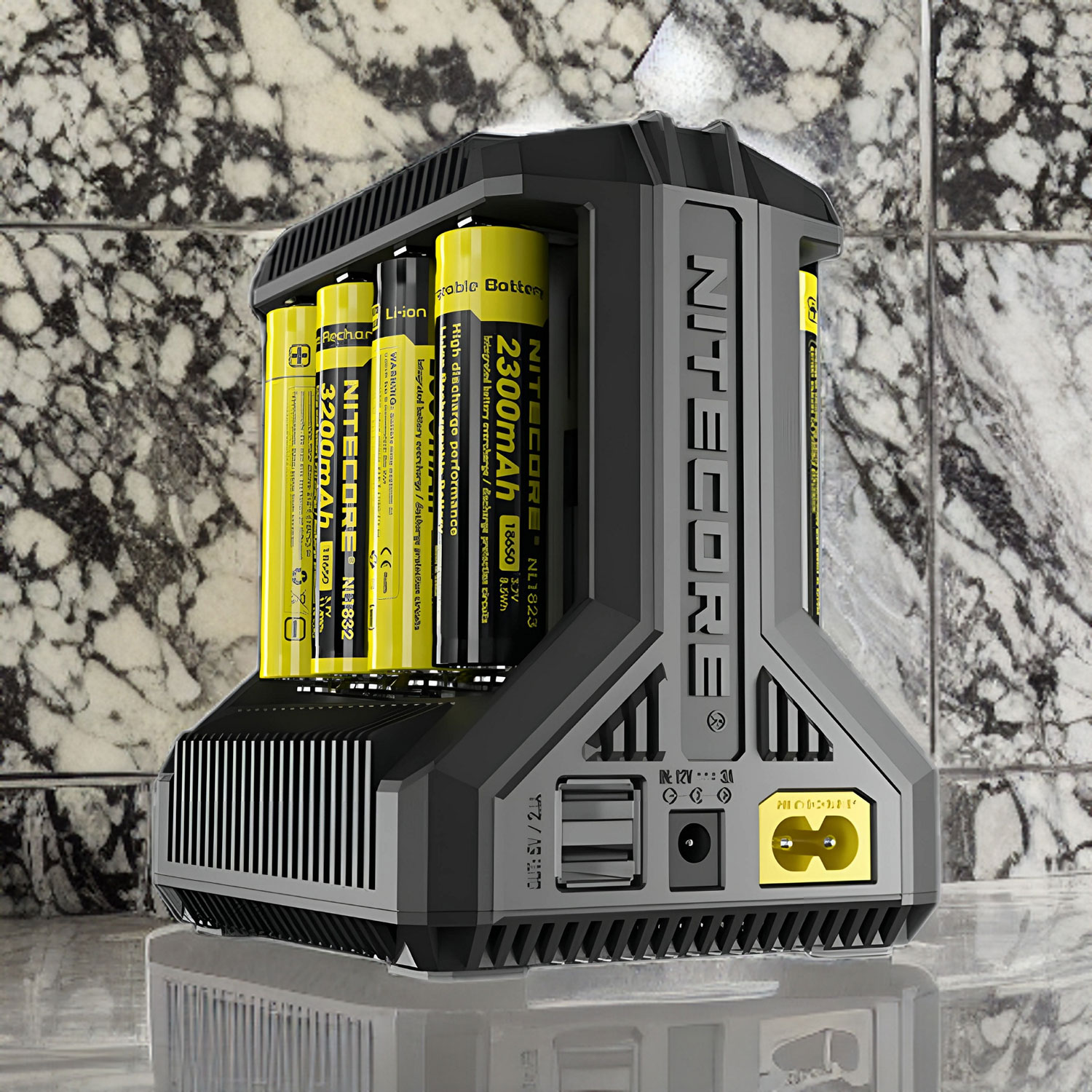 Here are fantastic discounts for the Nitecore I8 Intelligent Charger.
Overview
If you are looking for a charger that can quickly top off multiple vape batteries, look no further than the Nitecore I8.  This all-in-one battery charging station can charge up to eight cells at a time, has 8 completely independent bays, can be used as a power bank for USB smart tablets or phones, features LED indicators, and is compatible with 18650, 266550, and many other mod batteries.
This charger has 117mm x 101mm x 134.5mm dimensions and weighs just 488.2g.  Unlike its predecessors, the unit sits upright, so it takes up less room on your desk or countertop.  Heat dissipation slits can be found at the top, sides, and bottom to keep everything safe and cool.  And fire retardant PC used in the construction of the unit prevents fires and ensures longevity.
The I8  can charge up to eight batteries simultaneously and is compatible with Li-ion/IMR: 10340, 10350, 10440, 10500, 12340, 12500, 12650, 13450, 13500, 13650, 14350, 14430, 14500, 14650, 16500, 16340 (RCR123), 16650, 17350, 17500, 17650, 17670, 18350, 18490, 18500, 18650, 22500, 22650, 25500, 26500, 26650.
Each slot is independent and can reach a charging speed of 1500mA in a single bay, and active current distribution allows the I8 to disperse power to each bay most effectively.  For example, when a battery in one bay is almost completely charged, the unit will divert some of the current to the other cells.  And the charger will automatically detect power levels in each cell and intelligently choose the correct voltage and mode.  In this way, charging will always be terminated at the appropriate time.
The unit is also simple and safe to operate, making it easier than ever.  LED indicators on each slot will be red while charging or green if the process has been completed.  Reverse polarity and short circuit protection ensure that short-circuited batteries or cells inserted incorrectly will never cause a safety hazard. The I8 charger can also activate depleted Li-ion batteries with a protective circuit.  Built-in overtime prevention further assures that the charging process ends for any battery that exceeds 20 hours in case it is defective or of lesser quality.
Two micro USB ports at the bottom of the device can charge a smartphone, tablet, or any USB device.  The maximum output of these slots is 5V/2.1A.
Features & Specifications
Certified by RoHS, CE, FCC, CEC
Dimensions: 4.61″ x 3.98″ x 5.30″ or 117mm x 101mm x 134.5mm
Weight: 17.22oz or 488.2g
Constructed from durable PC material
Fire retardant/resistant
Sits upright to save space
Adequate ventilation
Works with Li-ion batteries, Ni-MH & Ni-Cd rechargeable batteries
Monitors and charges 8 independent slots simultaneously
Nitecore i8 Features
Active Current Distribution (ACD)
Charging modes: DV/DT, constant current, constant voltage
Intelligently detects power levels of batteries
Intelligently chooses the correct voltage and charging mode
Over-charging prevention
Reverse polarity protection
Short circuit protection
Activation function for over-discharged protected batteries
2 x USB output
Input: AC 100-240V 50/60Hz 0.6A (Max) 30W / DC 12V 3A
Output voltage battery: 4.2V±1% / 1.48±1%
Output voltage USB: 5V±5%
Output current battery: 1.5A x 2, 1A x 4, 0.75A x 4, 0.5A x 8
USB: 5V x 2.1A
Works with: Li-ion/IMR: 10340, 10350, 10440, 10500, 12340, 12500, 12650, 13450, 13500, 13650, 14350, 14430, 14500, 14650, 16500, 16340. (RCR123), 16650, 17350, 17500, 17650, 17670, 18350, 18490, 18500, 18650, 22500, 22650, 25500, 26500, 26650. Ni-MH (Ni-Cd): AA, AAA, C, D
Gallery
Total Views Today: 1 Total Views: 529