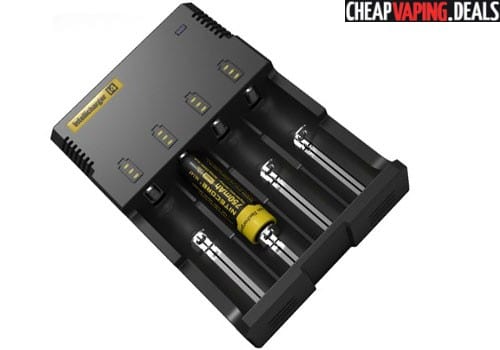 Here's fantastic deals on the Nitecore I4 Intellicharger.  This is one of my chargers and it's an excellent device.
Overview
The Nitecore intellicharger I4 is an intelligent charger that will be able to charge all your vape batteries.  This amazing charger can easily identify Ni-Cd and  Ni-MH battery cells and recharge them by automatically choosing the correct mode.
There's four bays so you can recharge up to four batteries simultaneously.  Each slot is micro computer controlled and independently monitored and charged according to what is needed.   Above each bay, there's an LED battery indicator that will let you know the charging progress.  Blinking lights indicate charging is in progress while a full charge will illuminate all three lights.
Video  Review
Features & Specifications
Charge up to four cells simultaneously
Works with wide range of batteries including 26650 and 18650
Intelligently identifies rechargeable Li-ion, Ni-MH and Ni-Cd cells
Three charging modes: CC charge, CV charge and trickle charge
Automatically detects batterylevels
Intelligently uses appropriate voltage and charge mode
4 x 3 color LED displays to indicate charging progress for each bay
Automatically ends charging when batteries are full
Optimum heat dissipation
Certified  charger by both RoHS and CE
Total Views Today: 1 Total Views: 160