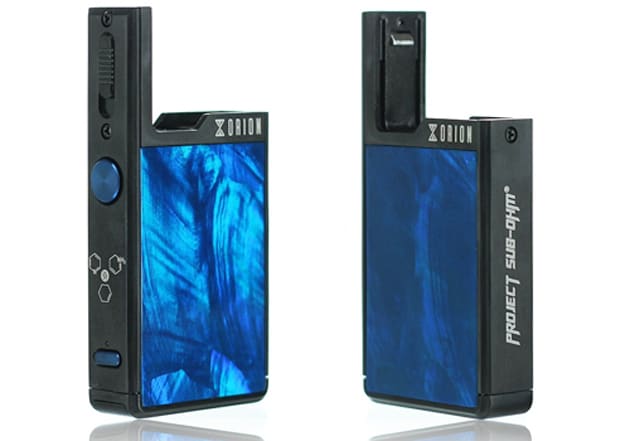 Lost Vape Orion Project Sub-Ohm 
The Project Sub-Ohm Orion is different from the standard version in that it has a sleeker black chassis with exquisite blue ocean scallop plating, a blue power mechanism and a blue adjustment button. There are also Project Sub-Ohm engravings to be seen on its side, the cartridges and underneath the fire button.
Update: This Item Is Out Of Stock Everywhere – Check  Similar Pod Starter Kit Deals Below
Project Sub-Ohm Edition Design
In the design department, the Lost Vape Orion DNA GO Project Sub-Ohm is different from the standard Orion in that that it has a black body and a blue ocean scallop finish. The adjustment buttons and power button are also blue and you will see a blue power mechanism, blue adjustment buttons and several Project Sub-Ohm engravings.  This all-in-one vape kit is compact thanks to measurements of only 93mm by 37mm by 13.5mm.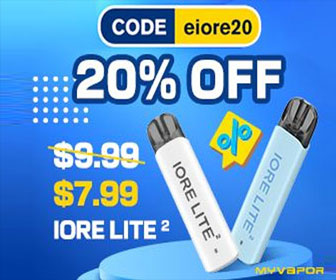 Evolv DNA Go Chipset
What sets the Orion Project Sub-Ohm apart from the crowded field of pod kits is the Evolv DNA GO chipset. This chipset is the company's latest release and is famous for efficient and precise performance. As a result, the device is capable of firing with up to  40 watts power and three alternate output modes are easy to choose via an an adjustment button.
950mAh Battery w/ Battery LED
For power, the Project Sub-Ohm Orion was made with a 950mAh integrated battery which should allow for pretty good vape times, even at the maximum 40 watts of output.
Several LED lights allow tracking of the cell's charge level.  A white LED means power is above 95%, green above 70%, yellow above 30%, red above 15% while a flashing red light means you need to plug the unit in.
Refillable Cartridges 
Inserted into the Orion Project Sub-Ohm are 2ml refillable pods. These connect to the battery mod via a proprietary system.
Each cartridge can be obtained with either a 0.25ohm or 0.50ohm coil with a stainless steel heating element. Do not use with high nicotine or nicotine salt based ejuices as the resistance is not above 1ohm.
A Delrin drip tip means the Orion Project Sub-Ohm results in a mouth-to-lung type vape experience. A dual bottom adjustable airflow system does allow you to customize your vape experience.
Features & Specifications
Measurements: 93mm x 37mm x 13.5mm
Compact & portable
Black chassis with blue ocean scallop finish
Project Sub-Ohm engravings

On the side
On the cartridges
Under the fire button

Blue power button
Blue adjustment buttons
950mAh integrated battery

Micro USB charging system 1A
Battery LED light

White: 100% to 95% charge remaining
Green: 95% to 70%
Yellow: 70% to 30%
Red: 30% to 15%
Red blinking: 0% to 15%

Delrin drip tip

Dual adjustable airflow control
Highly resistant to heat
Mouth-to-lung vape experience

Refillable cartridges

Proprietary installation
2ml juice capacity
Coil cartridge options

Advanced Evolv DNA Go Board

Maximum  output: 40W
Fast firing

Escribe customization to configure operation
Replay mode

Consistent output
Longevity

Firmware upgrades
Related Evolv DNA Box Mods
Total Views Today: 1 Total Views: 259