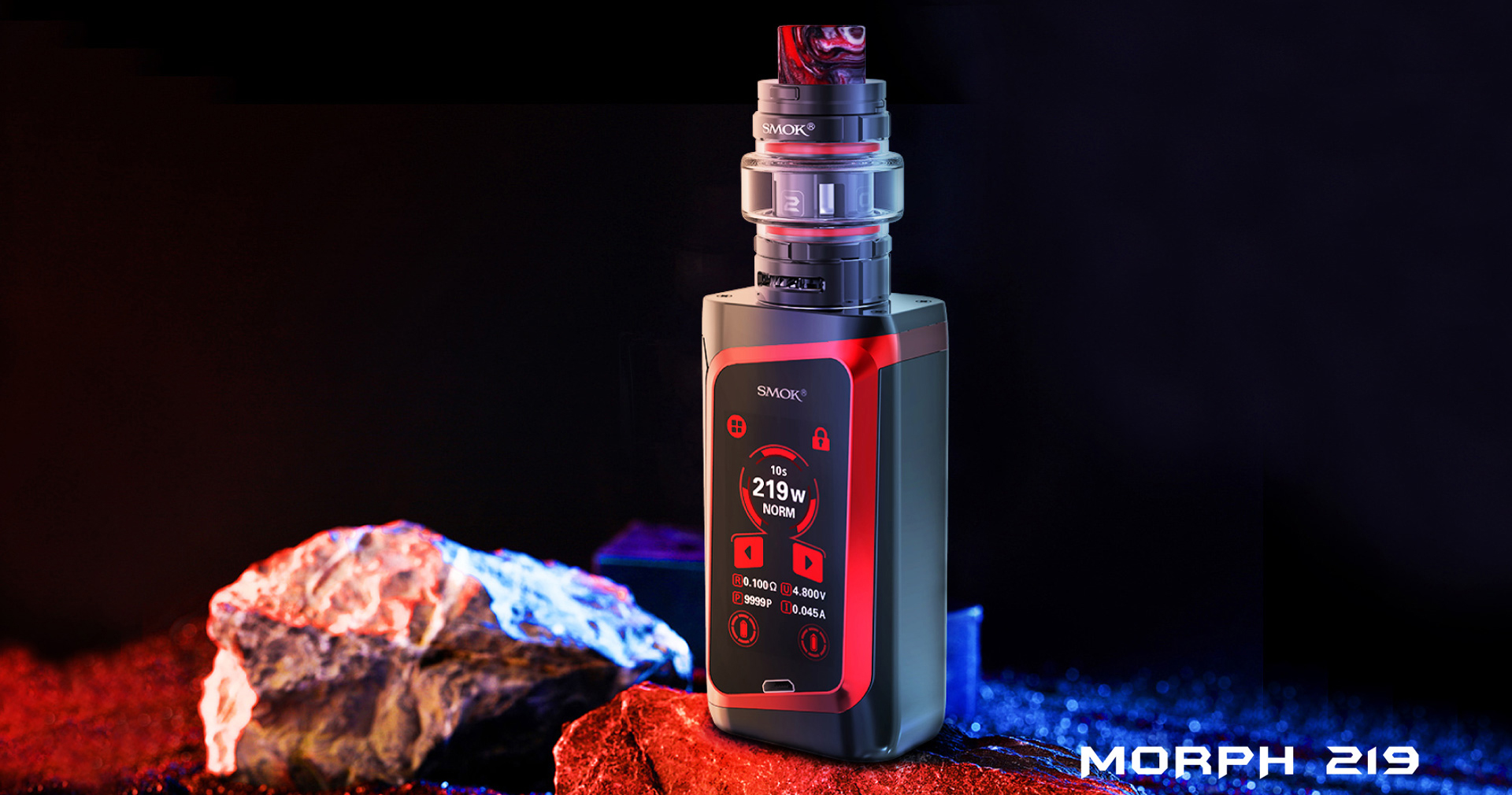 Smok Morph 219 Kit: Color Touch Screen 219 Watt Mod w/ 6mL TF Mesh Tank
The Morph 219 kit is the latest in the long line of Smok Mods. The box mod features a full color touch screen, a brand new menu system, a password system, 6 screen color options, a screen lock button, an ergonomic fire key, 219 watts of power, versatile temperature control, dual 18650 batteries (not included), a USB charging system, firmware upgrades and multiple protections. The TF Tank comes with both a mesh coil and ceramic coil for intense vapor and flavor and has a whopping 6ml juice capacity with effortless refills and a resin drip tip.  This kit has pretty much sold out everywhere, so get it from vapesourcing at the link below.
Deals
Similar Products
Review
Morph 219 Box Mod
The mod is available in five different colors: black/red, 7-color/black, gold/black, prism blue/black and prism chrome/black.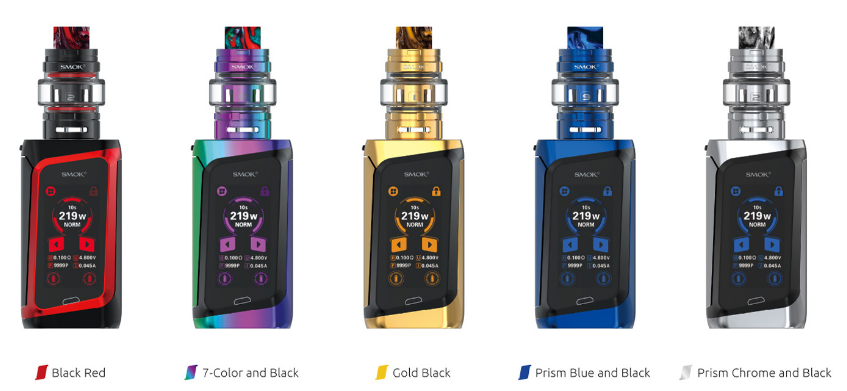 The Morph 219 is a perfect fusion of a classic device, but updated for modern trends in the vape industry. The entire unit has an exquisite glossy finish and the back has beautiful IML resin inlays.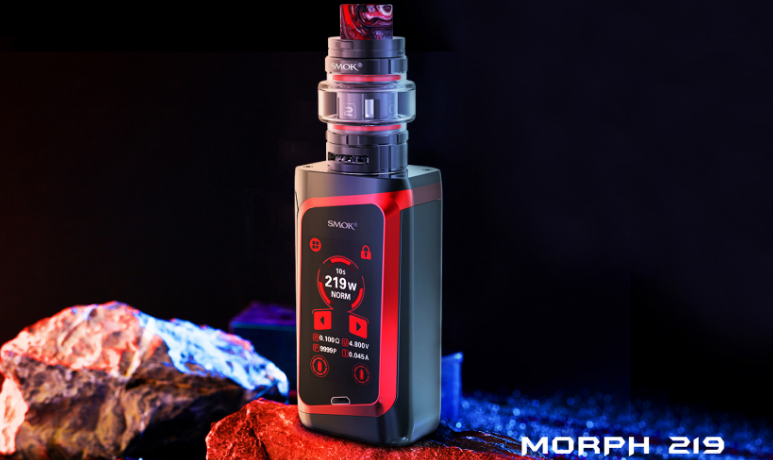 A beautiful 1.9 inch color touch screen is located on the front of the device. The display is said to be responsive to the touch, making mod navigation an effortless process.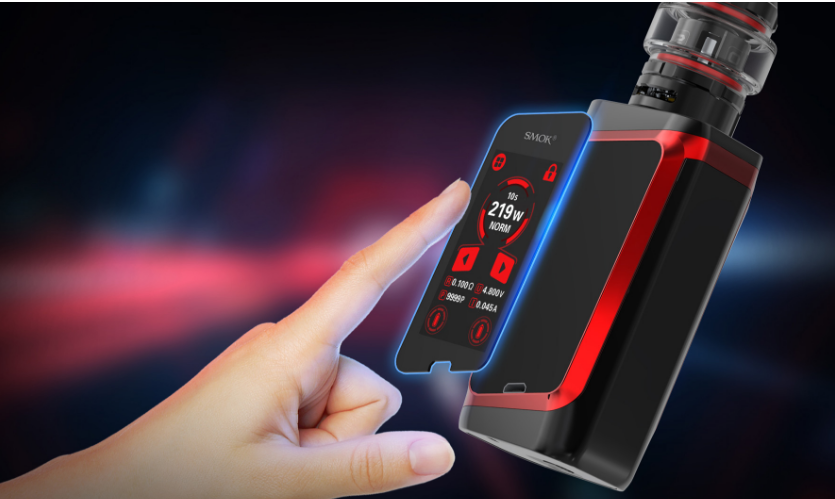 On the screen, you will find a brand new user interface which provides clearer and more detailed vape data such as current mode, vaping effect, battery level, voltage, atomizer resistance, a puff counter and amperage. Two adjustment buttons at the bottom of the screen make menu navigation a breeze.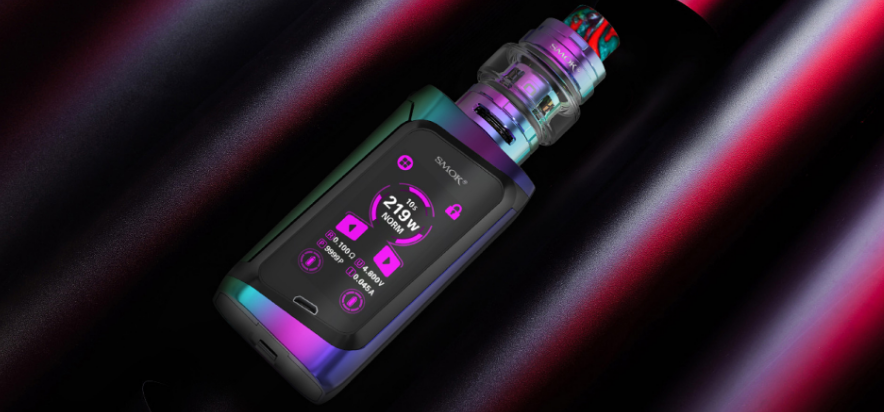 The variable wattage menu allows for easily picking the wattage level, as well as selecting your favorite preheat setting (hard, normal, soft, etc…). The mod can fire with up to 219 watts of power.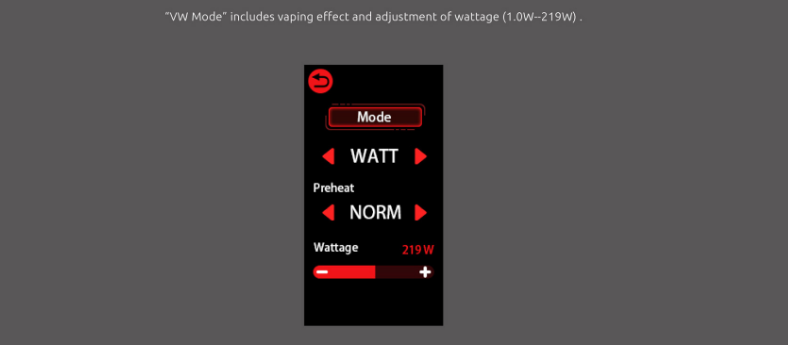 The temperature control user interface permits selection of your atomizer heating element's material, adjustment of preheat or you may want to change the setting for TCR mode.

There's also a MyMode menu in which you can set 4 paramaters: wattage, preheat, nicotine level and flavor.

There are  four system setting menus. The General menu, the IQ-S chip menu, the wallpaper menu and screen color. With the latter two, you may change the screen's color theme to red, yellow, blue, pink, green or white and also set the wallpaper background to a Smok logo, carbon fiber, grid or honeycomb.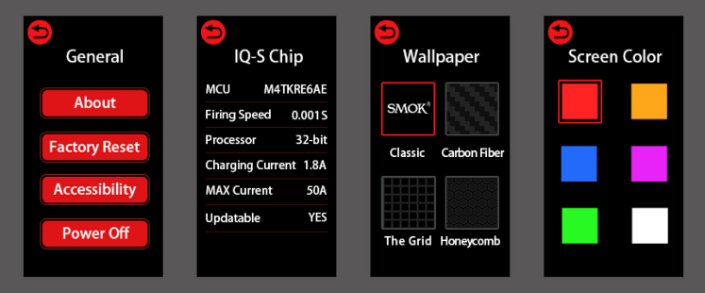 The Morph allows for setting a pass code to prevent others, especially children, from operating the device. To use the pass code function,  set the passcode requirement to "on", enter a pin number and answer two questions in case you forget your password.

To prevent accidental firing or changes to your settings, the Morph 219 is constructed with a physical lock key which is located above the fire mechanism on the side. When vaping, simply long press this button to lock or unlock the mod.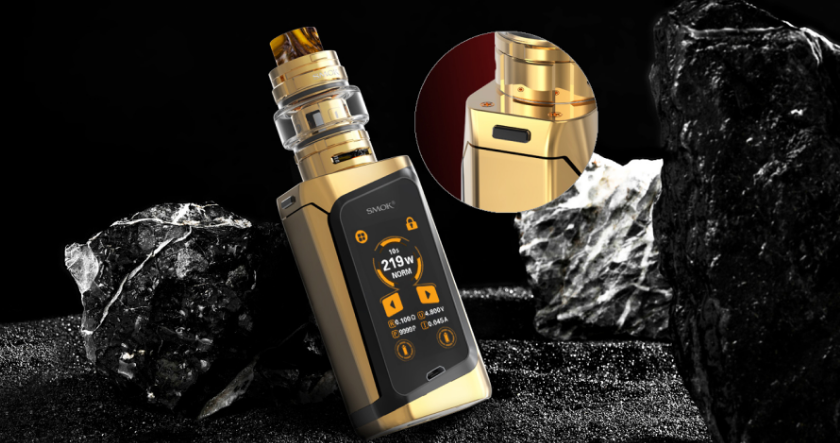 Underneath the lock button, you will see the ergonomically designed fire key which spans almost the entire side. This mechanism was located on the left side because to make it easily accessed and operated.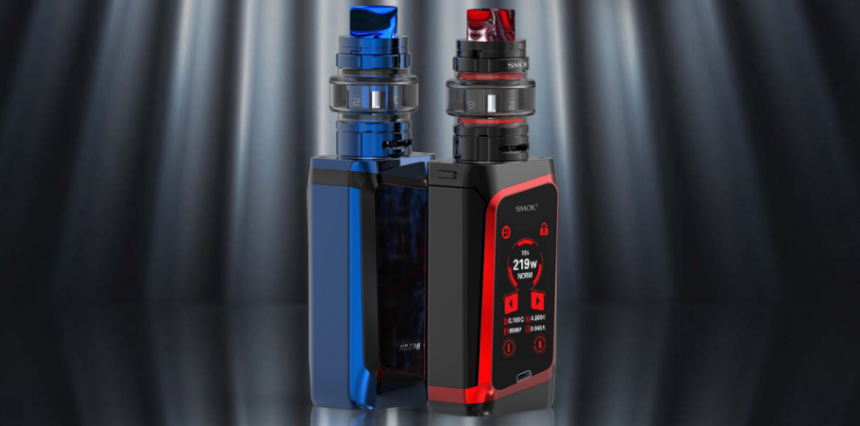 The maximum output comes in at 219 watts. Power comes from two 18650 high drain batteries which is sure to allow for long vaping times. To install the cells, simply open an effortless bottom battery cover to reveal the battery bay.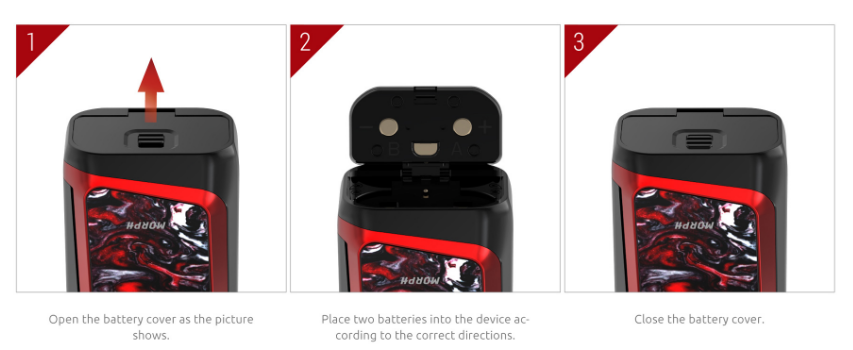 Multiple protections are built into the Morph 219 for safety: intelligent atomizer recognition, puff monitoring, 10 seconds cutoff, reverse polarity protection, overheat protection and low battery warning.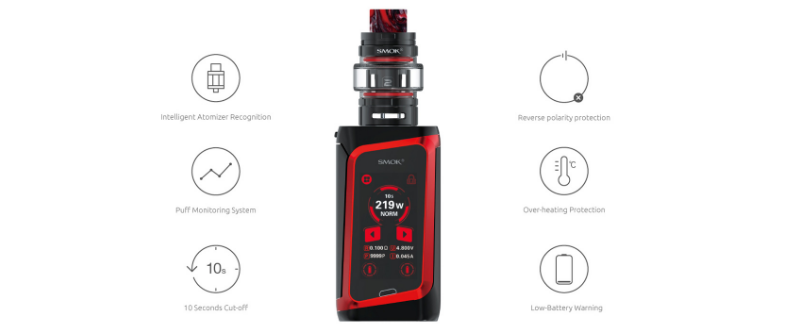 The box mod  supports firmware upgrades and charging via the micro USB port underneath the screen. This solves the problems of frequent battery swapping and keeps the device up-to-date with the latest technology in the vape world.

Kit w/ TF Tank
If you decide to get the kit, you will  receive a TF Tank. It utilizes a BF-Mesh Coil which has a 0.25ohm resistance heating element, is built with a large surface area for fast heating, fires in the range of 30 to 80 watts and is best from 60 to 70 watts. Also in the package is a 0.5ohm ceramic coil that is said to have longevity and produce intense flavor. Its power range is 30 to 60 watts.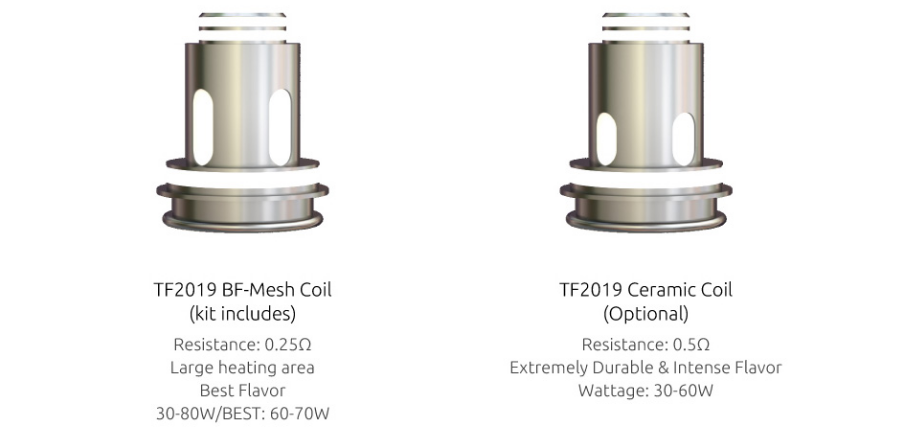 The drip tip with this tank is made of beautiful resin. It is not only a healthy material, but also looks exquisite. Optional resin drip tip colors include blue/black resin, yellow/purple resin, black/white resin, 7 color resisn and black/red resin.

The TF has a higher base than previous Smok sub ohm tanks allowing for more room for airflow. This results in excellent flavor and vapor production.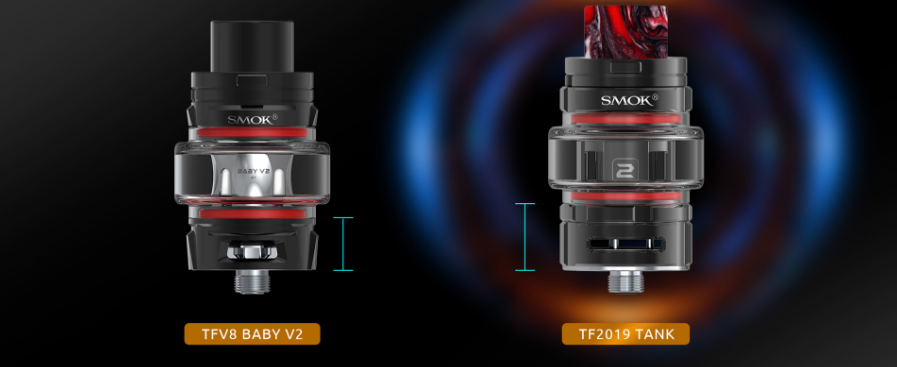 Refills of the 6ml juice reservoir are effortless thanks to a top fill system. To add juice, press the button on the top cap to allow it to swivel counter clockwise and inject e-juice thru the fill slot.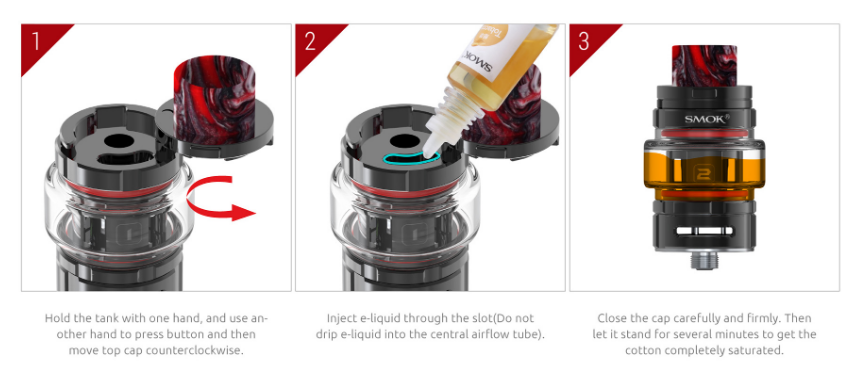 Features & Specifications
Dimensions: 84.5mm x 44.8mm x 30.2mm
Made from zinc alloy
1.9 inch color touchscreen

New user interface
Set wallpaper background
Select screen color
Screen lock button
Passcode capable

Uses two 18650 batteries
Micro USB charging (5V)
Firmware upgrades
Fires within 0.001s
Output Modes: VW | TC (Ti/Ni/SS) | TCR
Power output range: 1W to 219W
Output voltage 0.5V to 8.2V
Resistance range: 0.05Ω to 2.0Ω (TC Mode) or 0.1Ω to 2.5Ω (VW Mode)
Temperature Range: 200℉ to 600℉ or 100℃ to 315℃
Safety features: overheat protection, short circuit protection, over discharge protection
6ml juice capacity
Top fill system
Adjustable bottom airflow control
BF-Mesh coil with extremely large heating area for excellent intense flavor
Ceramic coil for intense flavor and longevity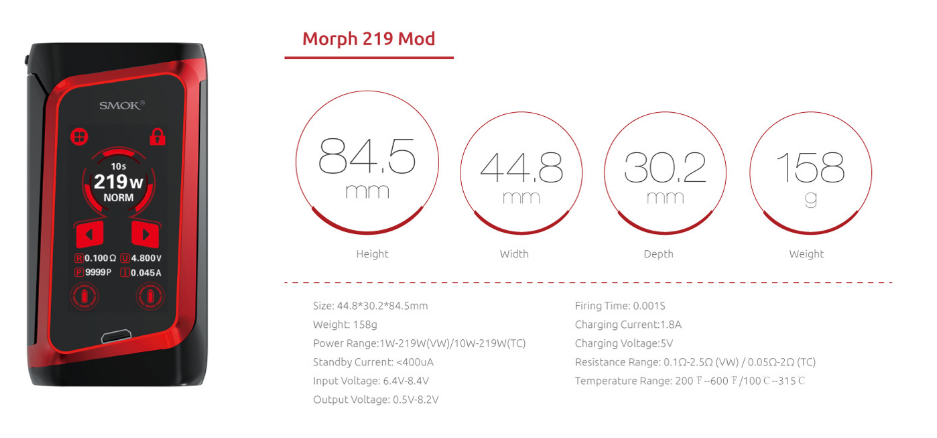 In The Box (Kit)
Smok Morph 219 Mod (no batteries)
Smok TF Tank 6ml
TF2019 BF-Mesh Coil
TF2019 BC-Ceramic Coil
Bulb Glass Tube
Standard Glass Tube
Micro USB Cable
Manual
Tank Spare Parts

Total Views Today: 3 Total Views: 4,239