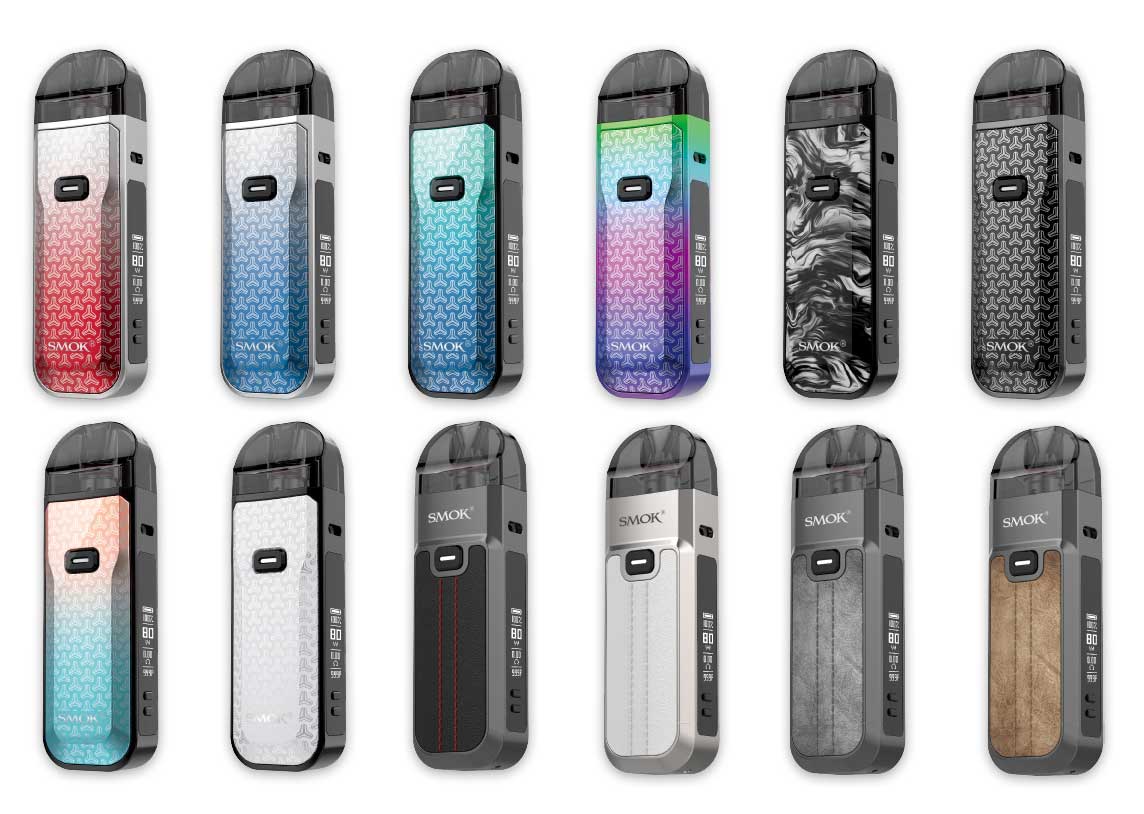 Here are cheap deals to buy the Smok Nord 5 Kit at a low price. This pod mod kit features a 2000mAh integrated cell, 5 to 80 watts of adjustable output, fast charging, an OLED screen, 12 colors with 2 finish options, a 5mL pod with a side-fill method, a dual adjustable airflow system, and mesh coils.
Overview
Design-wise, the Smok Nord 5 Pod Kit appears very similar to the Smok Nord 4 and also has two finish options for a total of 12 colors.  The regular series color choices are red grey dart, blue grey dart, green blue dart, 7-color dart, fluid black grey, black dart, blue pink dart, and white dart.  And, there are four with a leather grip: black, beige white, grey, and brown.
Another aspect that is similar to the previous Nord pod systems is Nord 5's OLED screen that shows accurate, monochrome vape data in a crystal clear manner.  Plus, there's also an LED indicator light that will flash in different ways to indicate hazardous operations such as a short circuit event.  On the side, there is an adjustable airflow slider for a versatile puff style.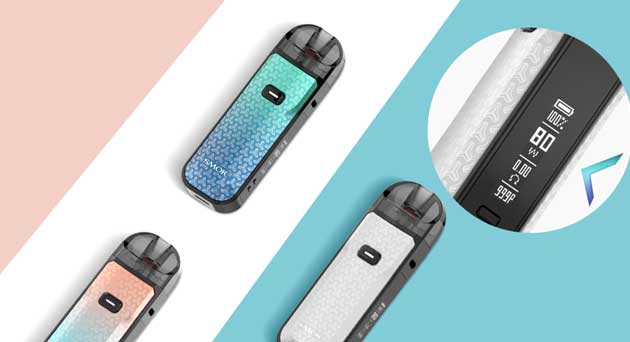 By way of a plus and minus button underneath the screen, the output is easily adjustable in the range of 5 to 80 watts.   Power comes from a robust 2000mAh cell, rechargeable via a 1.5 amp Type-C charging port that will complete the charging process in 40 minutes or less.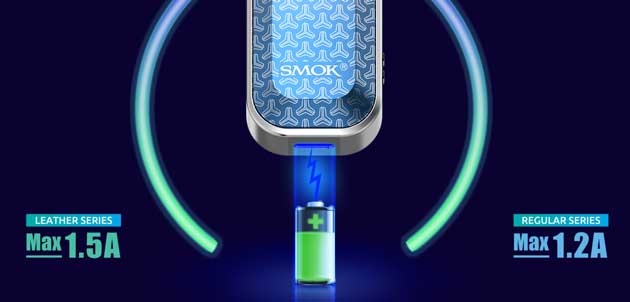 Multiple safeguards are also built into the Smok Nord 5 Kit chipset: 8 seconds cutoff, low voltage protection, short circuit protection, and pod detection.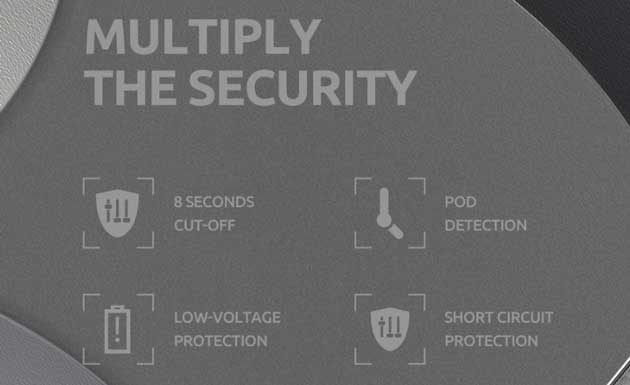 Each pod carries up to 5mL of vape juice and is easily refilled without a hitch thanks to a side-filling port.  And, Smok also introduced a brilliant child safety lock on each cartridge to ensure child safety and to prevent leakage.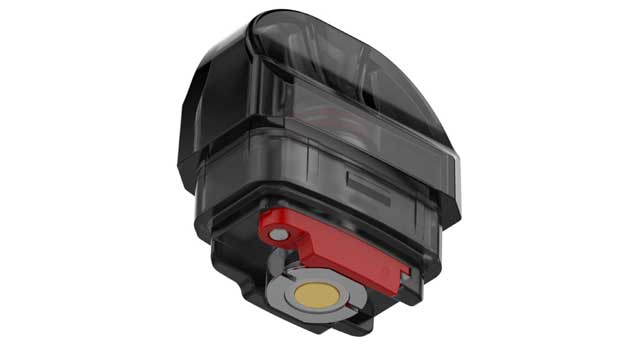 The Smok Nord 5 Pod System utilizes Nord 3 coils with low resistance and a mesh structure, ideal for freebase e-liquids and direct-to-lung vaping. The first coil is the RPM 3 0.15ohm mesh coil with a fast ramp-up time, better flavor, massive vapor, and a 40 to 80-watt capability.  Or, use the RPM 3 0.23ohm mesh coil with a more even heating surface for rich flavor production and the capability of operating from 20 to 45 watts.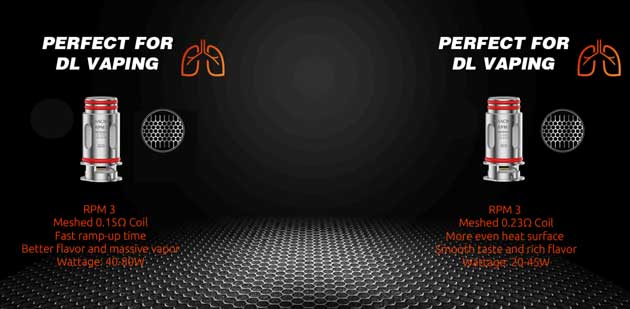 Features & Specifications
Design

Regular series

Dimensions: 105mm x 32.5mm x 23.74mm
Weight: 107g
Color options: red grey dart, blue grey dart, green blue dart, 7-color dart, fluid black grey, black dart, blue pink dart, white dart

Leather series

Dimensions: 106mm x 32.5mm x 24.8mm
Weight: 118.5g
Color options: black, beige white, grey,  brown

Dual adjustable airflow control slider
0.69″ OLED screen
Two adjustment buttons
LED indicator

Battery

2000mAh internal battery
Regular series: 1.2A Type-C charging port
Leather series: 1.5A Type-C charging port

Smok Nord 5 Pod

5mL juice capacity
Side-fill method
Child lock

Coils

RPM 3 Meshed 0.15Ω Coil | 40W-80W (Preinstalled)
RPM 3 Meshed 0.23Ω Coil | 20W-40W
Low resistance
DTL style puffs
Meshed structure for fast, even heating

Chipset

Power range: 5W-80W
Standby Current: <50uA
Input Voltage :3.3V-4.2V
Output Voltage: 0.5V-4.0V
Resistance Range: 0.15Ω-2.5Ω
Charging Voltage: 5V±0.2V
Overcharge Voltage: 4.3V±0.05V
Overcharge Current: 1.75A±0.6A
Over-discharge Voltage: 2.4V±0.03A
Safety protections

Short circuit
Low voltage
8-seconds cutoff
Pod detection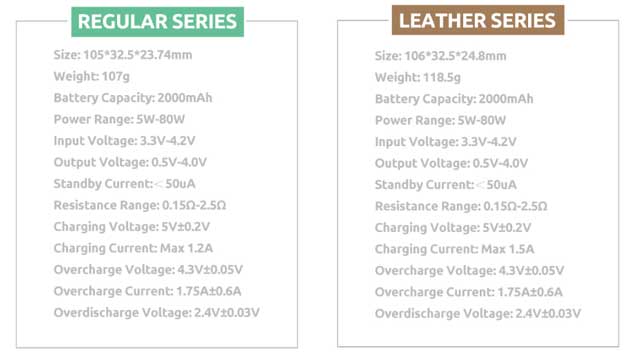 In The Package
Nord 5 Battery Mod
Nord 5 Pod
RPM 3 Meshed 0.15Ω Coil
RPM 3 Mesh 0.23Ω Coil
Type-C Charging Cable
Manual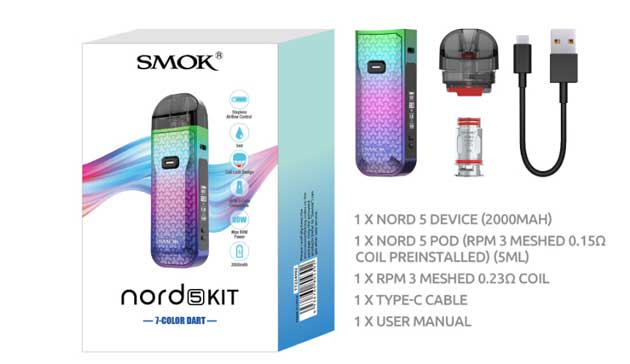 Similar Products
Total Views Today: 36 Total Views: 2,677