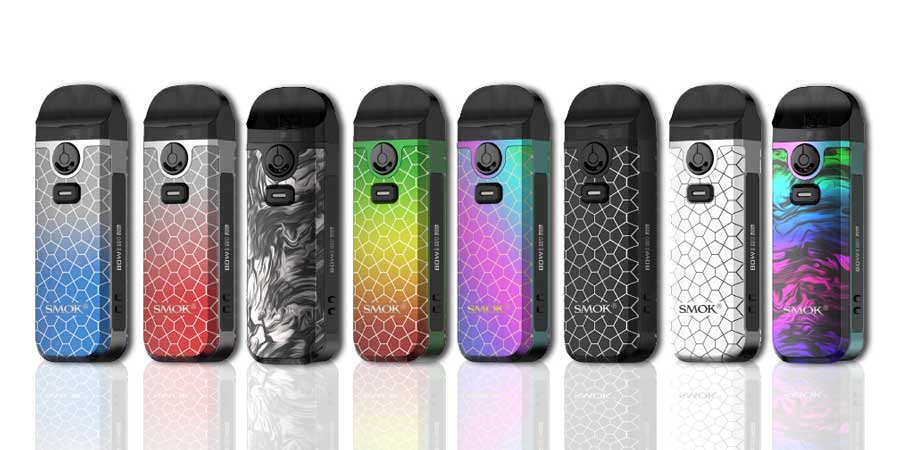 Smok Nord 4: 80W/2000mAh Pod Kit w/ 4.5mL Mesh Pods
Here are cheap deals to purchase the Smok Nord 4 at the lowest possible price. This kit features 80 watts of output, variable wattage mode, a 2000mAh internal cell, Type-C charging, 4.5mL cartridges, two mesh coils, a display screen, adjustable airflow control, and 12 available colors including 4 leather ones.  Also check out deals for the latest Smok Nord 5 Pod Kit.
Deals
Chic Design
As you can immediately see, the Smok Nord 4 Kit continues the amazing appearance of the popular line of Nord Pod Kits.  However, the new device has dimensions of 33.47mm by 24.4mm by 104.9mm, making the Nord 4 slightly bigger and heavier.  And, there are 8 brand new colors (blue grey armor, red grey armor, rastra green armor, 7-color armor, black armor, white armor, fluid 7-color, fluid black grey) and four leather versions in brown, red, blue, or black.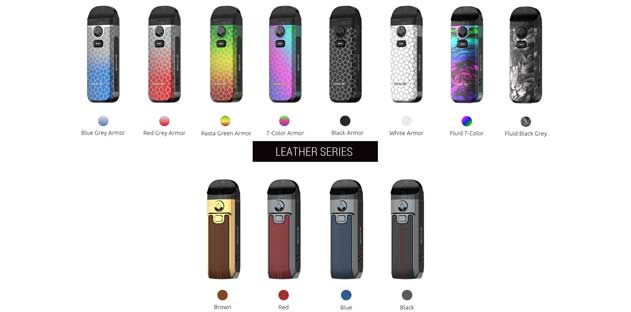 As is the case with most pod systems, the Smok Nord 4 Kit consists of a battery mod and pods that insert into the battery and stay connected with powerful magnets.  The mod features an OLED display with a monochrome user interface with horizontal menu.  The screen's UI clearly indicates vape data such as the current atomizer resistance, the current voltage output, the battery percentage, a puff counter, and the current wattage which may be adjusted with a plus & minus button at the bottom of the control face.  On the front of the mod, you will find a power button, two air inlet rings, while the charging port is at the bottom.  At the top, you will see the pod which performs as both a mouthpiece and juice reservoir.  The coils insert into the bottom of this cartridge via a push/pull method for a mess-free process.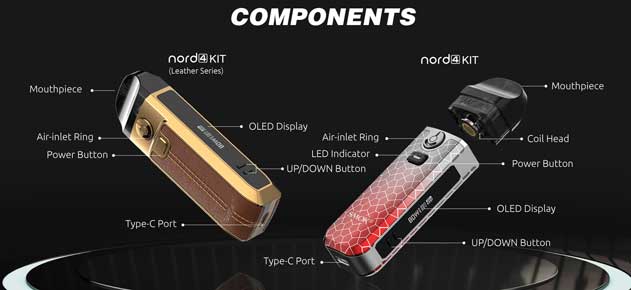 All-Day Battery & 80 Watts Of Maximum Power
Internally, the Nord 4 features a powerful 2000mah battery for unprecedented battery life that should last all day long.  Moreover, the kit adopts a USB Type-C port that has a faster 1.4 amp transfer speed to complete charging as quickly as possible.  As a result, the Smok Nord 4 should be able to retain its 80 watts of maximum power for extended periods, but you can also set the device as low as 5 watts for versatility or longer vape times.  To ensure safety, Smok has integrated smart detection into the chipset, ensuring low voltage, short circuit, and over-puff protection, as well as intelligent pod detection.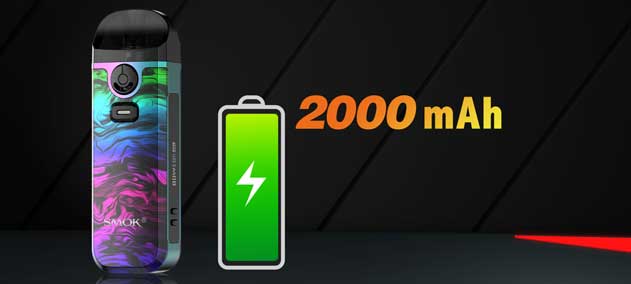 4.5mL Pods & Two Mesh Coils
Another way in which the Nord 4 enhances the vape experience is that the pods that have an unprecedented 4.5mL juice capacity.  This means you can take this pod system on the road without worrying about running out of e-liquid or having to refill the device.  But, adding e-juice is effortless nonetheless thanks to a side filling port with a rubber plug that is compatible with most juice bottle nozzles.  Refill the Smok Nord 4 as follows: remove the pod from the device, pull out the rubber plug to open the filling port, put your juice bottle's nozzle into the opening and fill up the reservoir.

The Smok Nord 4 Kit operates with two different coils, both of which utilize mesh heating elements.  Because they have larger heating surfaces, these kinds of heads are usually better at creating vapor and have enhanced flavor in each puff. The first Nord 4 coil you will find in the package is the RPM 2 Mesh 0.16Ω coil that produces a direct lung vape experience and dense vapor with intense flavor.  It is capable of firing in the range of 25 to 50 watts, but best at 40 watts. Or, if you prefer a mouth-to-lung style vape with a gentle throat hit and good flavor production, install the 0.4Ω watt coil that should operate at about 25 watts.   Best of all, two airflow rings on the battery rotate to adjust air intake to the coils for the versatility of your vapor production.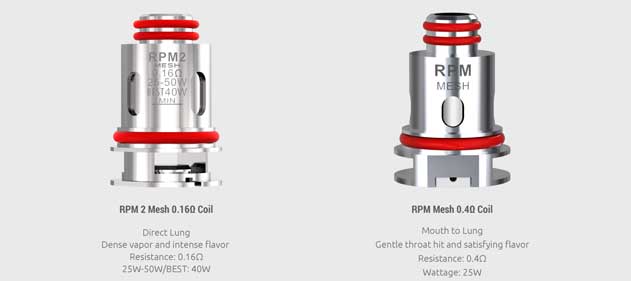 Smok Nord 4 Features & Specifications
Dimensions:  33.7mm x 24.4mm x 104.9mm
Leather series dimensions: 33.7mm x 24.8mm x 104.9mm
Colors: Black Armor, Blue Grey Armor, Red Grey Armor, Rasta Green Armor, 7-Color Armor, White Armor, Fluid 7-Color, Fluid Black Grey
Leather Series Colors: Brown, Red, Blue, Black
2000mAh integrated battery
1.4A Type-C  charging
4.5ml refillable pods
Side-filling port with rubber plug
Compatible with RPM & RPM 2 pod & coil series

Included: RPM 2 Mesh 0.16Ω Coil
Included: RPM Mesh 0.4Ω Coil

Dual airflow adjustment rings on both sides
Power output range: 5W to 80W
Resistance range:  0.15Ω to 2.50Ω
Standby current: <50uA
Input voltage: 3.3V to 4.2V
Output voltage:  0.5V to 4.0V
Charging voltage:  5V±0.2V
Overcharge voltage 4.3V±0.05V
Overcharge current 2A±0.6A
Over-discharge voltage 2.4V±0.05V
Safety features

Pod detection
8 seconds cutoff
Short circuit protection
Low voltage protection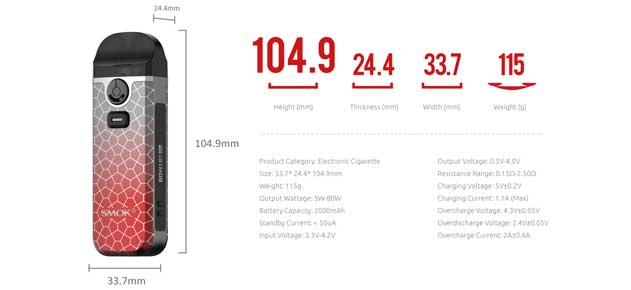 Package (USA/Standard Edition)
With purchase, you will receive the Nord 4 battery device, an RPM 2 Pod with 0.16Ω coil (preinstalled), an RPM Pod with 0.4Ω coil (preinstalled), a Type-C cable, and a user manual.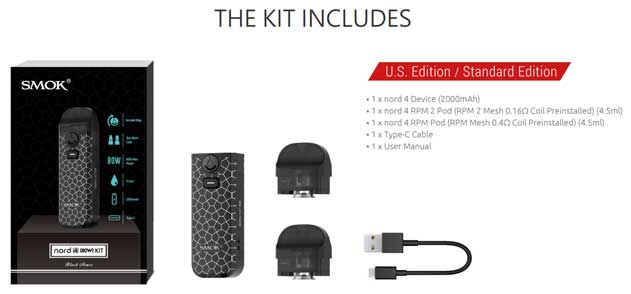 Similar Pod Kits
Total Views Today: 1 Total Views: 6,320