Check out the Smok Novo Master Box Kit and Smok Novo Master Kit, the latest pod systems in the long line of  Smok's Novo series.  These pod systems feature two power modes, a 1000mAh battery with a Type-C charging port, adjustable airflow, button firing, auto-firing, a battery LED, a portable design, a 2mL cartridge with easy refills, mesh coils for flavor, and a lanyard.
Novo Master Box Kit Overview
Designed to be light and portable, the Smok Novo Master Box is a mod-shaped pod system that looks fashionable and modern. There are two styles of finishes: a leather and a regular series, resulting in 13 options in total.   The leather colors include matte black, white, black gunmetal, cyan, pale pink, purple pink, and cyan blue, and the regular series includes red black, green black, pink black, silver laser, silver carbon fiber, and black carbon fiber.  The design also incorporates a hanging hole to attach the included lanyard.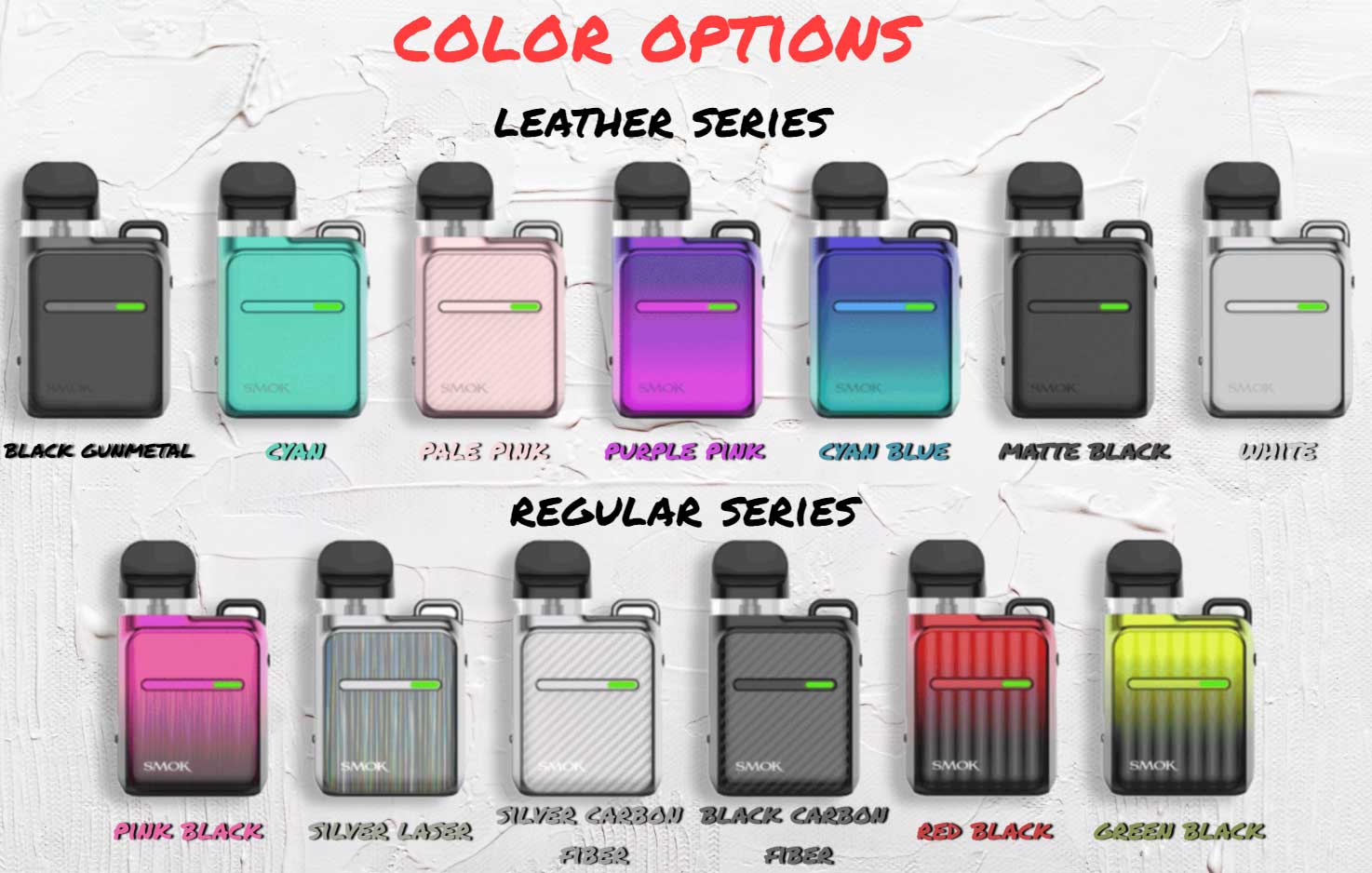 A 1000mAh integrated battery with a USB-C charging port and a battery LED on the front of the device ensures long vape times and an easy recharge process.  Firing the kit can be done via drawing on the mouthpiece or using the side fire button.  There are two settings: standard mode produces a milder vape puff, while boost mode generates massive vape clouds with more intense flavor.  And a stepless airflow control switch ensures maximum puff style versatility.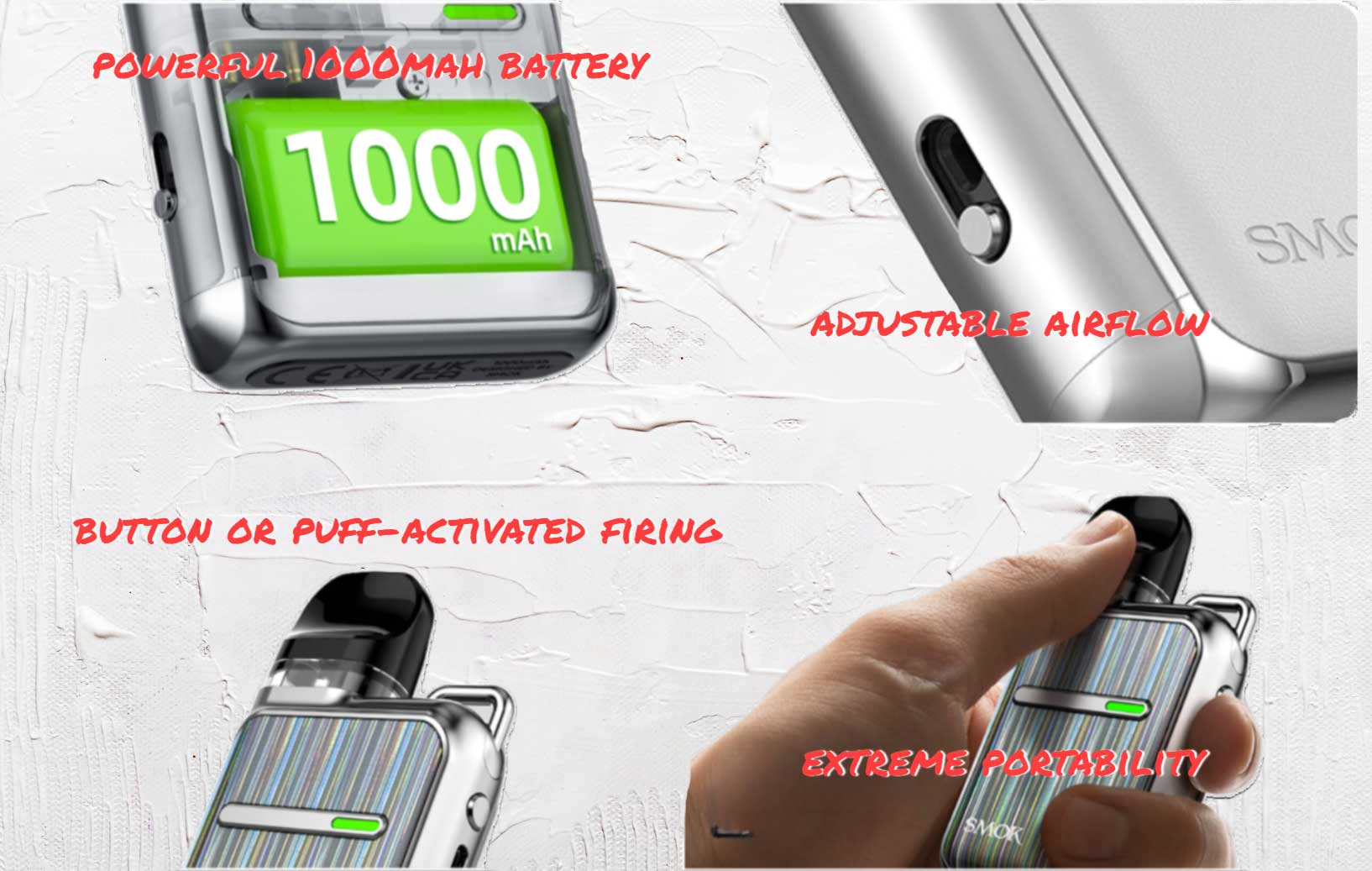 A 2mL pod with an easy refill method attaches to the Smok Novo Master Box device via powerful magnets to ensure it stays in place while in the pocket or during use.  Two cartridges are included: a 0.8ohm meshed and a 0.6ohm meshed pod, which should be used with freebase e-liquids.  Both are designed with large surface areas for fast heating and intense vapor production. An optional 1.0ohm version of the pod, to use with nic salt vape juice, is also for sale but needs to be purchased separately.  Deals for all pod options will soon be published.
Smok Novo Master Kit
The Smok Novo Master Kit has many of the same technical features as the box version but with some small differences that most users won't notice. It features a pen-style shape, so you'll see the familiar fire button moved to the front, but the adjustable airflow control switch is still on the side.   The color options are the same with seven leather and six regular series finishes.  The integrated battery is an identical 1000mAh, but the charging system is slower and power tops at 30 watts.  It uses the same Novo pods, has an LED indicator, and features both boost and standard modes.  Unfortunately, this setup has no lanyard hook, but you can more easily place it in the pocket.
Features, Specifications & What's Included
Size: 76.3mm ×45mm × 16.5mm (box version) or  24.5mm x 16.4mm x 107.5mm
Color options

Regular series: red black, green black, silver laser, pink black, black carbon fiber, silver carbon fiber
Leather series: white, matte black, cyan, black gunmetal, pale pink, cyan blue, purple pink

Extremely portable
Lanyard included
1000mAh integrated battery
Type-C charging: 1.4A or 0.8A
Charging voltage: 5V±0.2V
Adjustable airflow control switch
Pods

Included: Meshed 0.8Ω
Included: Meshed 0.6Ω
Compatible with Novo 2x, Novo 2 & Novo pods
2mL capacity
Effortless side-filling juice port

Two  modes
Max wattage output: 30W
Voltage input: 3.3V to 4.35V
Over-discharge voltage: 2.4V
Overcharge voltage: 4.425V
Output voltage: max 4.25V
Safety protections

Pod detection
Short circuit
7s over-puff
Low voltage

Package

Smok Novo Device or Master Box Device
Meshed 0.8Ω Pod
Meshed 0.6Ω Pod
Lanyard (Box Version Only)
Type-C Cable
Manual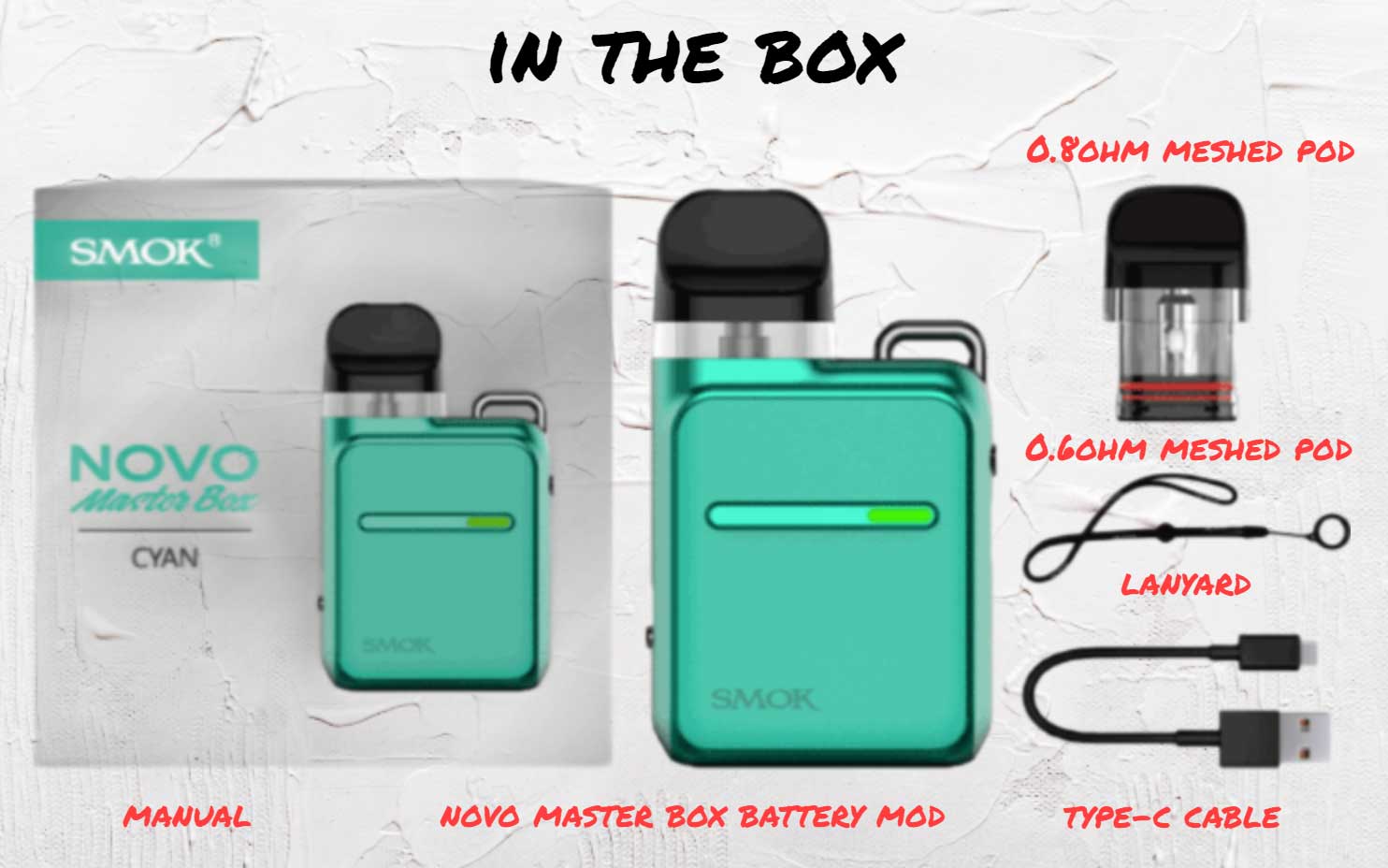 Total Views Today: 1 Total Views: 108