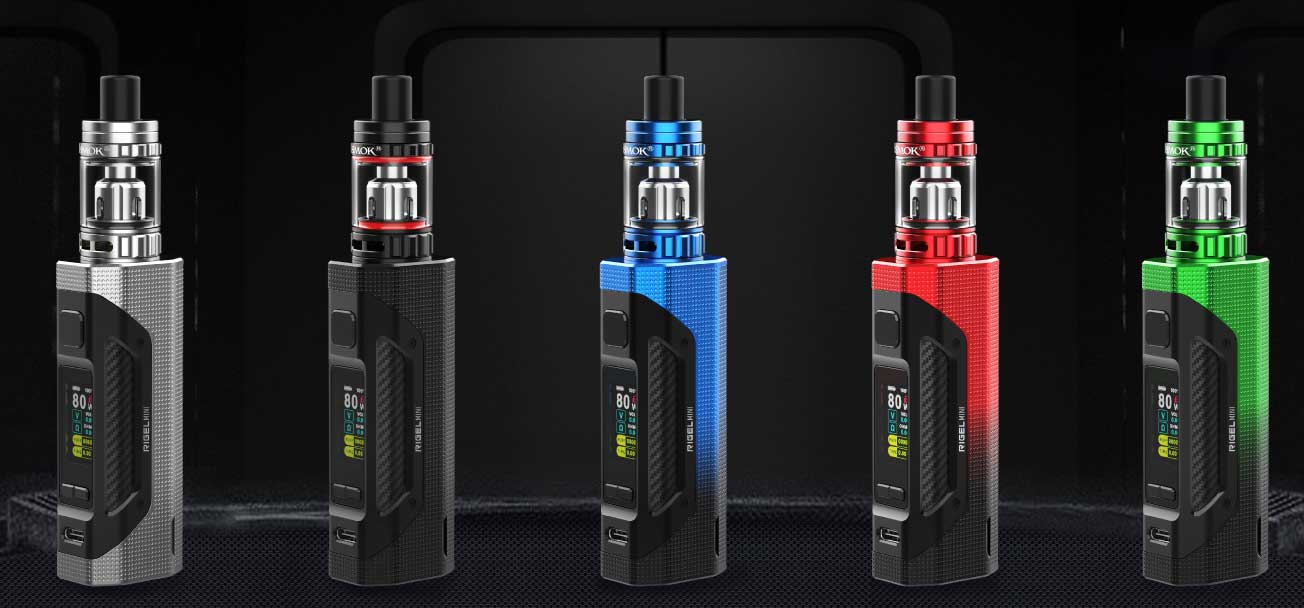 Here are cheap deals to buy the Smok Rigel Mini, available as a mod or kit.  It features a slim design, portability, 80 watts of power, a 0.96 inch TFT screen, single 18650 battery support, multiple protections, a mesh coil, an MTL coil, adjustable airflow control, and a 3mL juice capacity with top fill method.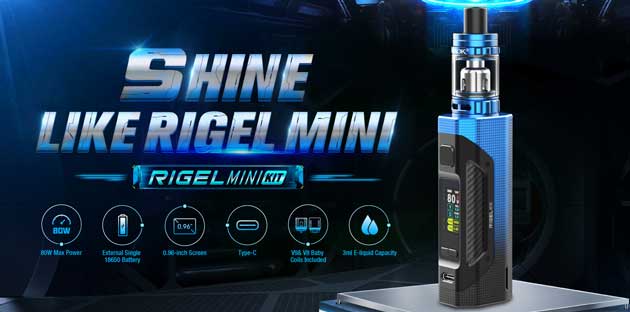 Portable, Sturdy Design
When you first see the Smok Rigel Mini, you may think you've seen this particular mod before.  That is because it looks very similar to its predecessor, the Smok Rigel, but it is smaller and with less power because of its size restriction.  With available color options of silver, black, black/blue, black/red, and black/green, the new kit's colors are pretty much the same.  However, the Rigel Mini Mod is smaller and lighter thanks to measurements that come in at just 34.24mm by 24.24mm by 88mm, while weighing only 62.5 grams.  And, holding the Rigel Mini is ergonomic and the stunning texture over the metallic body makes you feel you are holding something sturdy.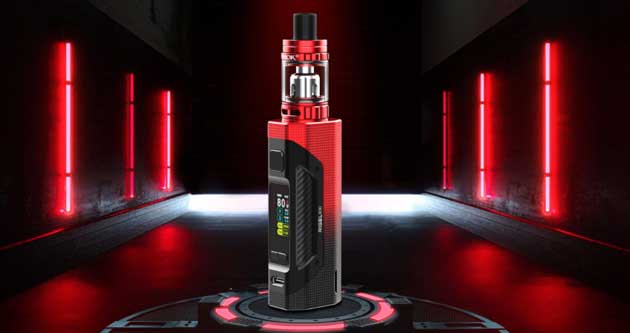 Large Full-Color User Interface
On one of the Smok Rigel Mini Kit's sides, you'll find the control face with an ergonomic fire button at the top, a USB-C charging port at the bottom, and two adjustment buttons.  Centrally located in between, there's a 0.96″ TFT screen with a full-color menu that is effortless to navigate.  On the display's user interface, essential vape data is optimally positioned so that you may easily see the status of the device and make adjustments to its settings with the plus/minus button underneath.  This means you can effortlessly notice the current battery charge percentage, the current wattage output, the current voltage, the tank's coil resistance, the number of puffs you've taken, and the length of your last puff in seconds.  Unfortunately, it is uncertain if the theme's color is changeable, because it is not available in the specifications or noticeable in the pictures. This info will be added in the near future.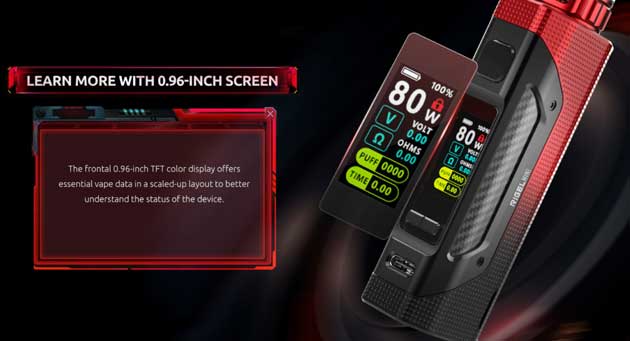 80 Watts From A Single 18650 Battery & Fast Charging
With its small size, the Smok Rigel Mini Kit is still a powerhouse as the maximum output is 80 watts, beginning at a 1W setting.  Powered by a single 18650 battery, which is inserted at the bottom, one should be able to vape quite a while before a recharge is required.  But, you don't need an external charger to top off the battery's voltage thanks to a USB-C port at the bottom of the control face that has an current capability of 1.4 amps for a fast charging process.  The Type-C USB port is also reversible to make it easy to plug into any wall outlet with the included cable in the package.   Best of all, to keep charging and vaping on the Rigel Mini as safe as conceivable, the mod provides multiple protections: intelligent atomizer recognition, puff monitoring, 8 seconds cutoff, short circuit protection, overheat protection, and low battery warning.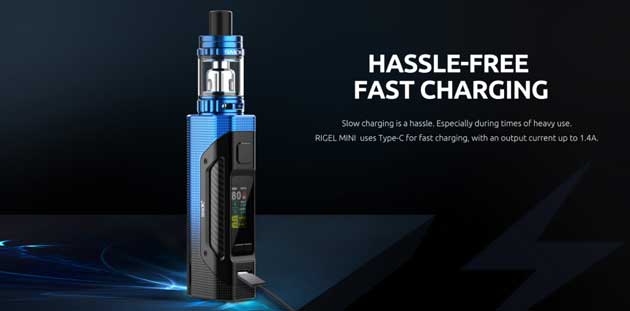 3mL Tank w/ Child-Resistant Top Cap
The Rigel Mini Kit also comes with one of the latest portable Smok tanks: the TFV9 Mini.  With a 23mm diameter, this atomizer is small and light, making it a perfect partner for the mod.  And, it has a completely redesigned airflow system that features a knurled ring at the bottom which permits making easy adjustments to the air intake level.  To add e-liquid to the tank's 3mL juice reservoir, all you do is lift and rotate the top cap to open a convenient, leak-free filling port.  Due to the top cap's locking mechanism, it is almost impossible that it accidentally opens or for young children to gain access to the filling slot.  At the bottom of the TFV9 Mini, you will find a gold-plated 510 threaded connector that increases the rub resistance and strengthens the electrical conductivity for fast firing and power efficiency.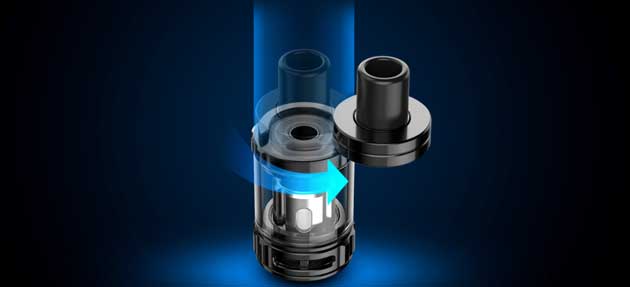 Two Coils Included
In the package of the Rigel Mini Kit, you will find two coils.  The V9 Meshed 0.15Ω coil features a mesh heating element and has a wattage range of 40 to 90 watts.  This means it can operate at higher power to produce big vapor from any e-liquid under 6mg nicotine strength.  Or, you can install the V8 BAby Q2 0.6Ω coil that produces dense clouds with tons of flavor while operating between 20 and 50 watts.  It works best in the range of 30 to 40 watts.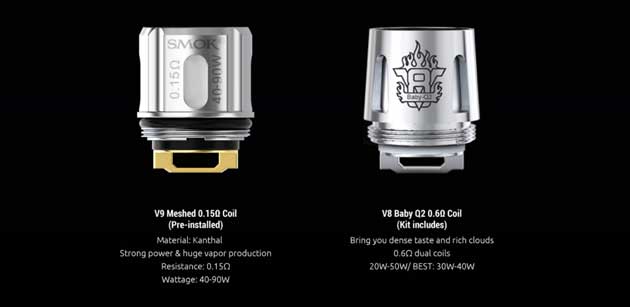 Smok Rigel Mini Features & Specifications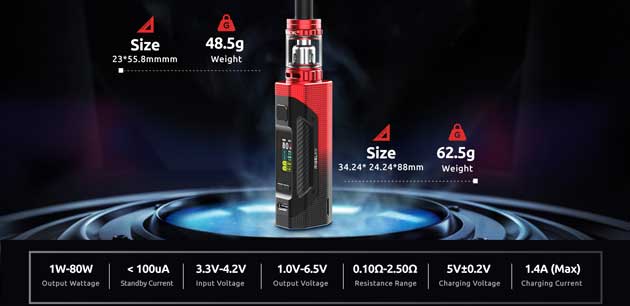 Package
With the purchase of the Rigel Mini Kit, you will receive the mod, a TFV9 Mini Tank (3mL version or 2mL version in the EU), a V9 Meshed 0.15Ω coil (preinstalled), a V8 Baby Q2 0.6Ω coil, a glass replacement tube, a Type-C USB cable, a manual.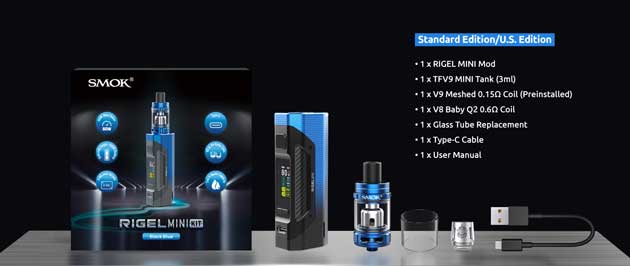 Gallery
Review
Similar Products
Total Views Today: 13 Total Views: 1,828