Here are Smok Scar 18 Box Mod or Smok Scar 18 Kit deals.  The box mod features 230 watts of power, a waterproof design, dual 18650 cells, type-C charging, and many modes. And the TFV9 atomizer in the kit has a 6.5mL  e-liquid capacity, adjustable airflow control, easy top fills, and mesh coils for massive vapor production.  The setup is for sale in these finishes: fluid 7-color, fluid red, fluid blue, fluid gold, fluid black/white, red stabilizing wood, green stabilizing wood, and black.
Deals
Smok Scar 18 Box Mod 
The Scar-18 mod features a meticulous design and is also portable yet powerful.  The appearance is delicate and stylish and features leather with zinc alloy chassis to be ergonomic.  Plus, the hard metal combined with the soft leather forms an impenetrable armor to stop intrusion by water or dust.   You could say that the appearance is very similar to Geekvape's Aegis series of products which has to be one of the most popular product lines ever on Cheap Vaping Deals.  Adding to the design of the box mod is a full-color screen with a new menu design that is quite easy to read and view.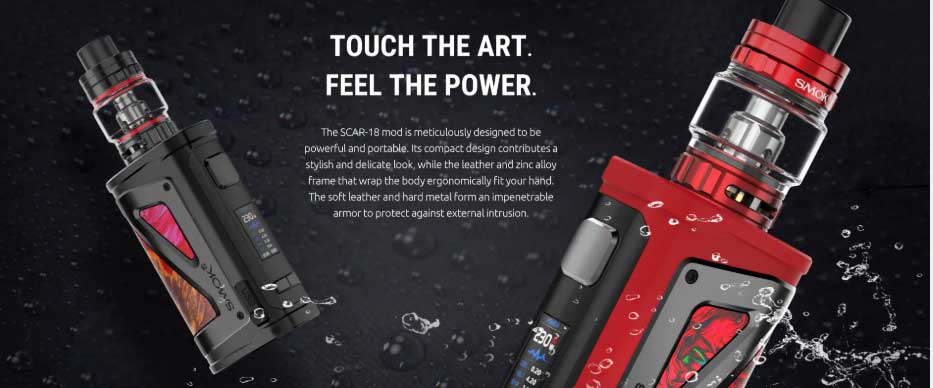 On the technical level, the Scar-18 utilizes the brand new IQ-X chipset with completely updated components for stability, brute power, and many safety protections.  The mod is powerful and features four new modes, so you may experience a diverse vapor output and set performance to your liking. First, the traditional power and temperature control modes work with nickel, stainless steel, and titanium heating elements. And, for advanced vapers, you may set the temperature coefficient of resistance (TCR) for your particular build or coil and surely save these settings in a memory slot or two.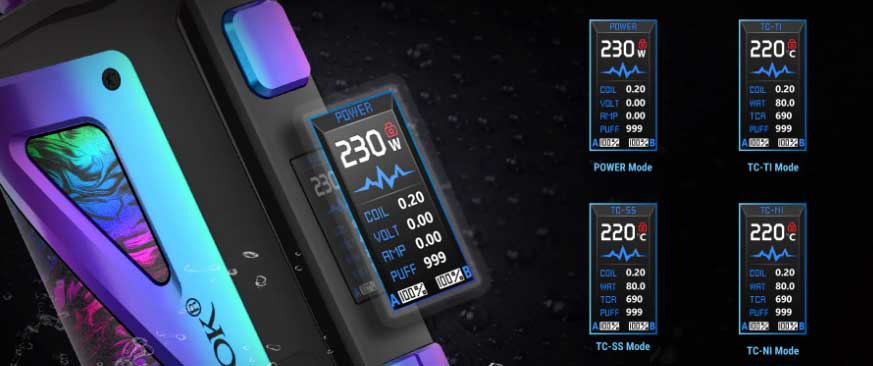 Power to the atomizer comes from dual 18650 batteries that load from the bottom via a convenient flip door.  A type-C charging port on the control face quickly tops off the batteries for an effortless recharge.  And the charging port features a tight rubber plug so that water never seeps into the battery bay.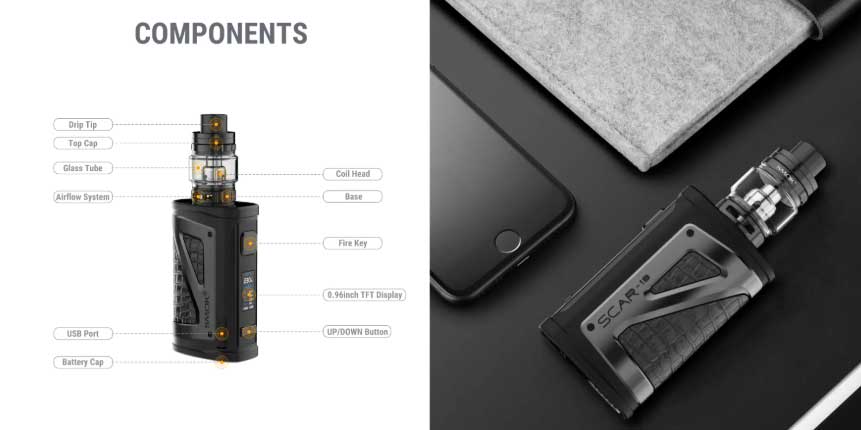 With an IP67 waterproof rating, the box mod is completely waterproof, so you don't need to worry about splashes, dust, or spills. The mod may be immersed in up to 1 meter or 3 feet of water for up to 30 minutes without damage to any of its hardware.  And the IP67 rating also means it resists dust, and the design ensures no damage due to accidental drops.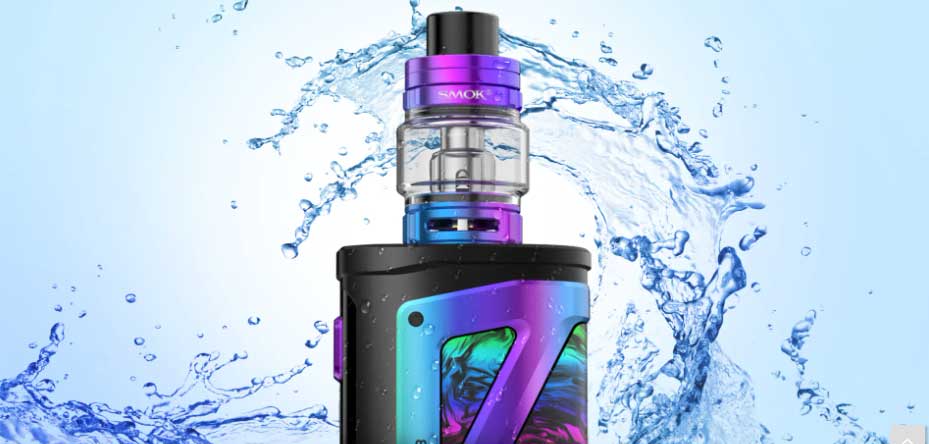 Smok Scar 18  Kit With TFV9 Tank
The Smok Scar-18 Starter Kit includes the latest Smok TFV9 tank, which is said to be a flavor-producing atomizer. It has a massive 6.5mL juice reservoir with the bulb pyrex glass extension installed, but EU residents will receive the 2mL version with a standard tube.  A large refill slot and central airflow tube make refills convenient for obtaining huge vapor with amazing flavor. Plus, you may freely adjust airflow control at the base of the tank, which features 2 massive air intake slots.  The top cap adopts a childproof design for children's safety while ensuring a leak-free vape experience.  Best of all, the gold-plated 510 connector at the bottom ensures a better user experience when installing it on the mod.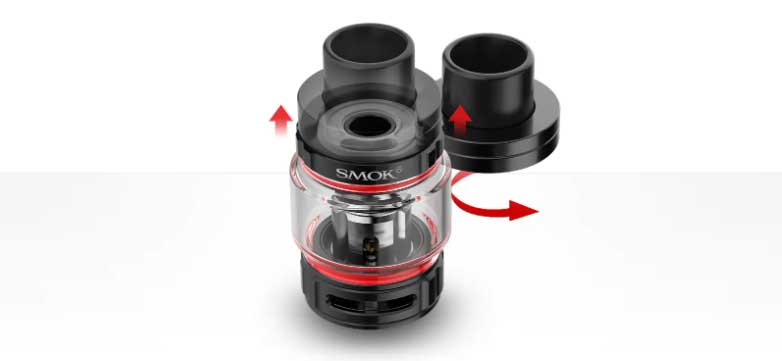 The TFV9 Tank uses V9 meshed coils constructed with Nichrome and has a large heating contact surface that is meshed for huge clouds with superb flavor.  But, the power capability of these coils is only in the mid-wattage range. Therefore, you should fire the coil between 50 and 60 watts, but you may operate it from 30 to 70. And the TFV9 tank works with the entire line of TFV8 Baby coils for additional versatility.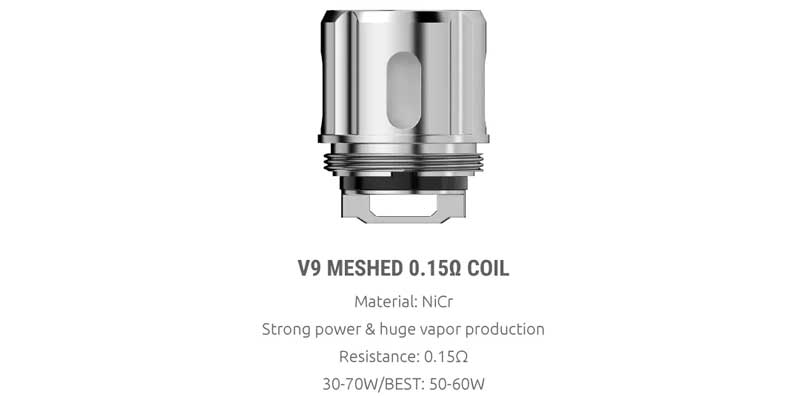 Package
With the purchase of the kit, you will get the Scar-18 Box Mod, the TFV9 Tank, two 0.15ohm V9 Mesh Coils, a USB cable, and a manual.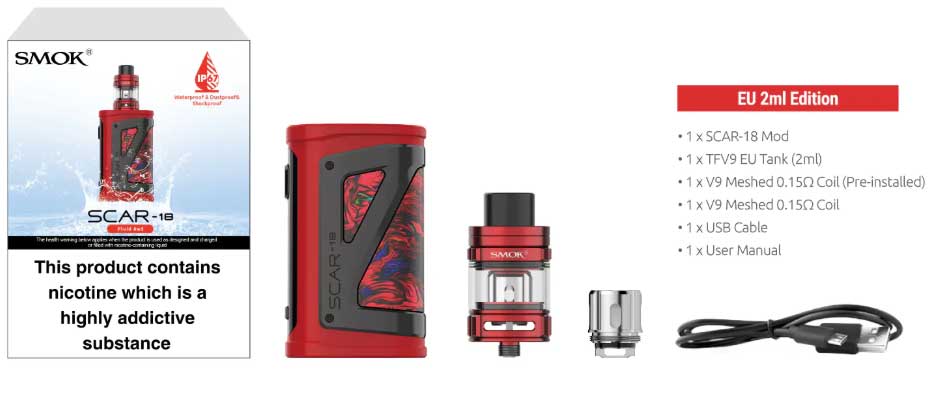 Total Views Today: 4 Total Views: 10,985