Here are cheap deals for the Smok TFV16. This new atomizer features a whopping 9mL juice reservoir, honeycomb structured mesh coils for dense vapor & flavor, easy leak-proof refills, a secure locking mechanism, massive airflow,  improved flavor production, and a 16mm resin drip tip.  Replacement coil deals for the TFV16 can be found here.
Smok TFV16 Sub-Ohm Tank Overview
The TFV16 is available in six colors: black plating, red, blue, gold, stainless steel, and 7-color.

The atomizer has a stainless steel chassis with a Pyrex glass juice reservoir. It measures 32mm x 64.5mm and weighs just 94 grams.

A lock button at the top of this atomizer allows for rotating the top cap and accessing the juice reservoir. Airflow adjustments take place via an AFC ring at the base.

The TFV16 continues the exquisite style and design of previous TFV tanks, such as the TFV12 Prince, the TFV12 Baby Prince, and the Smok TFV12.

With the newly designed Bulb Pyrex glass tube, the reservoir can store up to 9mL of e-liquid, perhaps the largest capacity ever. With this design, you may vape for extended periods without any refills.

The gasket under the top cap, which prevents leakage during refills and use, is now located at the bottom of the top cap. This permits a cleaner appearance while still preventing all leakage.

This top cap has a lock button to ensure safe use while preventing accidental leakage.

Compared to other tanks by Smok, the base on the TFV16 has been raised to provide more space for airflow. This results in massive and dense vapor.

At the bottom, there is a gold-plated 510 threaded connection pin. This increases longevity and enhances electrical conductivity. This makes the tank durable and ensures mod installation is an effortless experience.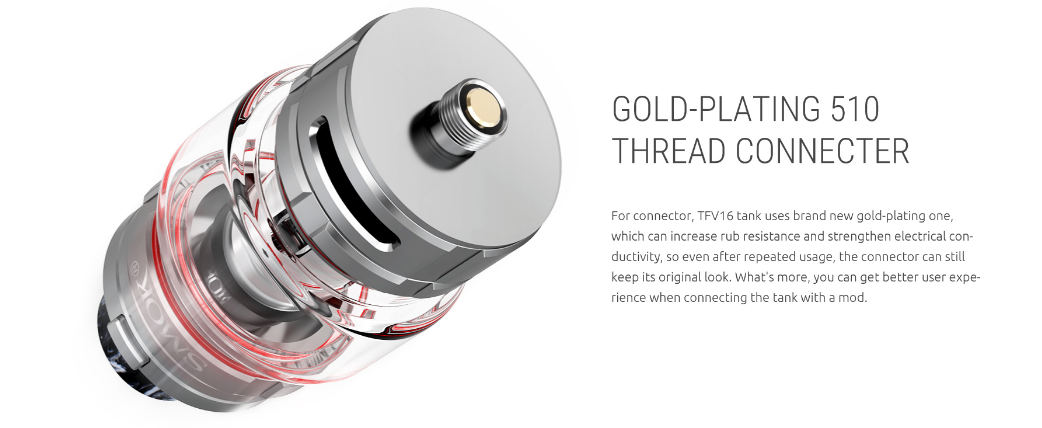 In addition to increasing vapor output, the airflow maximizes flavor production. This is due to dual air inlets with increased dimensions of 14mm x 2.6mm for massive vapor and rich taste.

At the top is a specially made resin drip tip with a 16mm diameter and ergonomic design to fit perfectly in the mouth. This mouthpiece features food-grade resin material, beautiful patterns, and increased airflow. Installation of the tip is as easy as simply pressing it into the top cap.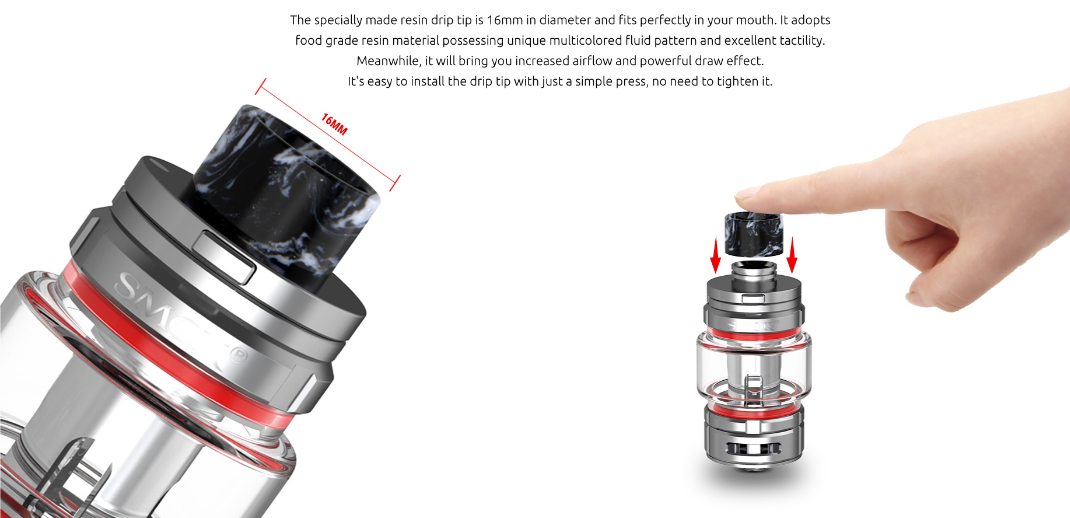 The coils inside the chamber are constructed with all-new mesh heating elements. They are made from nickel chrome and have many hexagon-shaped holes to heat e-juice evenly and as fast as possible. This ensures that flavor production is exactly as it is meant to be.  A single and dual mesh coil is included with the purchase, but you may also buy a Triple Mesh coil separately.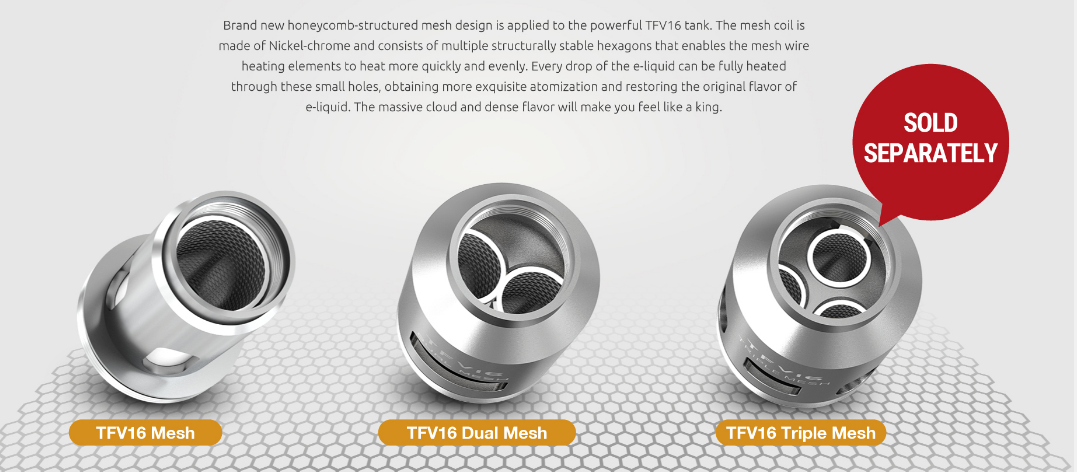 As with the Smok TF Tank, coil installation involves a push/pull system. This makes installation fast, easy, and less messy.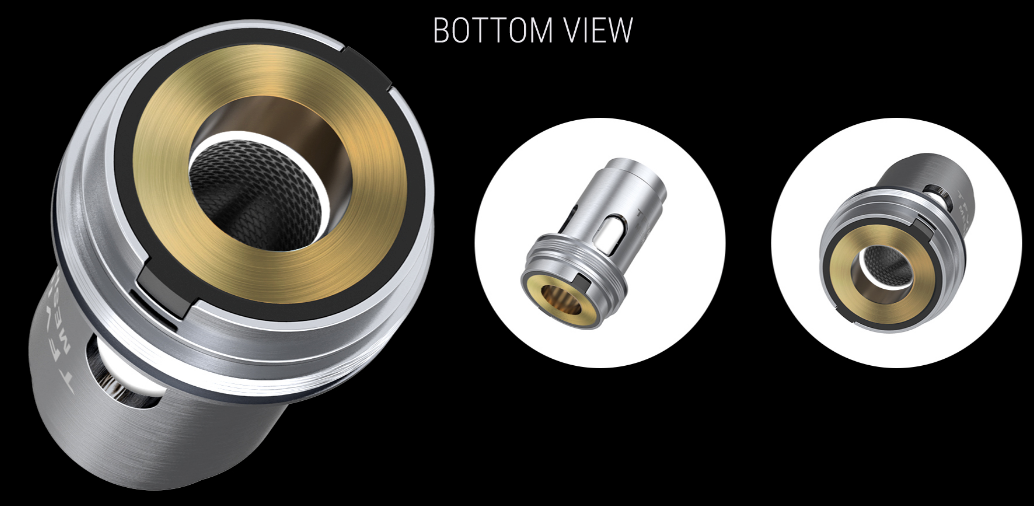 As previously stated, the Mesh coils come in three versions. The pre-installed TFV16 Mesh has a 0.17ohm resistance and is best used at 120 watts of power for pure flavor. The 0.12ohm dual Mesh coil has a superior wicking capability for massive flavor and vapor. It can be used at 80 to 160 watts but is recommended at 120 watts. The TFV16 Triple Mesh Coil is optional and has a 0.15ohm heating element. It has a widened heating surface for fast ramp-ups and massive vapor with flavor. It is best at 90 watts of power.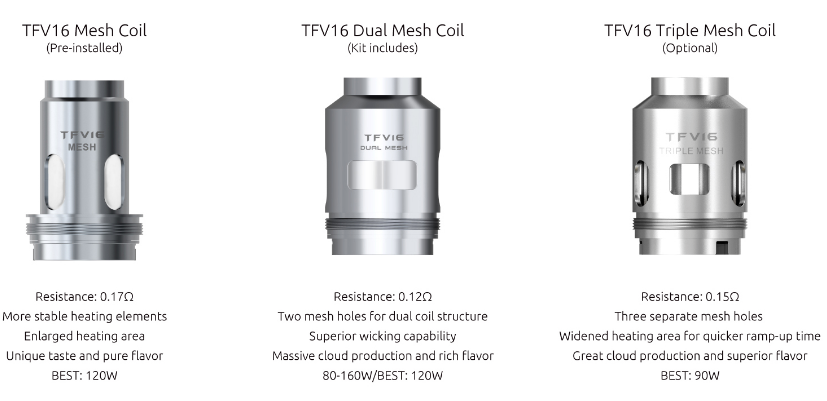 The base is newly designed to prevent e-liquid leakage. It features a bracket with three supporting points, improving the overall product quality.

A press-to-slide top fill design permits fast and easy refills of the juice reservoir. And the filling slot is completely leak-proof.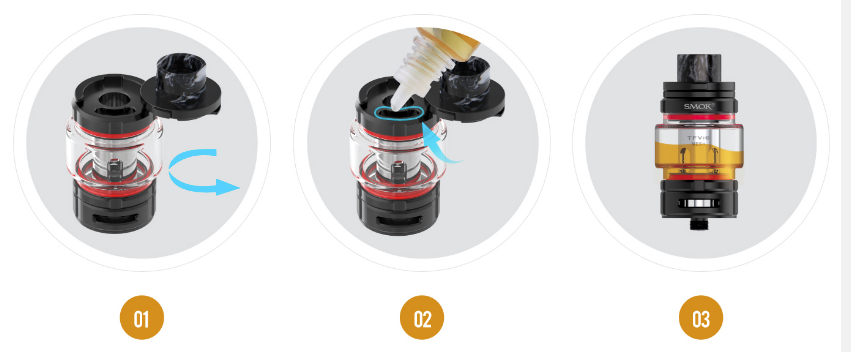 Features & Specifications
Dimensions: 32mm x 64.5mm
Made from stainless steel
Color options: black plating, red, blue, gold, stainless steel, 7-color
9mL juice capacity
Easy top-fill system
510 threaded gold-plated connection
16mm wide bore resin drip tip
Leak-proof top cap gasket
Large filling slot
Lock button
Dual bottom air intakes 14mm x 2.6mm
Mesh coils

Pre-installed: TFV16 mesh coil

0.17ohm
Stable heating
Large surface
Pure flavor
Best at 120W

Included: TFV16 dual mesh coil

0.12ohm resistance
Dual mesh holes
Superior wicking
Massive vapor
Rich Flavor
80W-160W
Best at 120W

Optional: TFV16 triple mesh coil

0.15ohm resistance
Three mesh holes
Widened heating surface
Fast ramp-up response
Massive vapor
Superior flavor
Best at 90 watts
In The Box
TFV16 Tank (9mL juice capacity)
TFV16 Mesh 0.17ohm Coil
TFV16 0.12ohm Dual Mesh Coil
Bulb glass protective silicone sleeve
Manual
Extra parts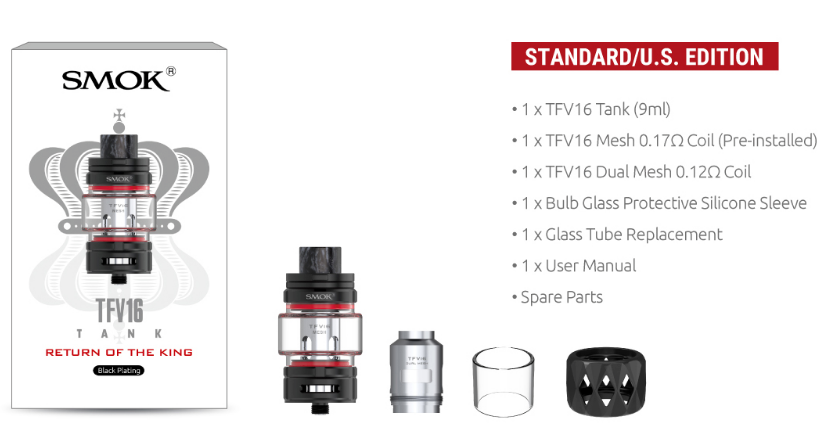 Total Views Today: 1 Total Views: 3,873