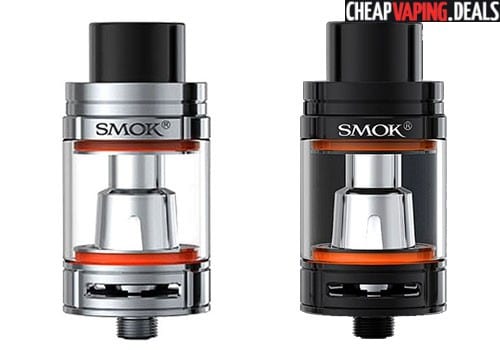 Check out this awesome price for the Smok TFV8 Big Baby Tank.
 Overview
The TFV8 Big Baby is a larger version of the TFV8 Baby Tank.  It can use the same coils as the smaller one, but has an increased e-liquid capacity from 2ml to 5ml.  It is available in black or silver.
The Big Baby has dimensions of 24.5mm x 56mm so it is both wider and taller than the smaller Baby tank.   It is constructed from a glass tank section and a high quality stainless steel shell.  The tank has an e-juice capacity of 5ml that utilizes a patented hinge-style top fill system with a large fill port.  Adding juice has never been more convenient.  Included with the device, you'll get a wide Delrin drip tip that allows maximization of the massive airflow this tank is capable of.  Two large airflow intakes at the bottom can be fully adjusted to customize your vape experience. The Big Baby Tank will also easily connect to any standard mod because it is built with a 510 threaded connection pin.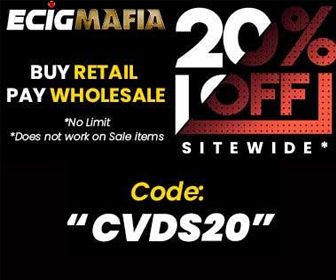 The Big Baby uses the same heating elements as its smaller brother and has six alternate coil options:
Included with purchase, you'll receive a high wattage V8 Baby-T6 core that has a resistance of 0.2Ω and produces cooler and smooth vapor.  It can be fired between 40 and 130 watts but really should be used between 70 and 90 watts.
The second included coil head is the quadruple V8 Baby X4 for silky smooth vapor.  It fires with a resistance of 0.15Ω, is rated between 30W and 70W, but should be used between 45 and  70W.
There's also an included V8 Baby RBA head that allows you to create your own unique vape taste and should be used from 30 watts to 60 watts but is best at 50 watts.
As an option, you can buy dual coil V8 Baby Q2 Core coils.   It has a resistance is 0.4Ω for richer vapor production, has a power output from 40W up to 80W, but is recommended in the range of 55W to 65W.
The next optional coil is the 0.15Ω octuple V8 Baby T8   for amazingly dense vapor production and is optional.  This coil can be vaped from 50W to 110W, but has a recommended use of 60W to 80W.
There's also a dual V8 Baby-Q2 coil head available that brings you deep and rich clouds, has a resistance of 0.6Ω but is best from 30 watts to 40 watts.  This coil is also optional.
In addition to the three included coils, you'll receive an extra tank section, a 510 drip tip adapter, some spare parts and a user's manual.
Overall, if you like the tank capacity of the Smok TFV8 and the lower wattage/size of the Baby TFV8, you're bound to love this Big Baby Beast Tank.  As is the case with all TFV8 tanks, this one should also produce massive vapor!
Features & Specs
Dimensions: 24.5mm x 56mm
Weighs 60g
Colors: black or stainless steel
Huge vapor production
Stainless steel chassis
Pyrex glass tank
510 threaded connection pin
Tank capacity: 5ml
Patented easy top fill with hinged top cap and large fill hole
Redesigned dual bottom adjustable airflow slots
Large air chamber in small device
Two coils  included
Four optional coils available
Redesigned Delrin drip tip
510 drip tip adapter
Spare glass tank
Spare parts
User manual
Pictures
Video Review
Not available
Total Views Today: 1 Total Views: 732