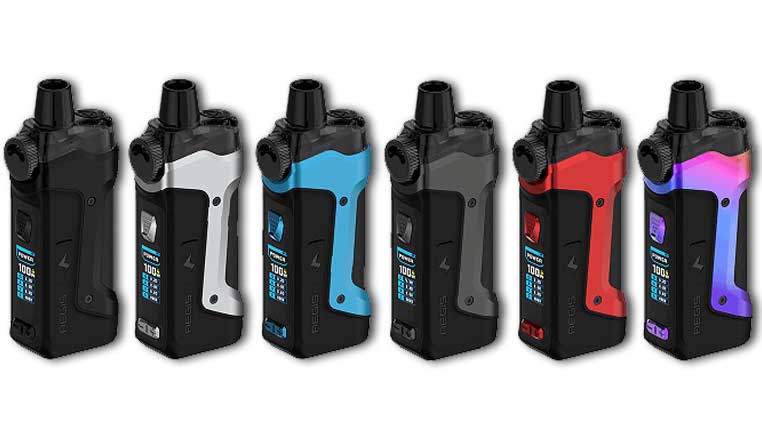 Here are cheap deals to buy the Geekvape Aegis Boost Pro that can be used with tanks, pods, RDTA, RDAs.  And, it also features 100 watts of power, 18650 battery support, a temperature mode, variable wattage mode, a color TFT display with 4 theme options, fast response time, refillable pods, 6mL juice capacity, lightning-fast charging, adjustable airflow control, and a shock, dust, and waterproof design.
Aegis Boost Pro vs Previous Aegis Boost Devices
As the follow up to the Aegis Boost and Aegis Boost Plus devices, the Geekvape Aegis Boost Pro mod is different because it has up to 100 watts of power instead of only 40 watts. And, there's also a full-color display screen with 4 themes to choose from for a more versatile vape experience.  Moreover, it has a quad compatibility system which means you can now also use the Aegis Boost Pro Mod with an RDA in addition to sub-ohm tanks, pods, and RDTA atomizers.  Finally, the Pro has 6mL pods for longer vape times while on the go.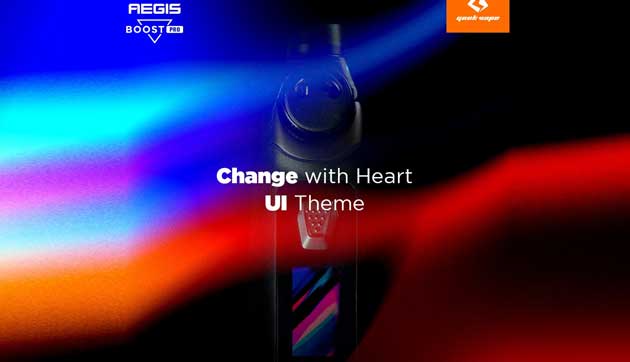 Overview
Geekvape describes the Aegis Boost Pro as "the best outdoor partner" and that is because this device features IP67 waterproof design, making it also dustproof.  Plus, it is dustproof so you don't need to panic if you accidentally drop it on the floor.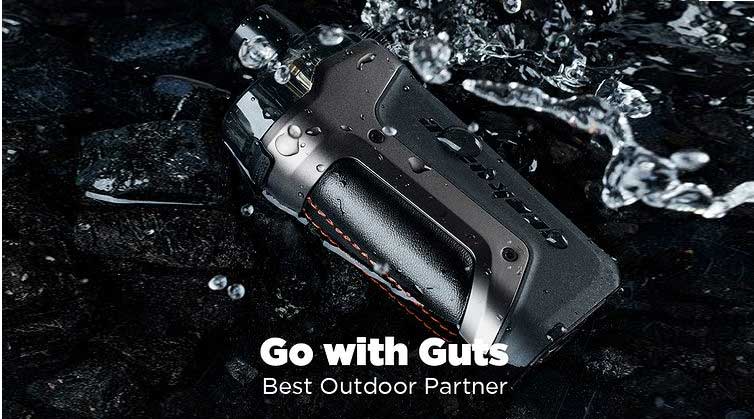 Unfortunately, with the available information at the time of this writing, we noticed that the Geekvape Aegis Boost Pro works with a single 18650 battery, so that won't last very long at the 100-watt setting, but the battery information may not be accurate.  We certainly hope the device is compatible with a 21700 battery, but recharging is convenient nonetheless thanks to a fast 2 amp USB-C charging system. Available modes on the Aegis Boost Pro include temperature control mode and variable wattage mode, both of which are safe to operate in thanks to multiple protections. And, firing occurs within a split second for instant vapor production.
In the design department, the device features the identical leather grip found in other Aegis mods and kits, as well as the familiar stitching and beautiful metal accent lines.  All mods have a black chassis and you can choose finish colors in either black, silver, blue, gunmetal, red, or rainbow. On the control face, you'll see the previously mentioned full-color display with two adjustment buttons underneath for effortless UI navigation.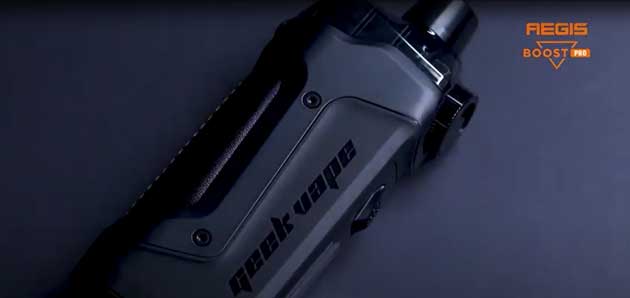 The  Geekvape Aegis Boost Pro works with 6mL pods, a slight improvement over its predecessors for longer vape times without refills.  It appears that the available coils are for sub-ohm vaping and not for higher nicotine e-liquids.  With purchase, you'll get both a 0.2ohm and 0.4ohm coil that easily inserts via a push/pull method at the bottom of the cartridge.  Refilling the reservoir on the pod is done by way of a top-fill juice port that is compatible with a myriad of juice bottles sizes.  And, you may adjust airflow to the coils by rotating the wheel on each pod.  In this way, you can rest assured that your vape experience with the Boost Pro is versatile and personalized.   Finally, to use atomizers instead of pods, you'll need the 510 connector which is not included with you must buy seperately.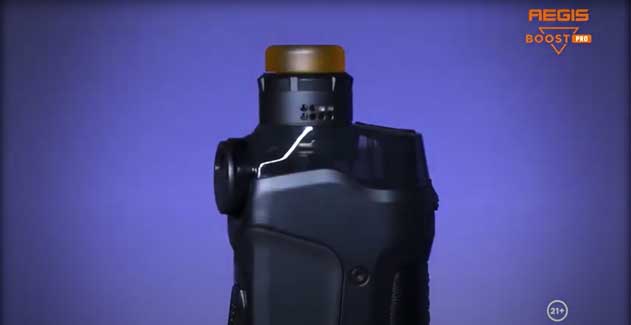 Features & Specifications
With dimensions of 113.04mm x 50.15mm x 28.6mm, the Aegis Boost Pro Mod is available in rainbow, red, gunmetal, blue, silver, and black.  Moreover, the design is shockproof, waterproof, and dustproof for use in the rain, on the beach and in dusty environements.  The materials that comprise the device are plastic, silicone, leather, and zinc alloy which means the device is also durable.  The box mod uses a single 18650 battery, rechargeable via a Type-C USB port.  As a result, the maximum generated power is 100 watts in either temperature control mode or power mode and settings are adjustable via a full-color 0.96 inch TFT display with four theme options.  Two adjustment buttons permit easy navigation of the menu system.  Each pod has adjustable airflow control, a 6mL juice capacity, and an easy top fill system. The included coils are a 0.2ohm, and 0.4ohm one for regular e-juices.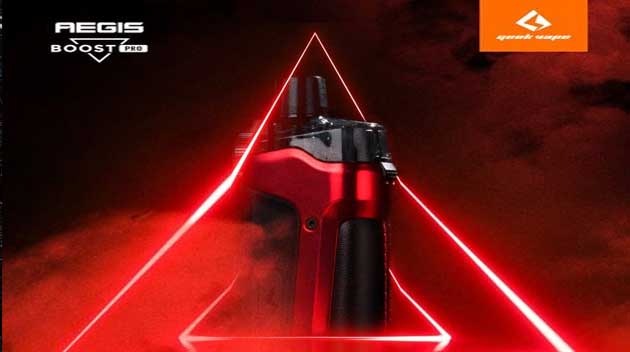 In The Package
With the purchase of the Aegis Boost Pro, you'll get the mod, a pod, a 0.2ohm coil, a 0.4ohm coil, a USB-C cable, and a manual.
Related
Total Views Today: 8 Total Views: 10,305