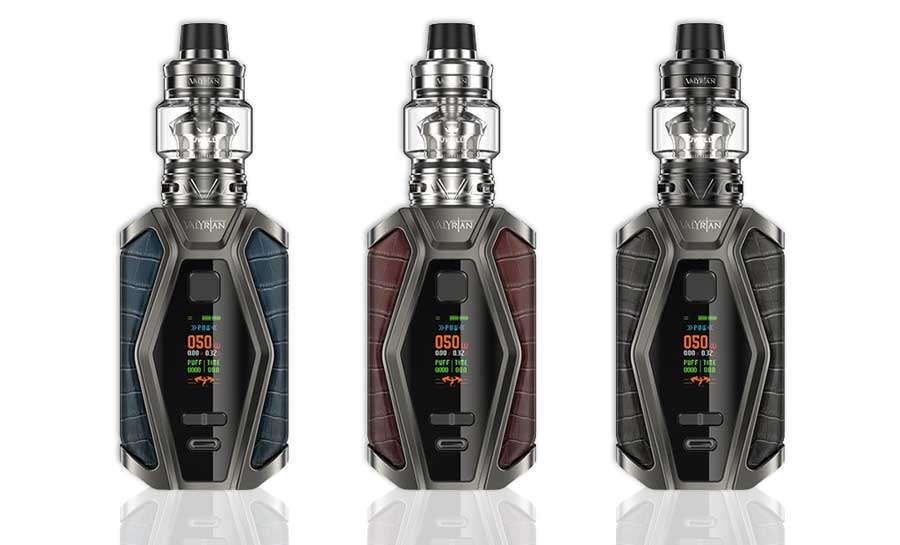 Here are cheap deals to buy the Uwell Valyrian 3 Box Mod or Uwell Valyrian 3 Kit at a low price.  Available in 3 colors, the mod features 5 LEDs that light up different colors according to your mode, an elegant design, dragon scale patterns, stable performance, lightning-fast firing, 200 watts of adjustable power, a 0.96-inch full-color screen, dual 18650 batteries, and many modes including temperature control and TCR.  The kit includes the latest Valyrian III tank with new coils, Pro-Focs technology for ideal flavor, patented self-cleaning technology, a top flip refill cap, and a 6ml juice reservoir.  Check the deals on this page if you want to purchase only the Valyrian 3 Tank in this kit.
Deals
** Blowout Deal w/ Fast Shipping **

USA Deal: Kit

$59.99 

Use coupon code 25C at checkout (exclusive 25% off sitewide – blowout prices & fast USA shipping – one use per account – $300 limit)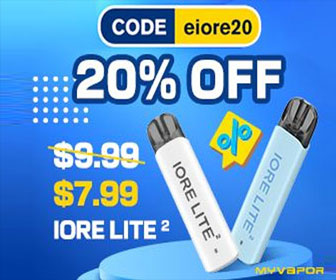 Valyrian 3 Mod
What really stands out about the Uwell Valyrian III Box Mod is the beautiful scale patterns on the grip that result in an exquisite appearance.  Moreover, the circuit board inside is a new generation to ensure stability during the firing process.  According to Uwell, this box mod should give the user a brand-new experience.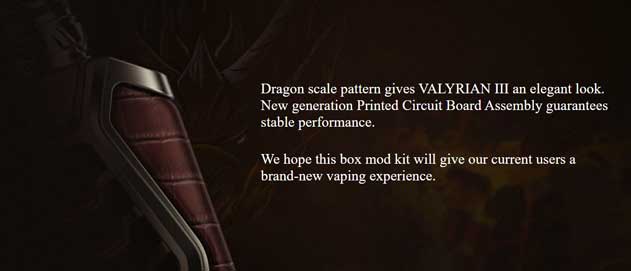 Not only does the dragon scale pattern look amazing, but it is also quite ergonomic.  You see, the stainless steel chassis with leather grip is sure to feel incredible to grip.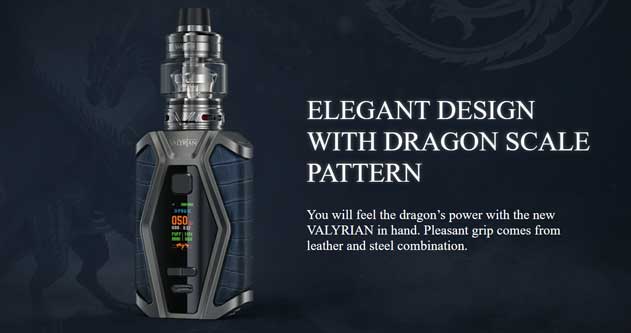 There are three color options, each will stainless steel chassis but different grip colors.  Choose from lagoon blue, midnight black, or amaretto brown.
What separates the Valyrian 3 Box Mod from the crowd are the multifunctional LED indicators on the back that change color according to your current mode.  In addition to power mode, there are temperature and TCR modes, easily modified by a full-color display screen and 2 adjustment buttons.  On the screen, you will see the current battery status, current mode, current output, atomizer resistance, the last puff time, and a puff counter.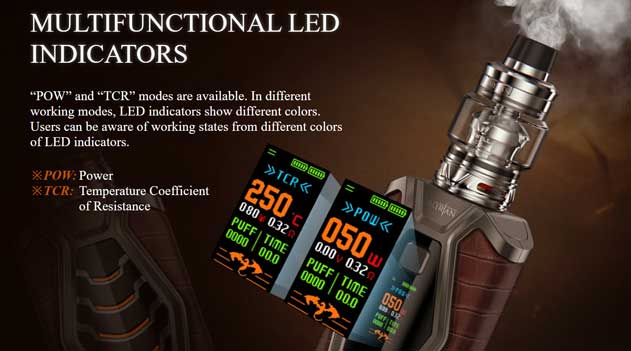 Power is generated by dual 18650 batteries,  accessible via a bottom flip cap.  A USB-C charging port on the control face permits the cells' to charge while in the mod, but the interface's speed is not yet available.  And the latest PCBA circuit board inside the Uwell Valyrian III Mod ensures stable performance at up to 200 watts of power and lightning-fast firing.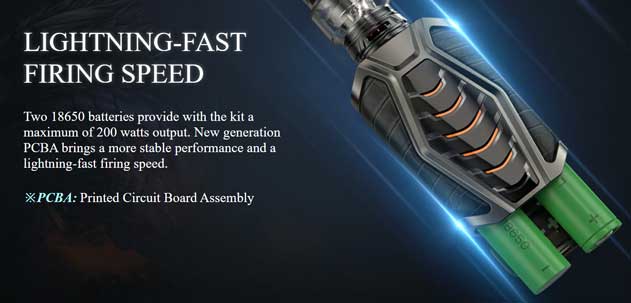 The chipset also detects the resistance of the connected atomizer displayed on the screen's user interface.  But, the mod only works with coils down to 0.1ohm of resistance in both variable wattage and temperature control modes.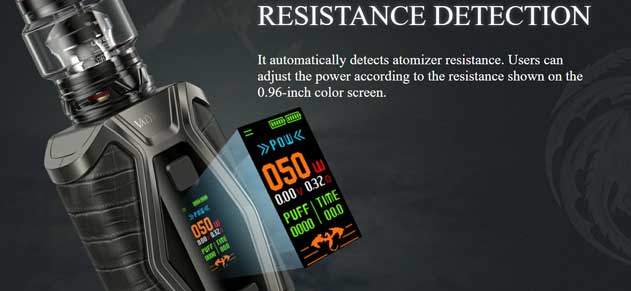 Uwell Valyrian 3 Starter Kit
The Valyrian 3 Kit includes a new tank with the same name and works with the Valyrian II Kit coils.  But, with purchase, you'll receive brand new Valyrian III coils.  The first is a 0.32ohm UN2 coil with a recommended range of 80 to 85 watts and features smooth airflow, while the second is the 0.14ohm UN2-2 coil that fires from 80 to 90 watts and features rich taste.

As with most Uwell atomizers, the Valyrian 3 features new Pro-Focs technology to ensure the original flavor of your favorite vape juice is preserved.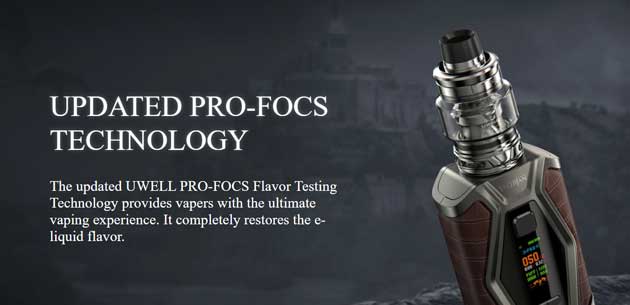 And, patented self-cleaning technology stops e-juice from leaking out at the bottom, making this one of the cleanest atomizers in the vape marketplace.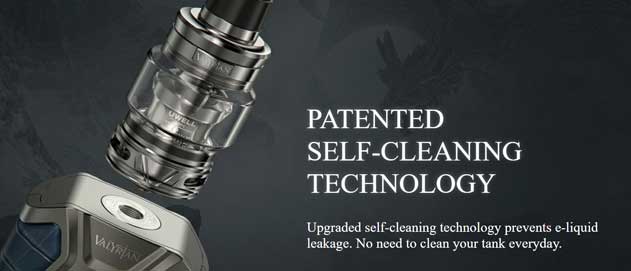 The Uwell Valyrian III kit's juice reservoir can hold up to 6ml of e-liquid, easily refilled by a top-fill method.  To add e-liquid, press the button on the top cap to flip it open, thus exposing two juice ports.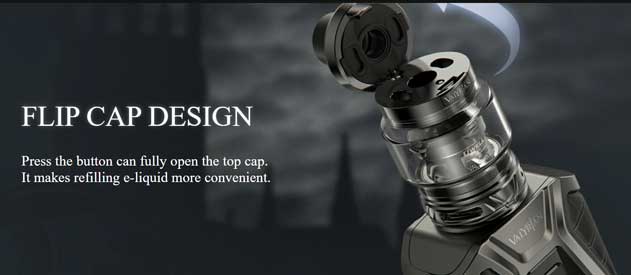 Features & Specifications
Uwell Valyrian III Box Mod
Dimensions: 85.2mm x 52mm x 31.4mm
Weight: 200g
Color options: midnight black, lagoon blue, amaretto brown
Made from zinc alloy, PC, ABS
Elegant design
Dragon scale leather grip
0.96″ full-color display screen
Breathing LED lights: change color according to mode
Works with dual 18650 batteries

USB-C onboard charging
Bottom-hinged battery door

Modes:

Power: 5W To 200W
TC/TCR: 200°F to 600°F

Mod resistance range

Power: 0.1Ω to 3.0Ω
TCR/TCR: 0.1Ω to 3.0Ω

Fast firing
Stable performance
Atomizer resistance detection
Standby current: <100uA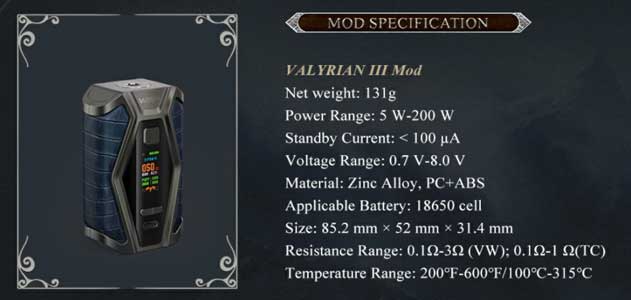 Uwell Valyrian III Kit
Kit Includes Valyrian 3 tank
Tank dimensions: 30mm x 60.65mm
Tank weight: 80g
Tank material: SS, Pyrex
6ml juice capacity
Easy refills: top cap flips open
Pro-Focs technology to preserve juice flavor
Patented self-cleaning technology: mess-free vaping
Compatible coils

Included: SS316L 0.32ohm UN2 Valyrian III coil: 80W to 85W
Included: FeCrAl 0.14ohm UN2-2 Valyrian III coil: 80W to 90W
Optional: FeCrAl 0.15ohm Valyrian II coil: 100W to 120W
Optional: FeCrAl 0.16ohm UN2-3 Valyrian II coil: 90W to 100W

Dual bottom adjustable airflow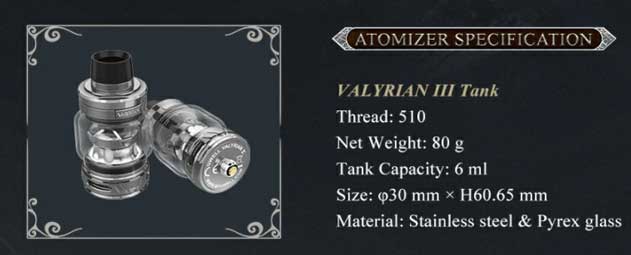 What's Included (Kit)
Valyrian 3 Mod
Valyrian 3 Tank
FeCrAl 0.14ohm UN2-2 Valyrian III coil: 80W to 90W
UN2 Valyrian III coil: 80W to 85W
Replacement o-rings
Manual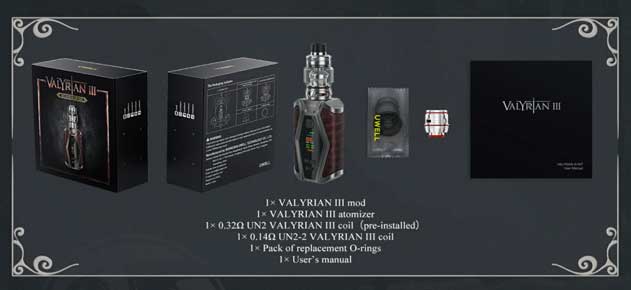 Similar Products
Total Views Today: 1 Total Views: 6,871