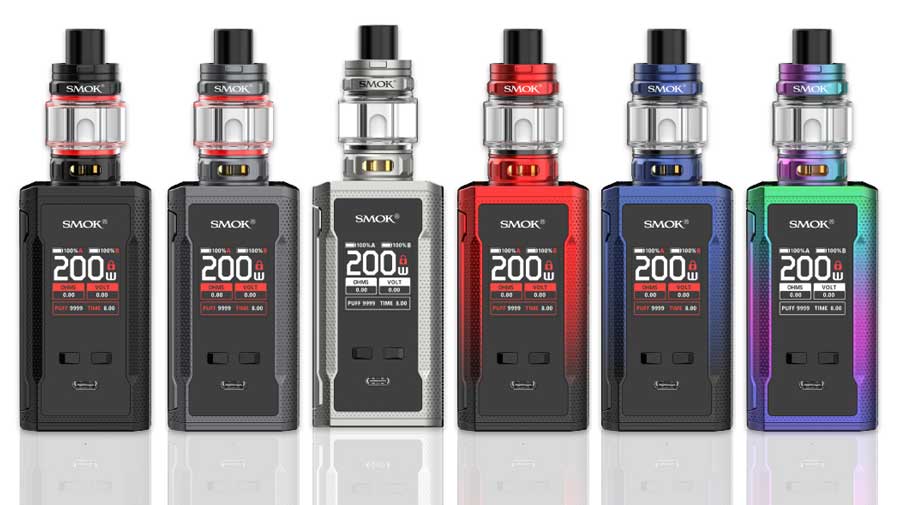 Here are cheap deals to buy the Smok R-Kiss 2 mod or kit at a low price. The Smok R-Kiss 2 Mod features dual external 18650 batteries, an IQ-S chipset, a full-color display, 2 amp fast USB-C charging, 200 watts of maximum power, a large lateral fire key, and all-around safety.  The Smok R-Kiss 2 Kit includes the brand new TFV18 Mini Tank with 6.5mL capacity, adjustable airflow, sub-ohm meshed coils, and easy refills.
Deals
Review
R-Kiss 2 Box Mod 
As the follow-up to the Smok R-Kiss, the new R-Kiss 2 Mod looks quite similar to its predecessor, but it has been updated modern appearance.  Available in black, grey, pale champagne, black/red, black/blue, and 7 color, the device boasts a brand new 1.3 inch TFT color screen that clearly indicates operating data such as current wattage, current mode, batteries charge level, atomizer resistance, the current voltage, and puff information.  And, you can set the theme of the user interface to blue, purple, green, yellow, red, or white.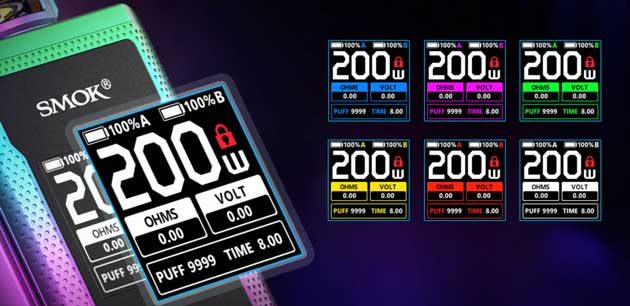 Another important aspect of the new design is a large lateral firing key that perfectly integrates into the device to make it seamless in the overall appearance. This fire key is said to make it effortless to fire up your favorite atomizer which should produce almost instant vapor thanks to a new chipset.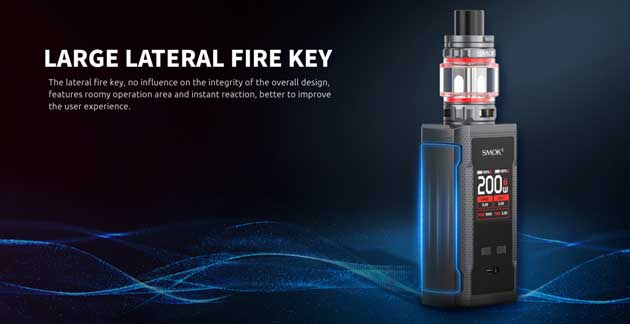 In fact, the chipboard was designed with safety in mind.  You see, there are a multitude of safety protections such as 8-second cutoff, intelligent atomizer recognition, overheat protection, short circuit protection, low battery warning, power self-adaptive control, over-discharge protection and reverse polarity protection.  You may always feel reassured you're safe while using the new R-Kiss 2 box mod.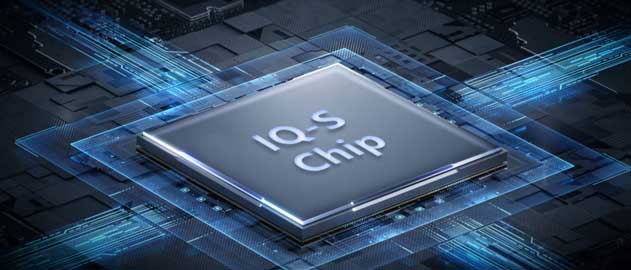 With 200 watts of maximum output, the R-Kiss 2 maintains the massive power capability of its predecessor.  Power comes from dual 18650 batteries that are inserted at the bottom of the device.  These cells should last quite a while, even at high power vaping such as when you operate in mechanical mode.  Unfortunately, Smok has not listed all the operating modes on their website, so we are uncertain if the new setup will work in temperature control mode.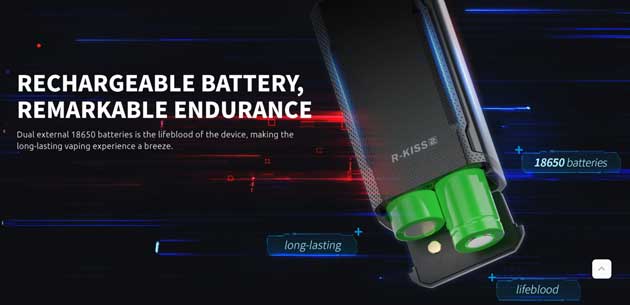 With the Smok R-Kiss 2 mod, do not fret if your batteries have drained and it's time for a recharge.  That's because the setup is designed with an evolved 2.0 Type-C USB port that is easier to work with as it is reversible.  Plus, this interface works with 2 amps of current to see to it that the process finishes quite quickly.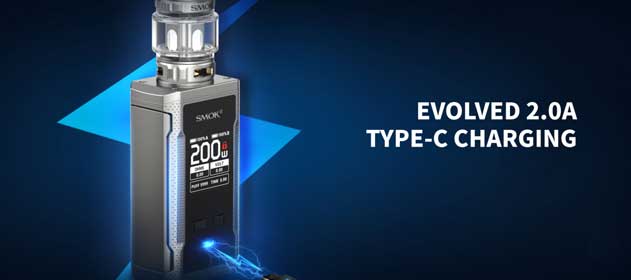 R-Kiss 2 Kit
The Smok R-Kiss 2 Kit includes the TFV18 Mini tank, the smaller version of the TFV18.  This new portable tank features straight bottom-to-top airflow that operates by way of 3 large air intake slots to triple the speed of the vapor.  This permits rich vapor to reach your mouth without delay and the air slots are adjustable for versatility.

Fast heating is yet another benefit of using a TFV18 Mini tank.  The reason is that this atomizer works with copper, an excellent conductor of electricity, that is arranged in 5 braces to efficiently transfer power to the coil and to ensure fast coil heating.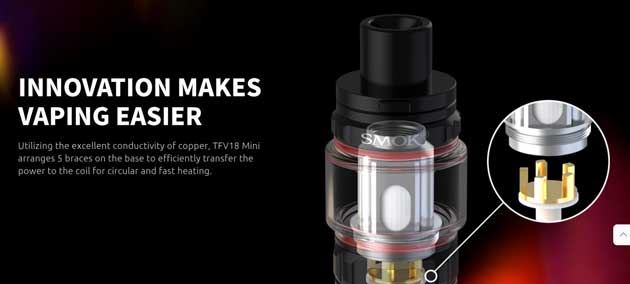 And, the R-Kiss 2 kit uses meshed coils that spread heat over a larger area to produce massive vapor with lots of flavors.  With purchase, you'll receive 2 coils:  the V18 Mini Dual Meshed 0.15ohm coil produces sharp taste while operating from 80 to 110 watts, but the best setting is 90 watts.  Or, you may want to install the V18 Mini Meshed 0.33ohm coil that is sure to make huge vapor and flavor while being used in the range of 80 to 140 watts.  This coil's recommended setting is 100 to 110 watts.  Finally, there is also the optional 0.2ohm coil that features milder flavor at 40 to 80 watts (best at 60 watts).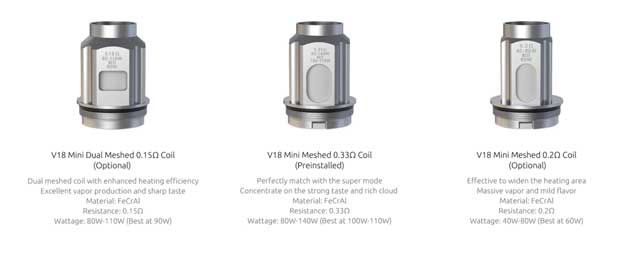 Also important is that the Smok R-Kiss 2 Starter Kit makes the most of every drop of vape juice in its massive 6.5mL juice reservoir.  This results in hassle-free vaping without the nuisance of frequent refills.  However, if a refill is necessary, simply press the button on the top cap which permits it to swivel open to expose a large juice port.  Please note that is important to wait several minutes to let the coil saturate prior to taking your first puff, especially if it is a brand new coil.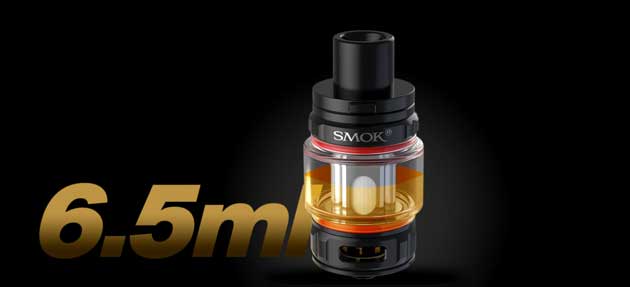 Features & Specifications
R-Kiss 2 Mod
Size: 84*46*30mm
Weight: 1169
Output Wattage: 5W-200W
Standby Current: <3000A
Input Voltage: 6.4V-8.4V
Output Voltage: 1.0V-8.2V
Resistance Range: 0.122-2.50
Charging Voltage: 5V+0.2V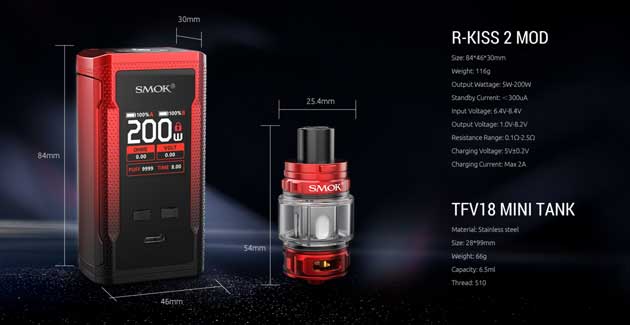 R-Kiss 2 Kit w/ TFV18 Mini Tank
Material: Stainless steel
Size: 28*99mm
Weight: 669g
Capacity: 6.5ml
Thread: 510
In The Box (Standard Kit)
R-Kiss 2 Mod
TFV18 Mini Tank
V18 Mini Meshed 0.33Ω Coil (pre-installed)
V18 Mini Dual Meshed 0.15Ω Coil (pre-installed)
Extra Glass Bulb Section
USB-C Charging Cable
Manual

Related Deals
Total Views Today: 2 Total Views: 8,626