Here's a cheap deal to buy the Vandy Vape B3 RTA at a low price.  This rebuildable tank atomizer is also known as the Berserker V3 MTL RTA. It features a convenient refill method, a 6mL juice capacity with the included long tube, a 2mL capacity with the included short tube, effortless inserts to change airflow settings, and a dual post/single coil build deck.

Deal
Overview
Compared to its predecessors, such as the Berserker V2 RTA, the B3 RTA (Berserker V3) has a brand new base design that is smaller.  The dimensions of this new atomizer come in at only 24mm x 31.5mm with the 2mL tank tube installed, but there is also a 6mL long tube included that results in measurements of 25mm by 43.5mm.  Three different drip tips are also found in the package.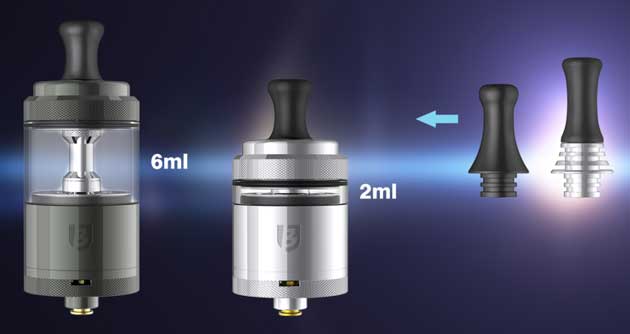 Refilling the 2mL or 6mL tubes is done the same way as before and is very easy.  To add e-liquid, unscrew the top cap, thus exposing two filling slots compatible with virtually all juice bottles in the marketplace.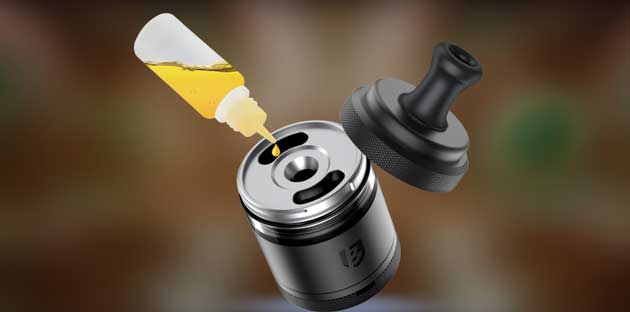 Airflow on the B3 MTL RTA is updated and can be changed without disassembling the device.  Choose from three air hole sizes with the included inserts: 0.8mm, 1.4mm, or 2mm.  Note that all of these results in mouth-to-lung hits, so if a less restrictive puff style is preferred, this RTA is not for you.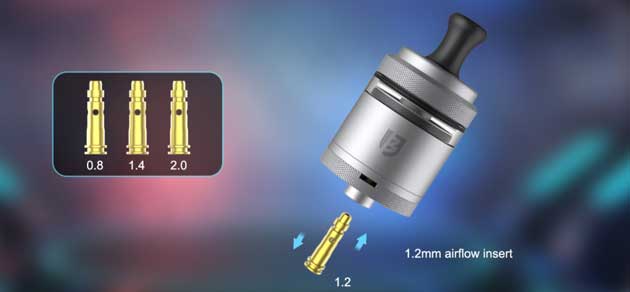 The build deck on the B3 RTA features dual posts on one side to make building coils a breeze.  However, the deck is only compatible with single coils.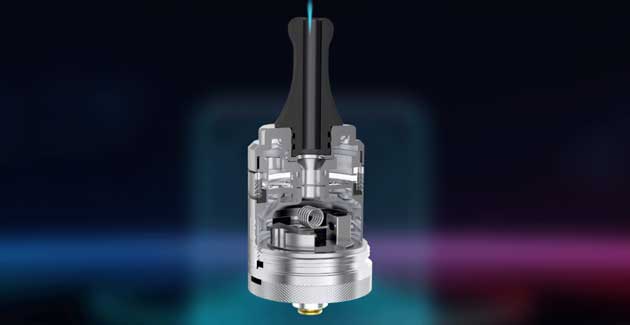 The Vandy Vape B3 MTL RTA is available in the following colors: gold, frosted grey, gunmetal, stainless steel, or matte black.
Features & Specifications
Measurements & capacity

With short tube: 24mm x 31.5mm | 2mL reservoir
With long tube: 24mm x 43.5mm | 6mL reservoir

Color options: gunmetal, SS, matte black, frosted grey, gold
Chassis material: stainless steel
Tube material: pyrex glass
New base design
Effortless top-fill method
3 MTL drip tips
Dual post build deck

Single coil builds
Lots of building space
Easy coil installation
It comes fully assembled for beginners

Adjustable airflow

Change airflow without disassembling the device

3 airflow inserts
MTL vape style only
0.8mm
1.4mm
2.0mm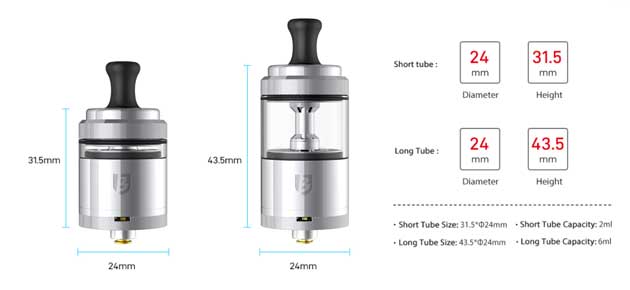 In The Box
Berserker B3 MTL RTA
2 x PEI Tubes
1 x Glass Tube
3 x Airflow Inserts
2 x Superfine MTL Fused Clapton Coils 0.74Ω
3 x drip tips
Bag of accessories
Manual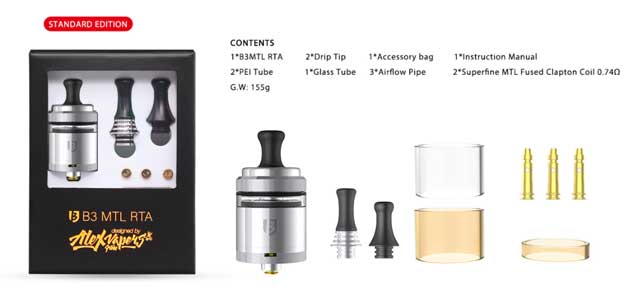 Similar Products
Total Views Today: 3 Total Views: 2,139