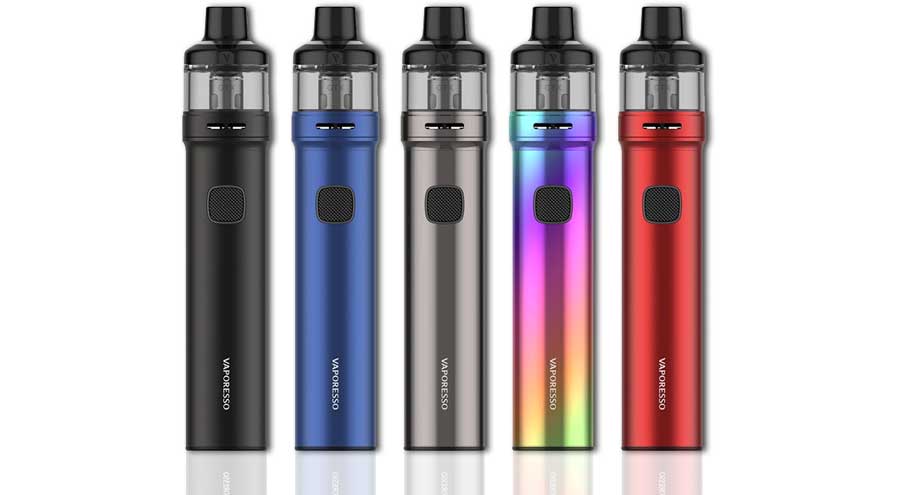 Here are cheap deals to buy the Vaporesso GTX Go 80 or Go 40 Kits.  The Go 80 features 80 watts of power and a 3000mAh integrated battery, while the Go 40 works with a maximum of 40 watts from a 1500mAh battery.  Both feature a Type-C charging port, an LED battery indicator, airflow adjustments, a comfortable grip, a 5mL juice capacity, and SSS leak-resistant technology.
Deals
Overview
There are two different versions of the GTX Go Kits. The Go 40 is capable of 40 watts, uses a 1500mAh internal battery, and has a 3.5mL GTX pod 22. Meanwhile, the Go 80 has double the power, a 5mL GTX Pod 26 cartridge for longer vape times, and a 3000mAh integrated battery.  As a result, the 40 has dimensions of 22mm by 110.3mm for extreme portability, while the Go 80's measurements come in at a decent 26mm by 133.2mm.  Both strike a careful balance between power, vape time without a recharge, and size.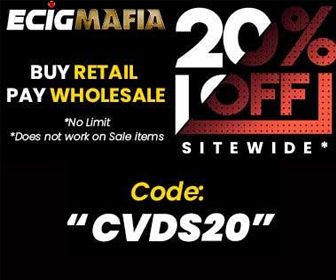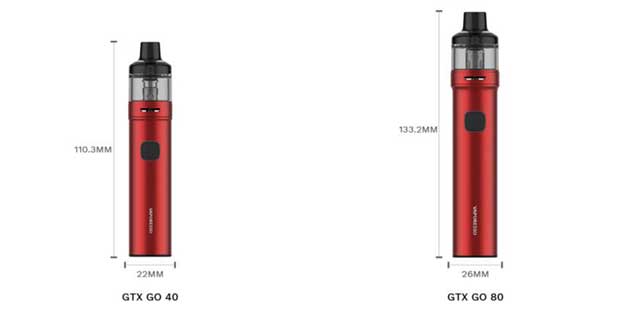 Both the Go 40 and the Go 80 are built with a metal chassis that features a comfortable rubber grip to be satisfying in hand.  Moreover, the kits are for sale in the following colors: red, blue, black, rainbow, and matte grey.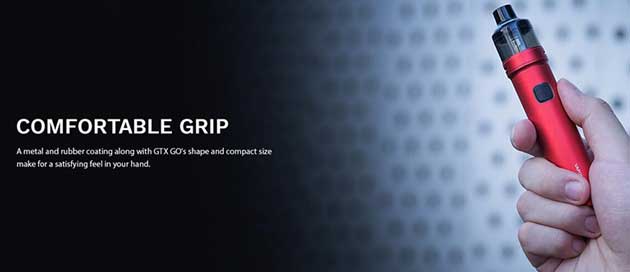 The GTX Go 40 and 80 both have an integrated battery, and each should be able to sustain long vape times without needing continuous recharges.  And each battery is regulated to sustain 80 or 40 watts of output, so all you have to do to take a puff is press the button and take a puff.  No need to change settings or modes. Best of all, recharging is easy thanks to a Type-C USB port which is not usually found on stick or tube mod kits.  A three-color LED surrounding the fire button will let you know the status of the battery at any moment.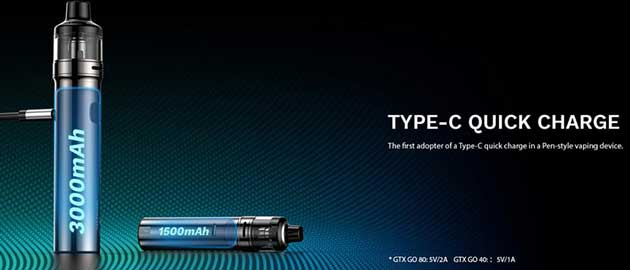 As previously mentioned, both kits feature their respective pods, of which the Go 40 can hold 3.5mL and the GTX Go 80 5mL.  With both systems, the cartridge features a removable top cap that makes refilling easy and mess-free while extending the life of your vape juices.  Moreover, the pods are magnetic to securely and easily attach to the tube mod.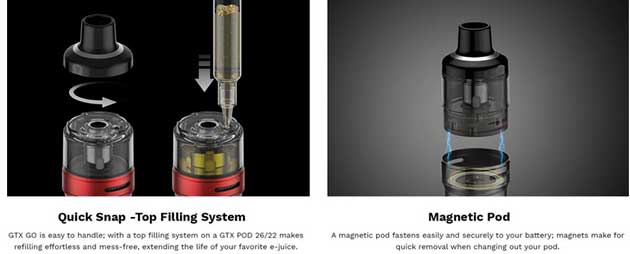 The previously mentioned magnets are designed to permit a wide range of airflow settings.  Simply twist the airflow control ring at the bottom of the atomizer to make the air slot bigger or smaller.

With the latest SSS leak-resistant technology, both setups make refilling a breeze and extend the life of your favorite e-liquid.  This is done by way of a barrier that locks your juice in to preserve it for as long as possible.

Whether you buy the Vaporesso GTX Go 80 or 40, each uses GTX coils, although the Pod 26 has many more options.  With the purchase of the Go 40, you will receive the 0.6ohm mesh coil that operates from 20 to 30 watts, while the more powerful kit comes with a 0.2ohm mesh coil that fires from 45 to 65 watts.

Features & Specifications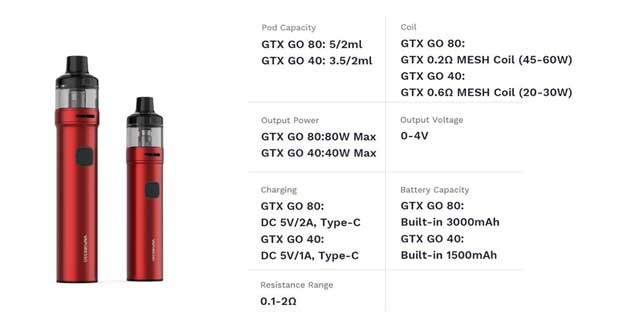 Package
With the GTX Go 80, you will receive the battery mod, a 5mL pod 26, a GTX 0.2ohm mesh coil, a Type-C cable, a manual, and a warranty card.  Meanwhile, the Go 40 comes with the battery mod, a 3.5mL pod 22 cartridge, a 0.6ohm coil, a manual, a USB cable, and warranty information.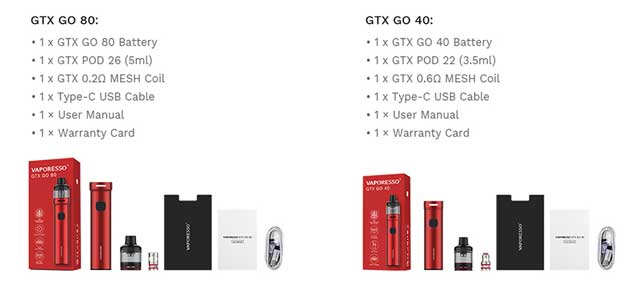 Similar Products
Total Views Today: 2 Total Views: 4,224