Here are cheap deals to buy the Vaporesso Luxe PM40 Pod Mod Kit.  It features an exquisite holographic IML panel, a 1800mAh integrated battery, 40 watts of power, an axon 2.0 chipset, a 2 amp fast-charging system, accurate airflow adjustment, 4mL pods, easy top fills, and GTX coils.
Deals
Exquisite, Portable Design
The Vaporesso Luxe PM40 was specifically designed for excellent flavor production with sub-ohm style vaping in variable wattage mode.  With dimensions of only 21.5mm x 30.6mm by 96.54mm, the unit features a compact shape for easy transportation in the pocket or purse.  And the design is stylish thanks to holographic IML panels on both sides that will stand apart in a crowd.  Choose from black, silver, carbon fiber, lava, or jade finishes.    A monochrome 0.96-inch OLED display screen has all the permanent data you could need, such as the atomizer resistance, last puff time, current wattage output, and the current battery charge percentage.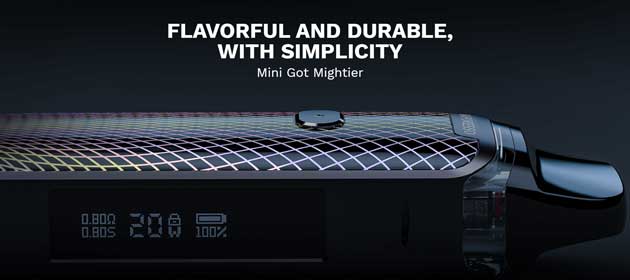 Powerful Battery & Variable Wattage Mode
Powered by a decent 1800mAh battery, the pod system should be able to keep enough charge for all-day vaping at the highest output of 40 watts.  And you may perform a recharge by using the Type-C USB interface on the control face that operates with a fast 2 amp current to achieve a full charge in less than 60 minutes.  To make output adjustments, all you do is press the fire button three times to set the wattage output up to 40 watts for both mouth-to-lung or direct-to-lung vape experience or anywhere in between.  Best of all, driven by an additional voltage circuit integrated into the AXON chipset, innovative Turbo Boosting Tech creates stable output that optimizes flavor throughout each puff.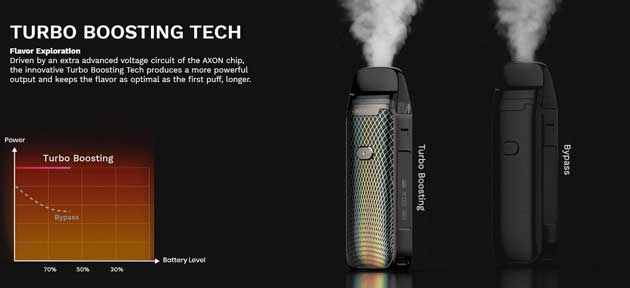 4mL Pods & Airflow Control
The Vaporesso Luxe PM40 kit offers 4mL pods that are transparent so that you may monitor the e-liquid level.  You only need to remove the mouthpiece that exposes a filling to inject vape juice.  The coils are inserted from the bottom via a push/pull method to prevent an e-liquid mess and to make the process as easy as possible.  And you may easily set the preferred amount of airflow to the pod using a brand-new crawler tread transmission system.  This is done by toggling a sliding button that opens or closes two air inlets to the cartridge for a direct-to-lung or mouth-to-lung vape experience.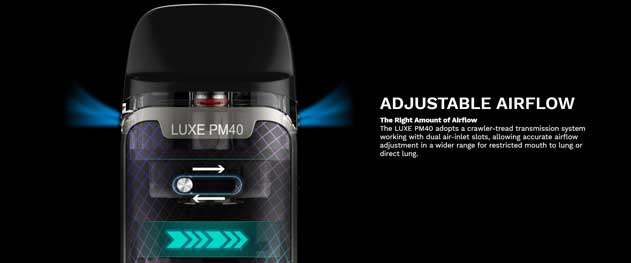 GTX Coils For Satisfying Flavor Production
The kit integrates GTX coils that feature antibacterial flax cotton and non-woven fabric to render smooth vapor with the purest possible flavor without any deviation.  Vaporesso has stated on its website that each GTX coil has undergone months of rigorous testing to give vapers the flavor they deserve from e-liquids.  Two coils are included in the package: the first is the GTX 0.6ohm mesh coil for restricted DTL vaping in the range of 20 to 30 watts but is best at a 28-watt setting.  Or, use the included GTX 0.8ohm mesh coil, which also results in a restricted DTL style puff that fires between 12 and 20 watts and is recommended at 18 watts of power.  The icing on the cake is that there are two other coil options: the GTX 1.2ohm MTL mesh coil for MTL vaping (7W-11W | best at 11W) with nic salts or the GTX 1.2ohm regular coil with dual coils in the range of 8 to 12 watts.  These heads have cross-compatibility with other Vaporesso kits, such as the Target PM80, PM80 SE, Gen Nano, and Xiron.

Features & Specifications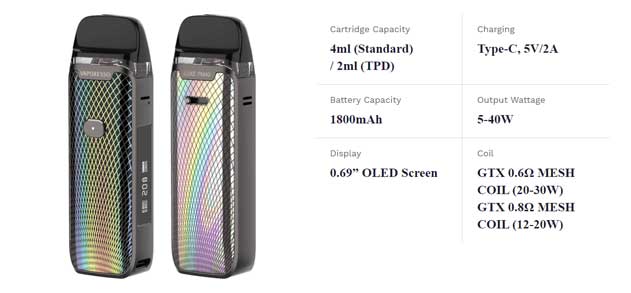 Exploded View
The battery mod has a power button on one of the large sides and an airflow control toggle on the opposite panel.  One of the small sides is built with a display screen and a Type-C USB port for recharging the 1800mAh battery.  Meanwhile, the cartridge/pod consists of the chamber that holds the e-juice and features a refill slot at the top, a coil hole at the bottom, and an ergonomic mouthpiece that easily slides onto each pod.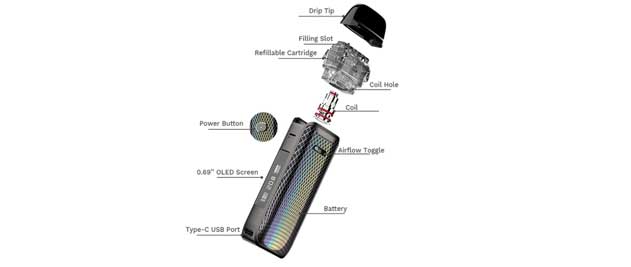 In The Box 
With the purchase of this kit, you will receive the mod, two pods (4ml), a GTX 0.6Ω coil, a GTX 0.8Ω coil, a Type-C USB charging cable, a user manual, and a warranty card.  Due to regulations, those of you in the European Union will receive a 2mL version.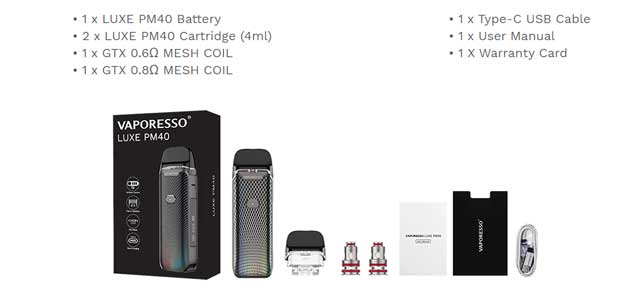 Related Deals
Total Views Today: 13 Total Views: 4,670