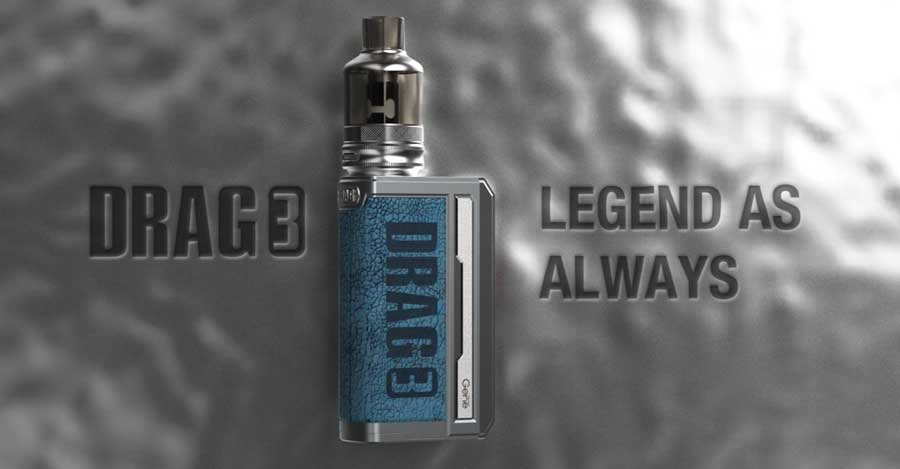 Voopoo Drag 3: 177 Watt Box Mod Kit w/ 5.5mL TPP Pod
Here are cheap deals to buy the Voopoo Drag 3.  The Drag 3 Mod features leather material, exquisite finish options, 177 watts of power, a full-color display screen, dual 18650 batteries, high burst super mode, USB charging, and compatibility with TPP/PnP Pods, as well as 510 atomizers.  The Drag 3 Kit includes a TPP pod tank with patented coils, 5.5mL juice capacity, easy refills, 2 mesh coils, and unique airflow.
USA Deals
Worldwide Shipping Deals
Review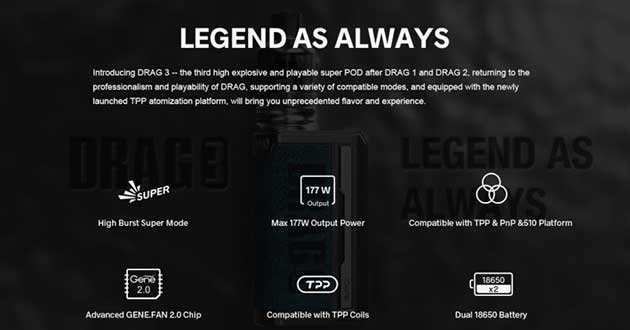 Luxurious Leather & Unique Logo
Designed with high-quality metal, the chassis of the mod features luxurious leather finishes with incredible brushed patterns for a stylish appearance.  The options for the leather grip are Prussian Blue, Sandy Brown, Classic, Marsalla, and Smoky Grey.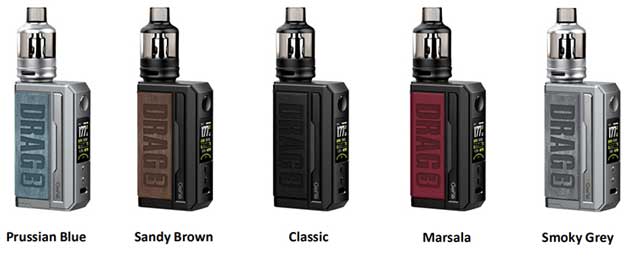 But, the appearance is not the only way that the Voopoo Drag 3 stands out from previous Drag mods and kits.  You see, near the top of one of its small sides, you'll see an engraved metal drag nameplate, the exclusive new logo of the Drag series by Voopoo. And, on the opposite side of this logo, you'll see a full-color TFT display screen that shows all vape data in a crystal clear way and two adjustment buttons at the bottom to navigate the UI or change settings. On the screen, you will find vape data such as current wattage, current battery charge level, puff counts, current voltage, the last puff time, and current mode.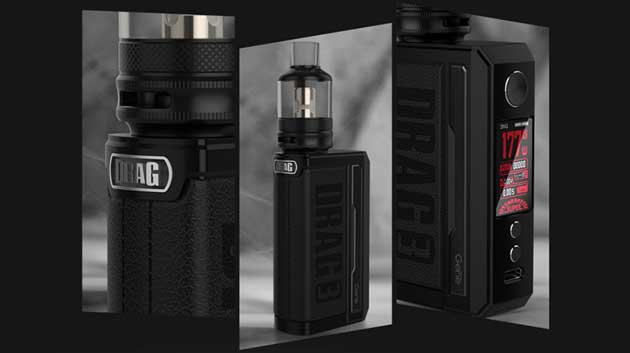 Advanced Chipset w/ Super Mode & 177 Watts Of Power
This new setup also has a brand new setting: Super Mode which is bound to give you the ultimate vape experience due to high, instantaneous power.  If you are a beginner, you're also in luck because you may set the unit to Smart Mode or professional vapers can use the power-free RBA mode. However, the RBA mode will switch to Super Mode automatically at 85 watts of output.  The highest possible setting is 177 watts.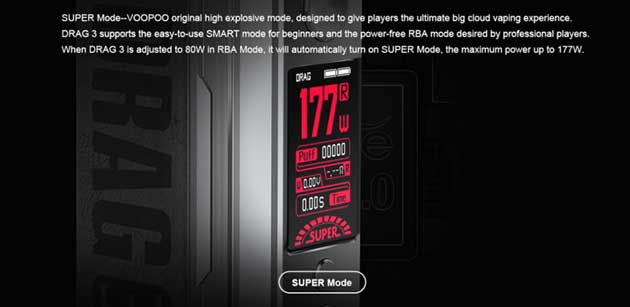 This versatility of modes is possible thanks to the latest GENE.FAN 2.0 chipset that provides explosive power, but also permits more functionality than the previous generations.  For example, with this chipboard, the mod will engage with 0.001s of firing and that output is very stable and flexible.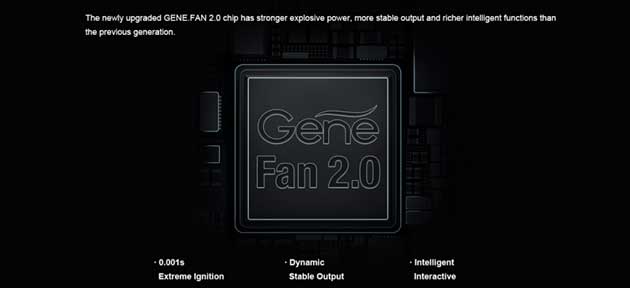 Dual 18650 Batteries & Onboard Charging System
Because the Drag 3 works with dual 18650 batteries, it supports all day long vaping, without the need for a recharge.  The cells are also easily accessed or swapped out via a bottom flip panel that is simple to work with. If you don't have a charger, you may use the upgraded fast Type-C onboard charging system that has an increased charging rate of 50% and is accessed at the bottom of the control face.  And, USB-C is also quite easy to plug in because the included cord is reversible.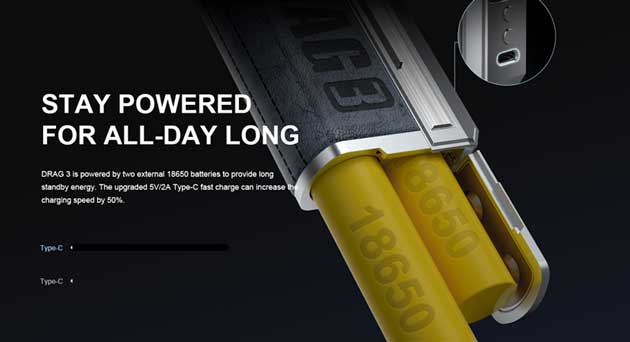 Reverse battery protection and a balanced charging system also ensure the Voopoo Drag 3 won't catch fire or become damaged.  For additional security, there's also integrated overtime, short-circuit, overcharge, high current, over-discharge, and high-temperature protection. All of this indicates that you may always feel safe using this setup.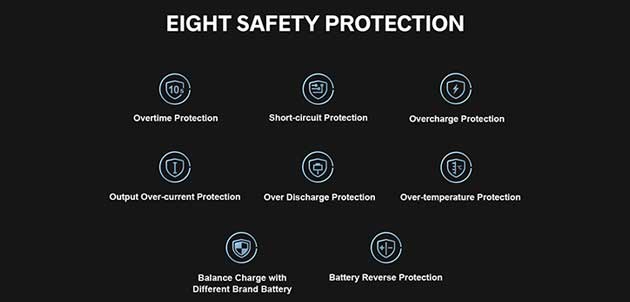 Universal PnP & 510 Atomizers Compatibility
For maximum adaptability, the Voopoo Drag 3 is suitable for all PnP Atomizers.  These include the 4.5mL  and 2mL versions of the PnP, the Pnp MTL Pod, and the PnP RTA Pod.  You see, Voopoo has set out to create a low cost, universal atomizer that works with the majority of their kits and box mods.  And, all of these atomizers feature powerful magnets to ensure they securely install in whatever setup you prefer.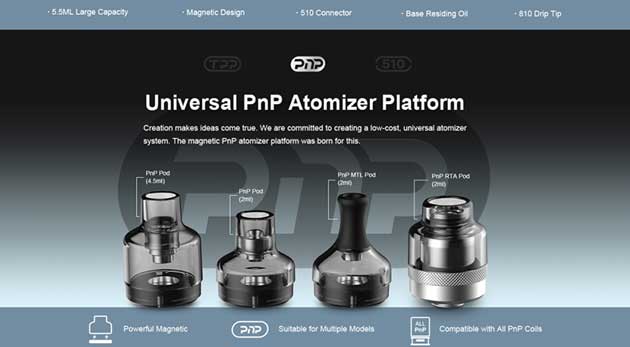 For those who prefer to use their own atomizers, builds, or tanks with your standalone mod, simply obtain a universal 510 connector from any online vape merchant.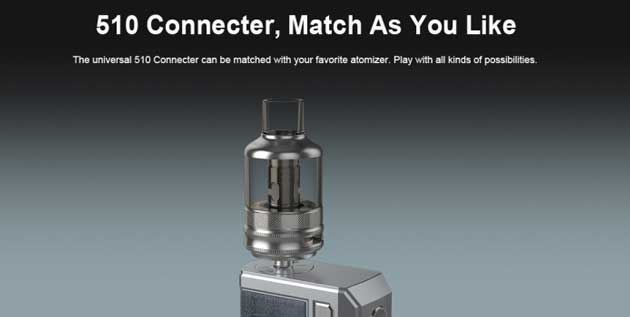 New TPP Series Pods & Coils
With the Voopoo Drag 3 Kit, you will receive the latest Tank Pod Push (TPP) atomizer with the latest patented matching coils.  This pod can hold 5.5mL of e-liquid and features a brand new bottom easy refill system, as well as the most powerful magnets to ensure a strong connection to the mod.

Moreover, the TPP pod features an aerodynamic simulation airflow style and a two-way convention airway structure to maximize efficiency and vapor production.

Thanks to TPP Series coils with patented technology with improved heating speed, the atomization of vape juice is much faster and the most delicate flavor of your e-liquid really comes out.  The kit includes a TPP-DM1 0.15ohm mesh coil that works from 60 to 80 watts with any vape juice that is below 10mg nicotine strength. Or, you may prefer the TPP-DM2 0.2ohm mesh coil with a 40 to 60 watt range.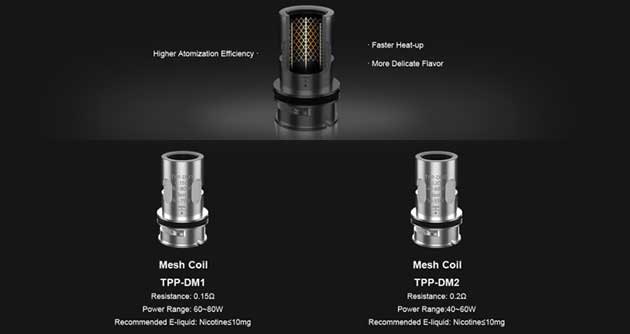 Voopoo Drag 3 Packing List
With the purchase of a kit, you will get the mod, a 5.5mL TPP Pod, a 0.2ohm TPP-DM2 coil, a 0.15ohm TPP-DM1 coil, a USB-C charging cable, and a manual.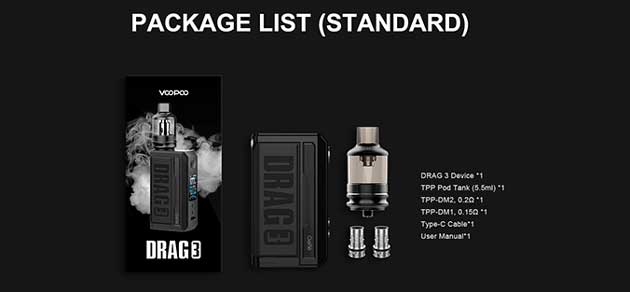 Similar Voopoo Drag Products
Total Views Today: 13 Total Views: 3,831