Check out the Voopoo Drag M100S Box Mod or Voopoo Drag M100S Kit.  The mod is designed with a GENE.TT 2.0 chipset to produce up to 100 watts of adjustable power and features a full-color display, a dynamic switch to lock/unlock the device, a single 18650 or 21700 battery, a fast 2.5A charging system, power mode, temperature control mode, eco mode, and multiple safety protections.  The kit includes the Uforce-L tank with 5.5mL e-liquid capability, two sub-ohm coils, adjustable airflow control, and easy refills.
Drag M100S Box Mod
The Voopoo Drag M100S mod is the latest in the long line of Drag devices.  Unlike the portable 40-watt Drag H40, this single 18650/21700 compatible box mod has a 100-watt capability and is designed with a 2.5 amp Type-C recharge port that will replenish the cells lightning fast.  On the control face, find a full-color display with two adjustment buttons to navigate it.  A brand new switch at the bottom makes locking/unlocking or powering the device on/off straightforward.  You can customize its function to perform virtually anything with the flip of a switch.    The latest Gene TT2.0 chipboard permits operation in power, eco, and temperature control modes.  And the chipset has several safety features: overtime, short circuit, overcharge output over-current, over-discharge, over-temperature, and battery reverse protection.  Made with a matte or wood finish, get this mod in the following colors: pearl white, red & black, cyan & blue, silver & black, antique brass & padauk, or black & dark wood.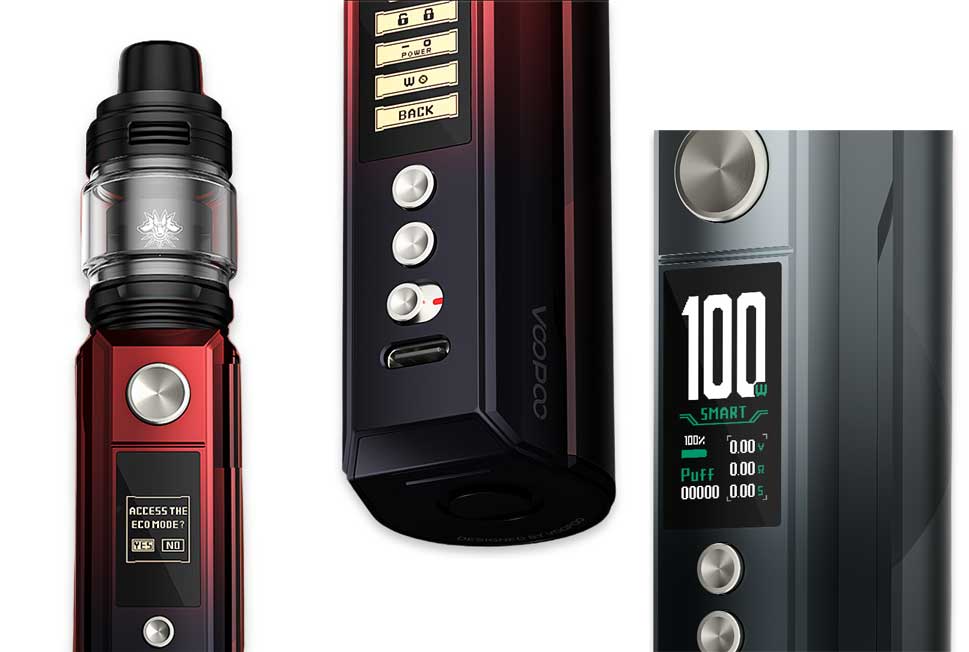 Drag M100S Kit
The Voopoo Drag M100S Kit bundles the mod with a UFORCE-L Tank with a 5.5mL capacity, easy top refills, and adjustable air intake.  Airflow features a new 3-hole inlet to produce balanced output while preventing leakage and condensation.  The included coils utilize dual-in-one technology to make dense vapor while increasing the coil's lifespan by 25 percent.  In the package, find a 0.15ohm coil that works from 55 to 75 watts and a 0.2ohm coil that fires from 40 to 55 watts.  Seven more coils in the PnP series are compatible, including a DIY head, but you must purchase these separately.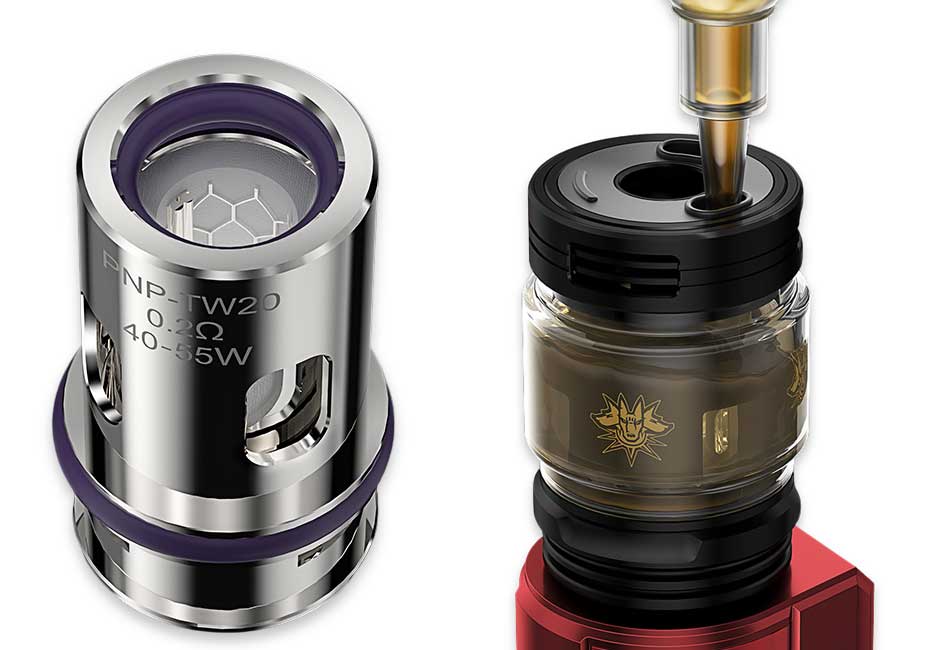 Features, Specifications & Box
Mod dimensions: 36mm x 30mm x 90mm
Kit dimensions: 36mm x 30mm x 150.5mm
Mod material: zinc alloy with matte finish or zinc alloy with wood
Tank material: SS & Pyrex
Design inspired by the shape of flowing water
Blunt corners
Ergonomic texture
Exquisite appearance
Color options: pearl white, red & black, cyan & blue, silver & black, antique brass & padauk, black & dark wood
Compatible with a single 18650 or 21700 battery
Bottom battery panel
2.5A Type-C USB charging
New GENE TT 2.0 chipboard
Modes: power, temperature control, ECO
Power output range: 5W to 100W
Resistance range: 0.05Ω to 3.0Ω
Max output voltage: 8.5V
0.96″ full-color TFT display screen
Change screen color: yellow, orange, pink, purple, green
Customizable switch: turn off/on | lock/unlock
Safety protections

Reverse polarity
Over-temperature
Over-discharge
Over-current
Overcharging
Short circuit
Overtime

5.5mL juice capacity
Top-filling method
Compatible with all Pnp Coils

Dynamic taste
Denser clouds
Longevity
Utilize 10% less power
25% more puffs

Leakproof top adjustable airflow
Package (kit)

 Drag M100S Mod
UFORCE-L Tank
PnP-TW15 0.15Ω Coil
PnP-TW20 0.2Ω Coil
Extra 5mL Bubble Glass
Silicon Rubber Pack
USB-C Cable
18650 Adapter
 Manual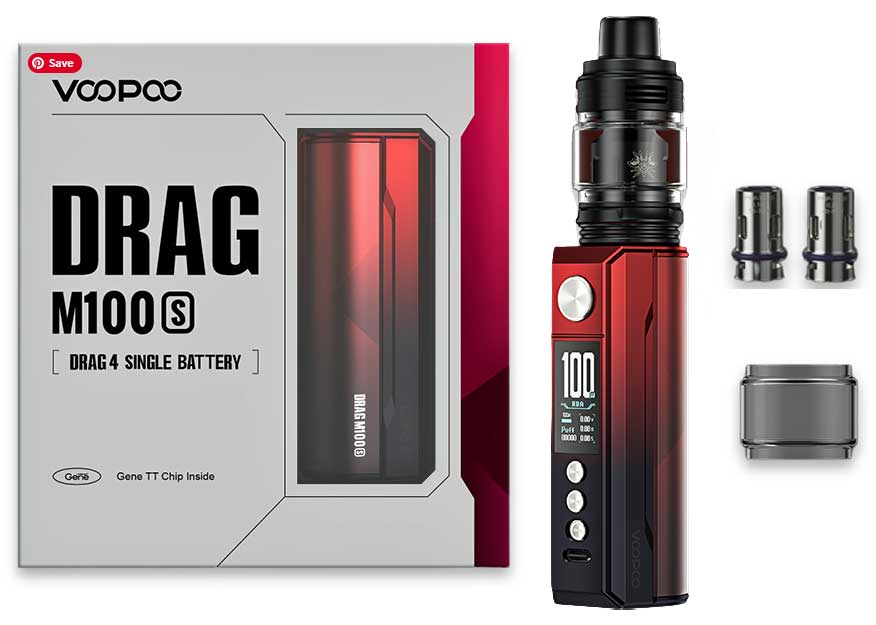 Total Views Today: 1 Total Views: 1,286