Here are cheap deals to buy the Voopoo Drag S or Drag S Pro, the 60W integrated battery version of the Voopoo Drag X, both of which carry on the popularity of the Drag series of mods by Voopoo.  The Drag S features 4.5mL pods, easy refills, 2 included coils, 60 watts of output, a type-C USB port, charging, instant firing, a full-color screen with easy navigation, and a 2500mAh internal battery.  This vape kit is for sale in myriad finishes such as classic, retro, carbon fiber, mashup,  chestnut, galaxy blue, racing limited edition, and marsala.
Update August 16, 2021: The Voopoo Drag S Pro has 20 watts of additional power, a 3000mAh internal battery, and a 5.5mL pod. Also, have a look at the Voopoo Drag 4 Box Mod or Starter Kit.
80W Drag S Pro Deals
USA Deal:

$25.89

  Use coupon code 30CVD at checkout (exclusive 30% off sitewide – blowout prices & fast USA shipping – one use per account – $250 limit)
60W Drag S Deals
USA Deal:

$22.39

  Use coupon code 30CVD at checkout (exclusive 30% off sitewide – blowout prices & fast USA shipping – one use per account – $250 limit)
Voopoo Drag S & Drag S Pro Mod 
Compared to many other cartridge vape kits, the Drag S features a mod-style power mode that can operate between 5 to 60 watts via a full-color display screen. The Drag S Pro can attain 80 watts of power.  Inside the mod is a 2500mAh or 3000mAh battery with a type-C USB interface, which removes having to fiddle with which direction to insert the cable into the port.  The Voopoo Drag S utilizes a GENE.TT chipboard, so it fires almost instantaneously for rapid vapor production and it will automatically identify the coil to match the best wattage output.   The Drag S also adds what we consider a vaping game, allowing you to achieve different rankings, such as iron or king-level achievement.  For safety, there is a wide range of safety features, almost the same ones you would find in a traditional box mod setup.  Best of all, firing the Voopoo Drag S mod can be done via its puff-activated system or fire button, and you may also set the unit to do both simultaneously.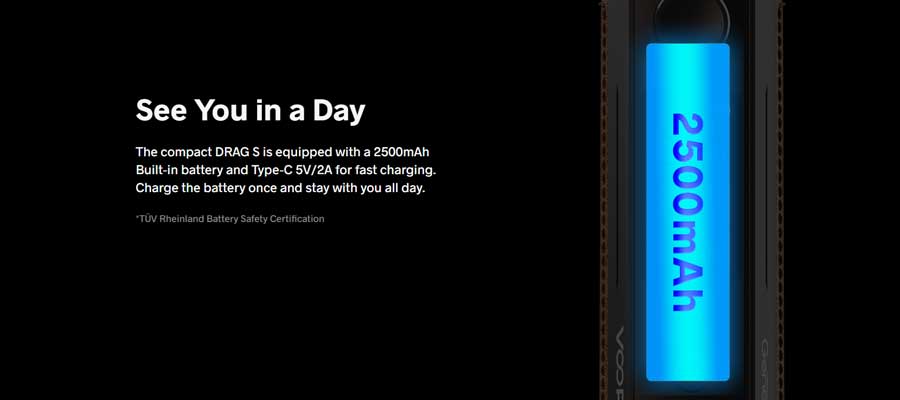 With a beautiful leather grip, the design of the Drag S box mod looks very similar to its predecessor. Still, there are more color options such as carbon fiber, retro, mashup, chestnut, marsala, galaxy blue, classics, and racing limited edition.  This vape equipment is also comfortable to hold and portability was important in the design. And the general theme of the Drag S is that of a sports car, so the design looks exquisite and unrestrained.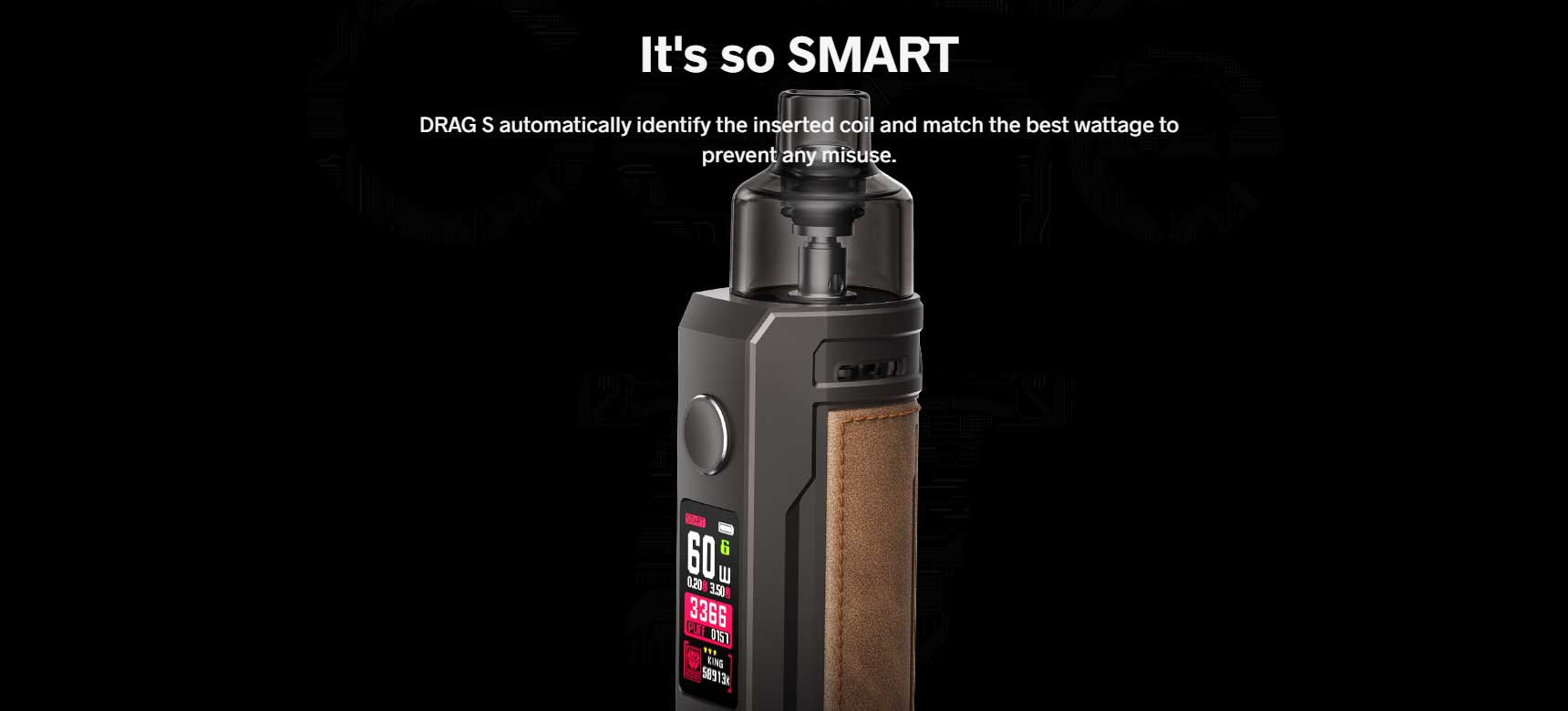 Voopoo Drag S & Drag S Pro Pod
Because the Voopoo Drag S operates much like a variable wattage box mod kit, its pods are extremely versatile, and vapor production is quite similar to that from a tank, thanks to a combination of many coil options and widely adjustable airflow control. Two heads are included with the purchase of the Drag S: the 0.2ohm  Pnp-VM5 mesh coil with a power range of 40 to 60 watts and the PnP-VM1 with a 0.3ohm resistance.  There are 7 additional coil options with a wide range of resistances, for which you can set the airflow to your liking.   For those who don't like using pods and wish to attach a tank to the Voopoo Drag S, a 510 adaptor will be available very soon.  Each 4.5mL pod is easily refilled via a bottom-fill juice port with a leak-free stopper. But the Drag S Pro features 5.5mL pods for longer vape times.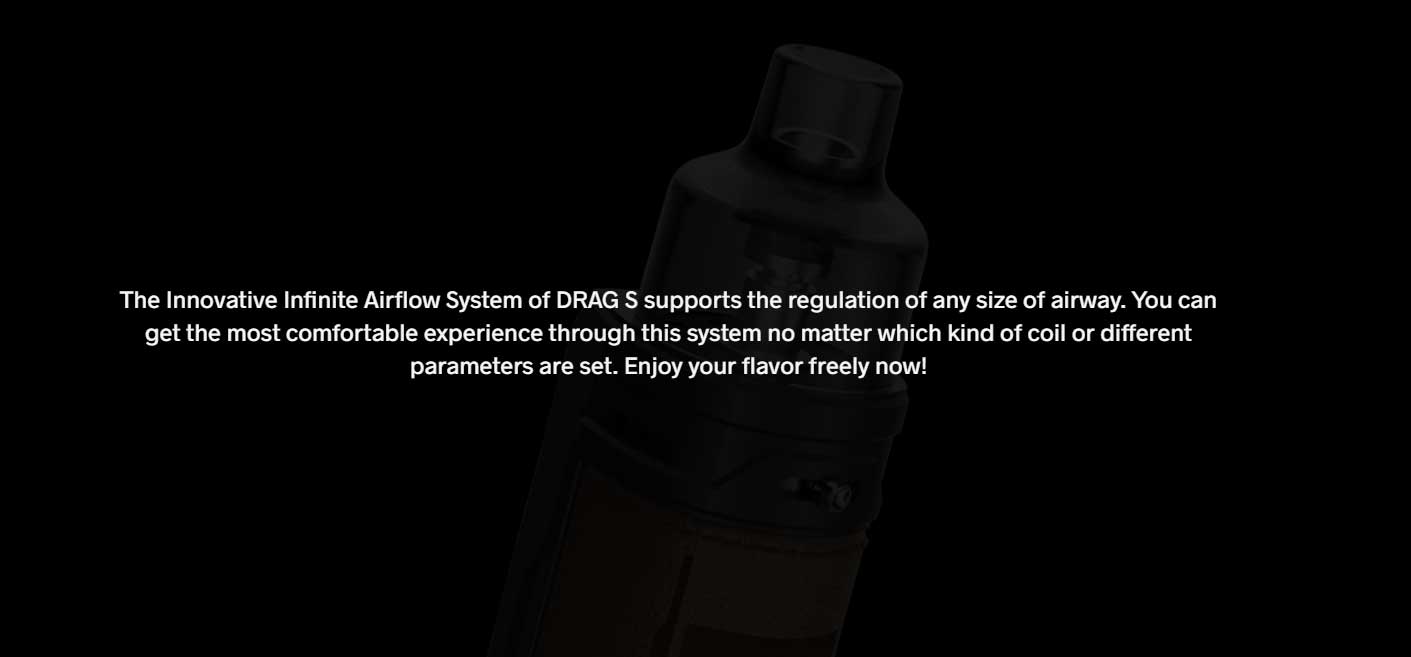 Voopoo Drag S Features & Specifications
Dimensions: 87mm x 33mm x 28mm
Colors: racing limited edition, galaxy blue, marsala, chestnut, mashup, retro, carbon fiber, classics
Mod material: zinc alloy with leather grip
PCTG cartridges
Pod capacity 4.5mL
Effortless bottom refills
Adjustable airflow control
Integrated 2500mAh battery
Type-C USB port for easy charging
GENE.TT Chipset
Almost instant firing
Power mode: 5W to 80W
Many Safety Protections
PnP-VM1: 0.3ohm | 32W To 40W
PnP-VM5 Mesh Coil: 0.5ohm | 40W To 60W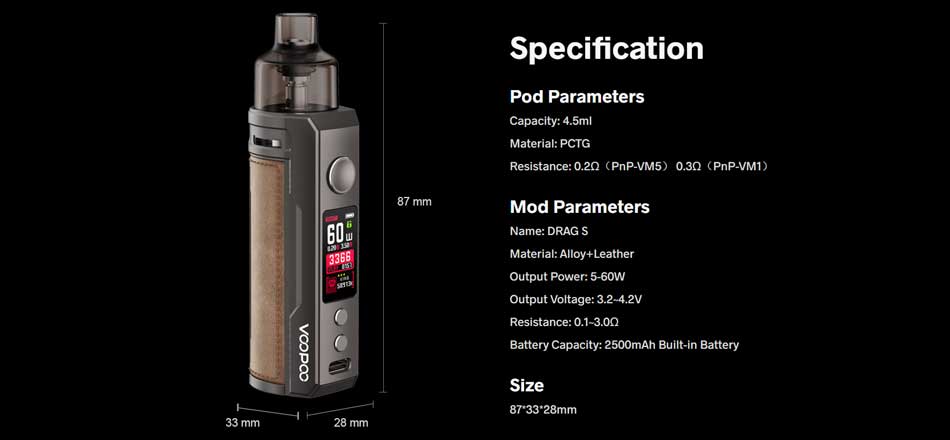 In The Package
DRAG S Mod
Drag S Pod
PnP-VM1 Coil
PnP-VM5 Coil
Type-C Charging Cable
Manual
Warranty Information
Chipset Card

Similar Products
Total Views Today: 3 Total Views: 12,536