Here's a cheap deal for the GeekVape M100 Mod or Geekvape M100 Kit, also known as the Geekvape Aegis Mini 2. The mod has an ergonomic design, a large display with a full-color UI, 100 watts of power, a powerful built-in 2500mAh battery, a waterproof design, shock & dust resistance, and a maximum of 100 watts of power.  The kit comes with the Geekvape Z Nano 2 Tank with a 3.5ml juice capacity, an effortless top fill system, two Geekvape B series coils, and adjustable airflow control.
USA Deals
Worldwide Shipping Deals
M100 Aegis Mini 2 Mod
The M100 is the updated Aegis Mini mod, also known as the Geekvape Aegis Mini 2.  However, the appearance looks updated with new colors such as grey, rainbow, red, classic black, navy blue, and silver.  The unit also looks more modern thanks to a full-color display screen, a trigger-style fire button, and a brand-new physical side lock that prevents accidental firing while the mod is in your purse or pocket.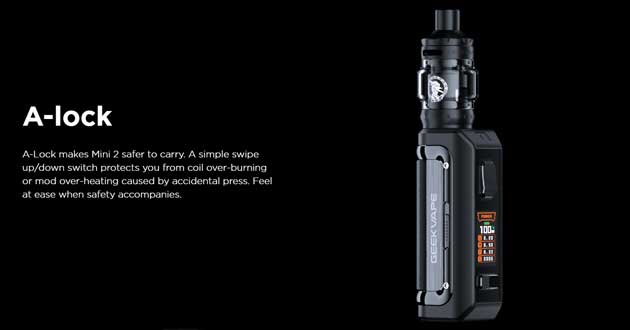 The Aegis Mini 2 has an integrated 2500mAh battery, so there is no need to buy a charger as you can plug the device into its USB-C  port with a waterproof cover to enable fast and safe charging.  The cover also keeps the water out, so there are no worries if it gets wet.  And the battery should last a long time at a maximum of 100 watts of power with stable performance even if the cell is not fully charged. Buck-boost technology also optimizes power to create consistent flavor and vapor, even when the battery's charge level is low.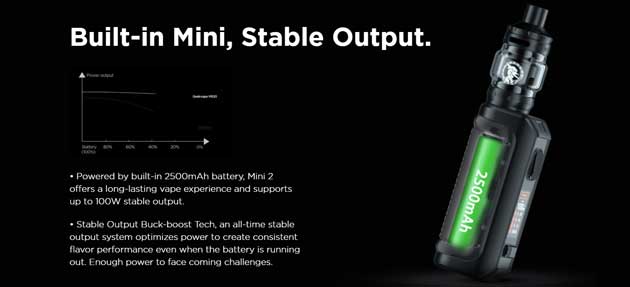 Like all Aegis Mods & Kits, the M100 Box Mod is shock resistant, dust resistant, and has an IP68 rating which means it can be in pure water for up to 30 minutes without damaging the chipset.  If you want to clean the mod, wash it under the faucet.  The tri-proof design of the Mini 2 also means it offers more protection than ever when outdoors, even in severe environments like a sandy beach or heavy rain.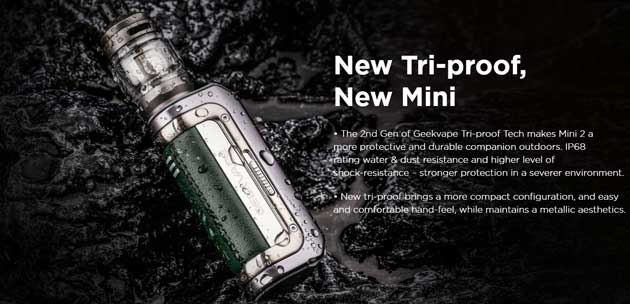 M100 Aegis Mini 2 Kit
The M100 Aegis Mini 2 kit comes with the Z Nano 2 tank for sale in silver, gunmetal, black, gold, blue, and rainbow.  Unfortunately, Geekvape hasn't released much information regarding this new atomizer, so we will update this page with more information as it becomes available.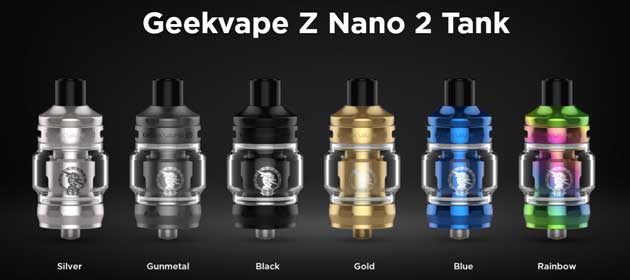 The tank features a thin body to make it lighter and to be a perfect partner for the mod.  Moreover, a brand new top airflow system means vaping is a clean experience and improves airflow for smoother flavor and vapor production.  This means that the structure is completely leakproof.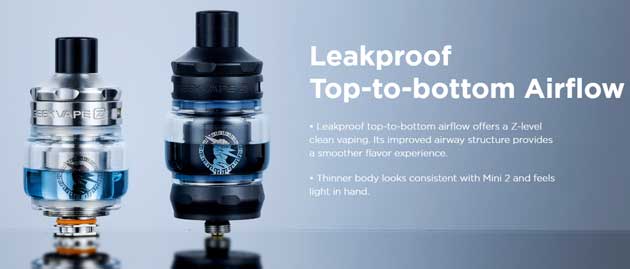 Inside the tank, you will install B series coils that feature strong throat hits and big vapor from a small setup.  With purchase, you'll get both the 0.2ohm and 0.6ohm versions. The former coil should be used with freebase vape juices, while the latter can accommodate nicotine salt-based e-liquids.  The coils also install by way of an effortless push/pull system to make the process mess- and hassle-free.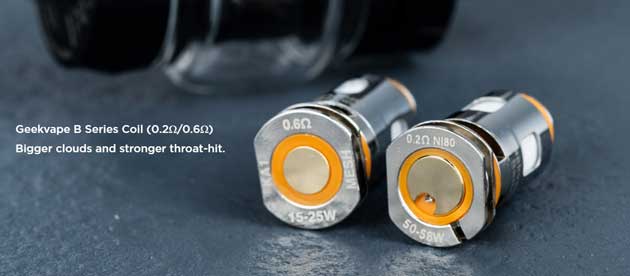 Geekvape M100 Features & Specifications (Kit)
Measurements: 136.5mm x 39.3mm x 25mm
Very small 100W kit
Options: grey, rainbow, red, classic black, navy blue, silver
1.08″ full-color screen
Vertically-oriented UI
Power range: 5W- 100W
Battery: 2500mAh integrated battery
Stable output
USB-C waterproof port
Resistance range: 0.1ohm – 3.0ohm
Low Voltage warning: 3.3V±0.1V
PCBA temperature alarm: 85℃
Longest vaping time: 10±1s
Working temperature: -10℃~40℃
Stand-by current: <10uA
Storage temperature: -20℃~60℃
Mode: power
Dust resistant
Shock resistant
IP68 waterproof
3.5mL capacity
Top-to-bottom airflow control
Dual top juice ports (unscrew top cap)
B-series coils

0.2Ω 50W to 58W
0.6Ω 15~25W

Push/pull coil installation
810 drip tip
Threaded 510 connection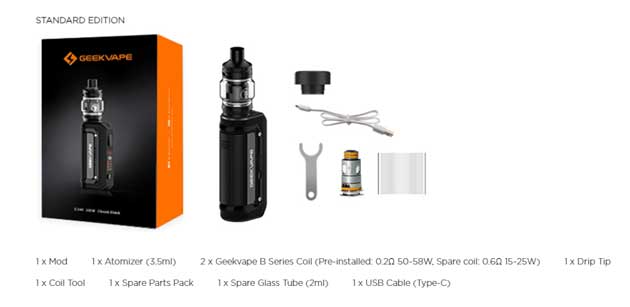 Related Deals
Total Views Today: 1 Total Views: 10,858