Smok Mag P3: 230W Waterproof  Touchscreen Box Mod w/ 9mL TFV16 Mesh Tank
Here are cheap deals to purchase the Smok Mag P3 for sale as a Box Mod only or Kit with a TFV16 tank.  This device will continue the popularity of its predecessors, such as the Mag Grip and Mag. The new box mod features a waterproof, dustproof/shockproof design, 230 watts of power, dual 18650 batteries, a 1.9″ touchscreen, fast firing, a full temperature control suite, TCR mode, passcode functionality, a delicate fire key, multiple protections, and fast firing. The TFV16 tank in the kit has a 9mL juice capacity, mesh coils, an easy refill system, maximum airflow, and a 16mm resin drip tip. It sells in black, green, silver, red and blue. There is also a more portable version: the Smok Mag P3 Mini, Smok Mag Solo and a more powerful one: the Smok Mag 18.
Deals
USA Deal: Kit

$39.19

  Use coupon code 30CVD at checkout (exclusive 30% off sitewide – one use per account – $250 limit – fast shipping)
Five Color Options
The Smok Mag P3 is available in blue/black, red/black, gray/black, green/black, and black/red.

Classic Mag Design
The Mag series of box mods consist of some of the most popular devices in the vape marketplace, and the MAG P3 is no exception. Like its predecessors, the new device has many of the same distinguishing features, such as the gun handle-shaped appearance and the trigger-style firing mechanism. On the back of the P3 is an exquisite carbon fiber panel featuring high-level craftsmanship. The USB port is placed here and features a protective plug shield to prevent water and dirt from entering the mod.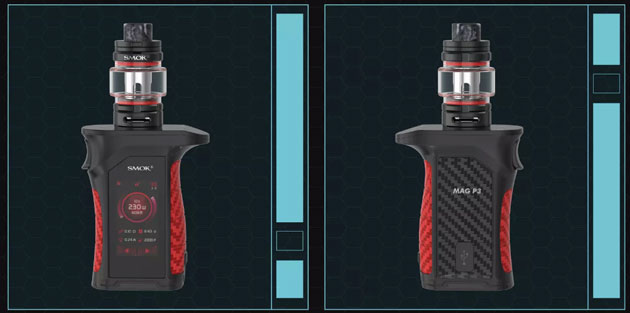 Components
The Smok Mag P3 kit includes the mod and TFV16 tank. The mod has an exquisite color touchscreen, a trigger-style fire button, and a micro USB port.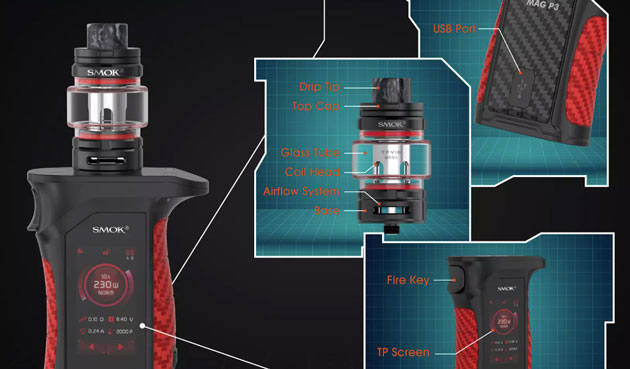 Trigger-Style Fire Key
Continuing the style of previous Mag mods, the P3 utilizes a small fire key, similar to a gun's trigger. This mechanism is easily pressed for fast firing, and its surface is smooth for ergonomics.

Specifications
The Mag P3 box mod measures 91.6mm x 72.3mm x 36mm and weighs 251.5 grams. It has a maximum output of 230 watts and features 0.001-second lightning-fast firing.  It can operate in power mode down to 0.10ohm atomizers and in temperature mode with builds or tanks down to 0.05ohm. The TFV16 has a 9mL juice capacity, weighs 94 grams, and measures 64.5mm x 32mm. It is made from stainless steel with a pyrex glass tank tube.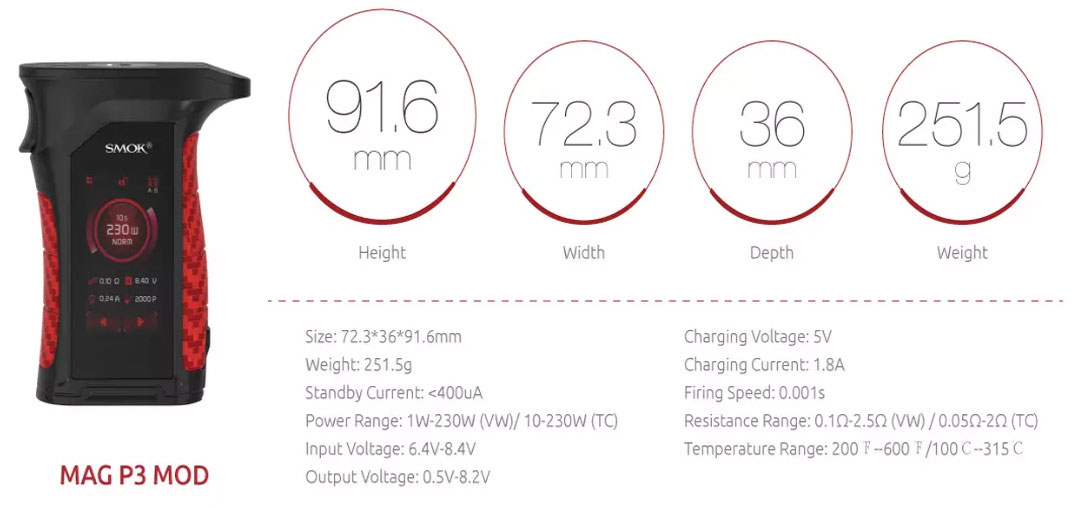 IP67 Waterproof
The Mag P3 is IP67 waterproof, indicating it can be submerged in up to 1 meter (about 3 feet) of water for up to 30 minutes. And the unit is also dustproof and shockproof in case it is dropped.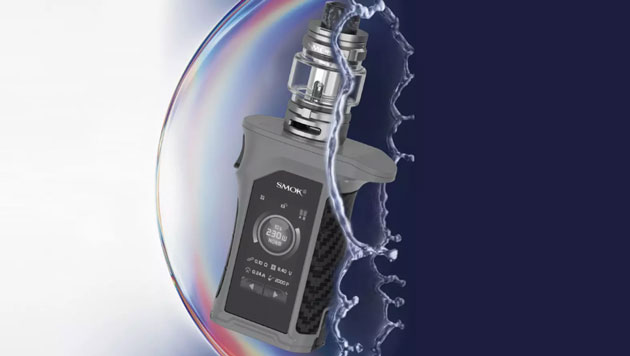 Responsive Color Touchscreen
The MAG P3's display screen has a brand-new design. It measures 1.9 inches and is highly responsive to touch. And the user interface offers a more concise and straightforward way to view vape data.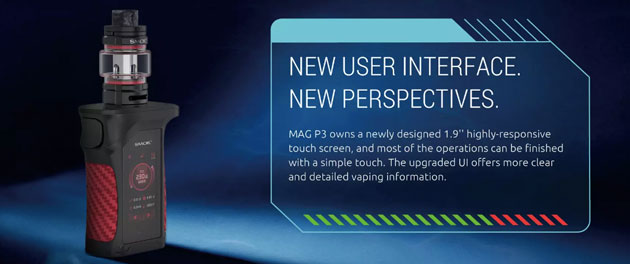 Slide To Unlock
When the device times out, unlock it by sliding an arrow at the bottom of the touchscreen, similar to how one unlocks a smartphone. Please note that locking the fire key will also disable the touch function, and you will have to unlock the unit again by sliding the arrow.

Variable Wattage Mode
In variable wattage or power mode, you can set several vaping effects, also known as taste modes. You may choose soft, normal, or hard and set the wattage between 1 and 230 watts.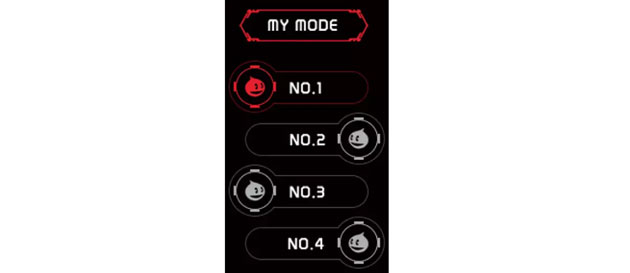 Temperature Control Modes
Temperature control works with nickel, titanium, and stainless steel heating elements, and you may also operate the Mag P3 in TCR mode. Each temp mode has a custom user interface for which you may also set your preferred wattage.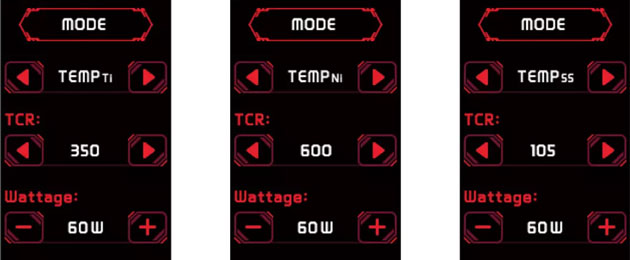 Puff Menu
You can put your maximum number of puffs in the puff settings menu, track the number so far, or clear the counter.

System Settings Menus
In the settings menu, you can get general information about your mod, additional info on the chipset, change the theme, do a factory reset, choose a timeout interval, power off the mod, and enter a passcode. To turn on the passcode function, touch "yes" on the password user interface and enter your secret 4-digit number.

Updated IQ-M Chipset
The Mag P3 is built with the latest IQ-M chipset, which permits many new functions and a brand-new touchscreen user interface. The 32-bit processor inside this chipboard means it fires almost instantaneously with up to 230 watts of power. This new Mag device is faster, safer, and more stable.

Dual 18650 Batteries
The Smok Mag P3 Mod works with dual 18650 batteries.  A USB port on the back connects to any computer or USB charging port to recharge the cells.   The onboard charging system operates with a 1.8 amp current, so the process won't take too long. Or, you may top off the batteries by removing them from the battery bay accessed via a bottom hinged panel.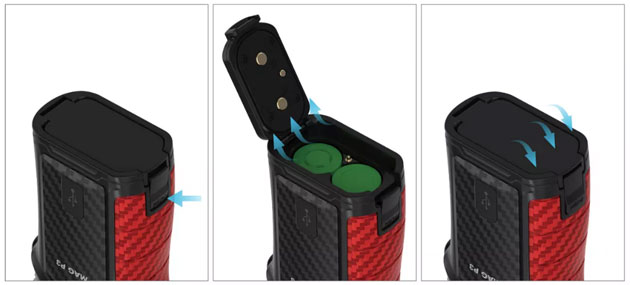 Multiple Safety Protections
The P3 is designed with a plethora of protections to limit possible risks. You are protected from short circuits, overheating, and accidental puffs. Plus, the device can recognize your atomizer's resistance and keep track of the number of puffs you take.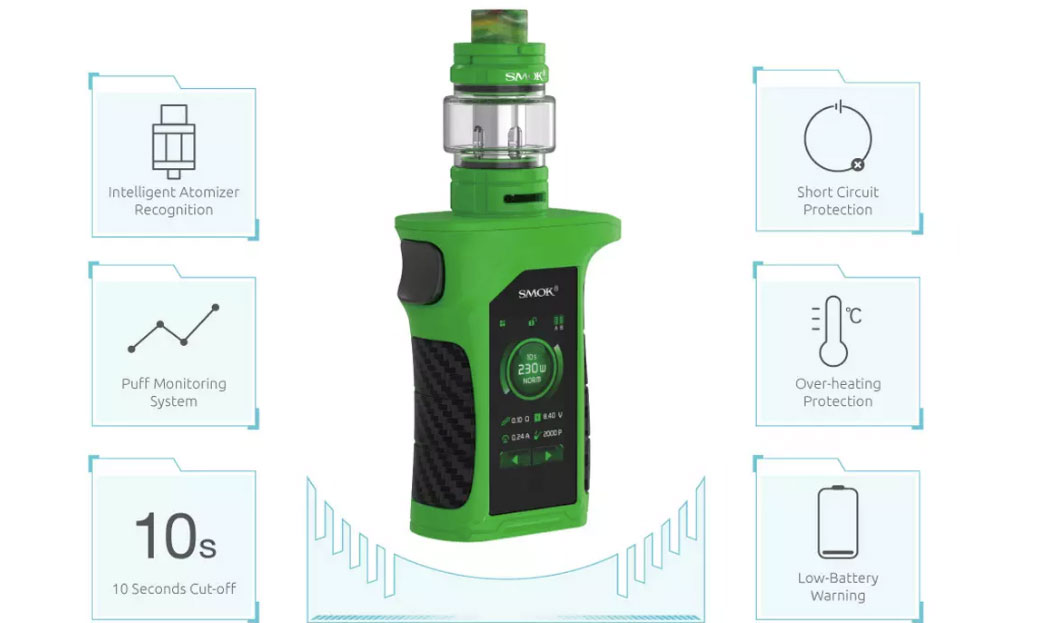 Smok Mag P3 Kit w/ TFV16 Tank
If you purchase the full kit, you will receive the 9mL TFV16. This tank is built with a stainless steel body with Pyrex glass tube that results in dimensions of 32mm x 64.5mm and a weight that comes in at 94 grams. At the top, you will see a new lock button that permits swiveling the top cap to expose a filling slot. Airflow is adjustable via a bottom AFC ring.  Thanks to a brand new design of the tube, the TFV16  can hold 9mL of e-liquid, one of the largest tank capacities ever. This means you may continue vaping without refills for extended periods. Compared to other tanks by Smok, the base on the TFV16 has been raised to provide more space for the airflow for increased vapor.

The coils used with this tank are built mesh style wire for faster heating, better taste, massive vapor, and consistent output. These heads have hexagon-shaped holes to heat e-liquid fast, so that flavor production is maintained evenly. There are four versions of the mesh coils.  The pre-installed TFV16 Mesh has a 0.17ohm resistance and is most suitable at 120 watts for pure taste. The 0.12ohm dual Mesh coil has a better wicking inclination for extensive flavor and huge vapor. It ranges from 80 to 160 watts but is suggested for use at 120 watts. The TFV16 Triple Mesh Coil features a 0.15ohm resistance. Its heating surface is wider for fast firing with huge vapor and flavor at a recommended 90 watts. Finally, the TFV16 conical mesh coil is built with a 0.2ohm resistance heating element, resulting in a warm throat hit, fast heating, and massive vapor with flavor. It fires in the range of 60 to 85 watts.

Smok Mag P3 Features & Specifications
Mag P3 Box Mod
Dimensions: 91.6mm x 72.3mm x 36mm
Weight: 251.5g
Color options: blue/black, red/black, gray/black, green/black and black/red
Carbon fiber panel
Gun handle-shaped design
Compact, ergonomic & portable
Exquisite fire key

Trigger shaped like a gun
Smooth surface for ergonomics

1.9″ HD color touchscreen

Updated interface
Set theme color
Touch responsive

IP 67 Protection
Shockproof
510 threaded connection
Updated IQ-M chipset
0.001s flash firing
Works with dual 18650 batteries

Bottom hinged panel
Micro-USB charging port on the back
Supports micro USB firmware upgrades
1.8A/5V fast charging

Power mode output: 1W to 230W
Temperature range: 200°F to 600°F
Operating modes: VW | TC (Ni200, SS, Ti) | TCR
Three taste modes: soft, normal, hard
Lowest atomizer resistance

0.05Ω in temperature modes
010Ω in power mode

Output voltage range: 0.5V to 8.2V
Input voltage range: 6.4V to 8.4V
Standby current: <400uA
Safety protections

Intelligent atomizer recognition
Short circuit protection
Overheat protection
10s cutoff
Puff monitoring system
Low battery warning
TFV16 Tank
Dimensions: 32mm x 64.5mm
Made from SS
Color: matches the mod
9mL juice reservoir
Effortless top fills
510 connection pin
16mm resin drip tip
Leak-free gasket
Big fill port
Lock button to keep the top cap in place
Dual bottom adjustable air slots: 2.6mm x 14mm
Mesh coils

Pre-installed: TFV16 conical mesh coil

Unique conical structure
Kanthal material
0.2ohm resistance
Warm throat hit
Fast heating
Massive vapor
Amazing flavor
65W to 85W

Included: TFV16 dual mesh coil

0.12ohm resistance
Dual mesh holes
Superior wicking
Massive vapor
Rich Flavor
80W-160W
Best at 120W

Optional: TFV16 mesh coil

0.17ohm
Stable heating
Large surface
Pure flavor
Best at 120W

Optional: TFV16 triple mesh coil

0.15ohm resistance
Three mesh holes
Widened heating surface
Fast ramp-up response
Massive vapor
Superior flavor
Best at 90 watts
In The Box (USA Edition)
With purchase, you will get the following
Mag P3 Mod
9mL TFV16
0.2ohm Conical Mesh Coil
0.12ohm Dual Mesh Coil
Bulb Glass Tube
Standard Glass Tube
Protective Silicone Sleeve
Micro USB Cable
Manual
Spare Parts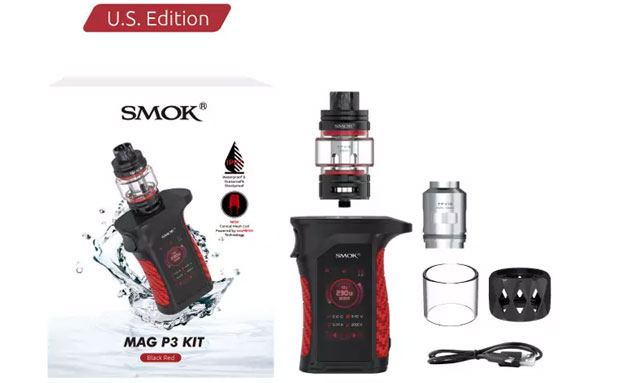 Related Smok Deals
Total Views Today: 6 Total Views: 18,945